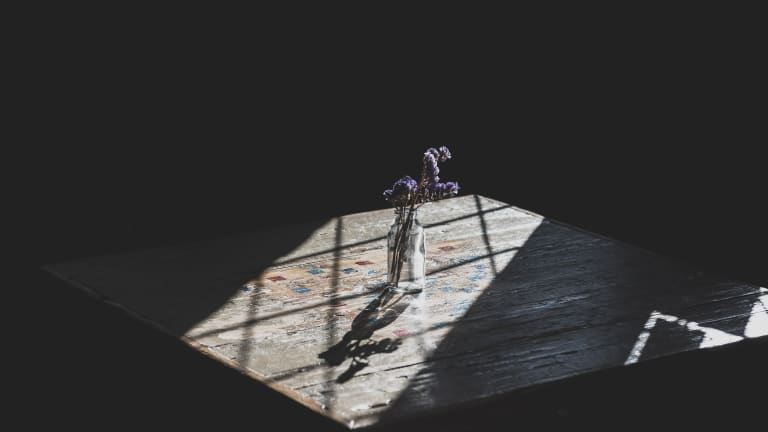 How to Care for Yourself When Your Loved One Is Struggling with Depression
It's not selfish—it's necessary.
When my husband and I first talked about his struggle with depression and anxiety, we were dating. At the time, I didn't fully understand what supporting him would require. Recognizing the symptoms of depression and responding with patience, love, and compassion was a good place to start. I've learned that, while my support is critical, it is no replacement for professional help. I've also learned that even with professional help, my husband still has very difficult days.
And he is not alone. According to the National Alliance on Mental Illness (NAMI), depression affects more than 16 million American adults every year, nearly 7 percent of the population. Over 40 million adults struggle with anxiety. While statistics themselves are overwhelming, they're more than just numbers: These are our close friends, roommates, and spouses.
For every person who struggles with depression, there are a whole host of people like me wondering how best to be supportive. And as those friends, roommates, spouses, or family members offering support, it's important that we be honest with ourselves about the challenges we experience in the process.
There are times when we don't have enough energy to give. There are times when we feel selfish because we just want our needs met in the friendship or relationship. Sometimes we feel like we need a break; sometimes we feel helpless and frustrated; sometimes we just feel lonely. It's hard not to grow bitter toward them or the depression itself.
But as difficult as it can be, it is a privilege to walk with another soul through dark times. So how do we make sure we are cared for so that we can, in turn, care for our loved ones?
Here's what has helped me.
01. Set aside time for yourself.
It's all too easy to ignore your own needs when you are supporting the person you care about. Listen to—and internalize—these words: It's okay to take care of yourself. In fact, it's necessary, not only for your own wellbeing, but for your loved one's, too. The old adage that "you can't pour from an empty cup" is true. If you fill your cup—whatever that looks like for you—you'll have more to offer.
"It's imperative to take time to engage in restorative activities," Julia Hogan, LCPC advises, noting that this will look different for everyone. "Caregiving is an exhausting role, and it's easy to develop burnout and resentment toward the person you are caring for. Caring for yourself helps you avoid burnout and be a better caregiver."
So take time to do the things that you enjoy—and, most importantly, that restore you. I love to run; it's a way for me to relieve stress and build strength. I recently joined a running group, and it has done wonders for my own mental health. Don't ignore what brings you joy, strength, or rest.
02. Find inspiration daily.
Positivity has an incredible impact on our ability to handle challenging life situations. My daily inspiration centers on positive phrases, a photo of my husband, and filling our home with beauty.
I love the phrase "When I am weak, then am I strong." I repeat this to myself each day, and it's on a sticky note in my bathroom. It reminds me that I'm not alone: I'm strong because I have others to rely on. I also keep a photo of my husband and me on the bedside table—just seeing it every morning is encouraging. And on any given day, you can find me in my garden or at Trader Joe's picking or buying beautiful flowers. There's something about filling our home with beauty that brings light even to difficult times.
Find what inspires you and allow those good, beautiful things to encourage you daily. Here are some additional ideas that might help:
Read a good book, whether it's specifically about depression and anxiety or simply a mood-lifter, like your favorite novel.
Create a gratitude board where both you and your loved one write one thing you are grateful for each day.
Write inspirational or grateful thoughts in a journal.
Write encouraging messages to your loved one.
Make a collage of positive phrases and hang it in a visible spot in your home or office.
Ask your loved one to be involved, too.
03. Build a support system.
As you support your loved one, who is supporting you?
It's essential to have someone in your life to whom you can go for help, whether that's a girlfriend, mentor, or a counselor. This is the person who is willing to let you be vulnerable, who provides a non-judgmental space where you can ask hard questions and let your guard down, and who will support you no matter what. This is the person whom you and your loved one trust not to repeat anything you say—remember, it's not just your struggles you're sharing, but your loved one's, too.
Confiding in a close friend for the first time was immensely freeing for me. Now I never keep the challenges I experience to myself: I always know my support system is ready to listen.
Remember, sweet friend, that you are not alone in this.
04. Encourage your loved one to seek professional help.
Professional help is indispensable to your loved one's progress and recovery, and it also helps relieve you of the feeling that you're solely responsible for his or her wellbeing.
While my husband absolutely needs my support, I know that I can't replace the benefits that can be gained from seeking professional help—and that's a good thing. Even if I were equipped to treat his depression, it would still be better for our relationship and for my own mental health for that task to fall to a third party.
"Sometimes, people feel like they need to 'fix' the person, which only adds strain to the relationship," Hogan observes. "A good therapist can help relieve that strain and provide evidence-based support strategies."
Furthermore, remember that therapy is not only for those who struggle with depression. If you yourself are feeling overwhelmed, especially in caring for your loved one, don't hesitate to seek therapy yourself.
Every one of us is in a different stage of this journey, and there will always be good days and difficult ones. Treasure the good days; keep them close in your mind and heart. When the difficult days come, take some time for yourself, find your daily inspiration, and cling to your support system.
Remember that depression does not define our loved ones. As Hogan explains, "It is an illness that they have, but they aren't defined by just that diagnosis. Remember to appreciate who they are as a whole person and not just their diagnosis."
And, finally, remember: You aren't selfish for needing to care for yourself. In the long run, it's not only what's best for you—it's what's best for your loved one, too.