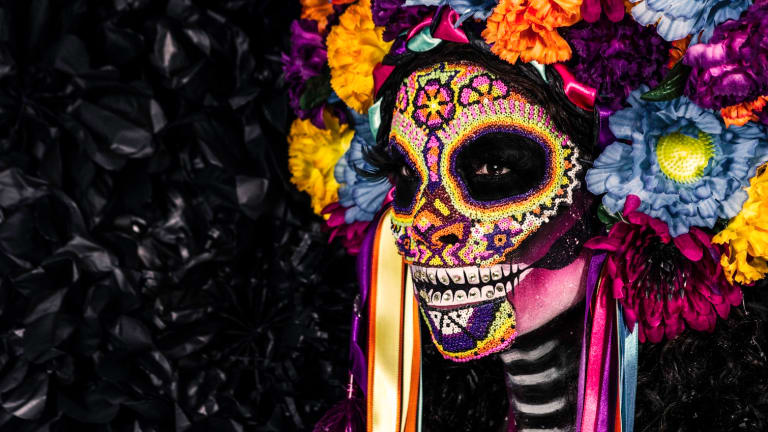 This is Why the Real Party Should Start After Halloween
These post-Halloween holidays can add meaning to your fall festivities.
When my husband and I lived in Spain, one of the very first cultural nuances we noticed was how Spaniards really knew how to celebrate life or, in this instance, death.
If you ever find yourself in Spain at the end of October, expect the Spanish to observe a three-day celebration: Halloween, Dia de Todos los Santos (Day of All Saints), and Dia de Difuntos (Day of the Dead). Whenever a public holiday lands on a weekday, Spaniards treat the night before as if it were a Friday—which usually means partying and staying up late. After all, there is no work or school on public holidays. Yes, Dia de Todos los Santos is a public holiday in Spain.
Americans are notorious for big Halloween celebrations, but if you're seeking a dose of fresh and meaningful to add to your fall festivities, make like the Spanish and keep the celebration going the days that follow. Need some ideas? We've got you.Pay homage to the dearly departed with a potluck party.
01. Pay homage to the dearly departed with a potluck party.
Spaniards combine the celebrations of Dia de Todos los Santos and Dia de Difuntos. On these days, families visit the graves of loved ones where they leave flowers. Why not bring their memory to your table instead? Invite others over for a potluck where each person brings a favorite food or drink of a saint or departed loved one. Share stories as you remember their wonderful lives.
TIP: Bake these panellets by Hola Foodie. They're Catalan cookies made and eaten especially for Dia de Todos los Santos.
02. Paint sugar skulls.
Día de los Muertos in Mexico demonstrates love and respect for deceased family members whom they consider kept alive through spirit and memory. Calaveras, meaning skulls, were traditionally used to describe short, funny and sarcastic tombstone phrases that poked fun at the living. Keep it sweet by gathering friends for an evening of decorating sugar (or ceramic) skulls. Meanwhile, come up with clever epitaphs for each other—the pun-nier the better!
TIP: Check out this gorgeous sugar skull tutorial by Sugar & Charm.
03. Buy bouquets of beautiful bright flowers.
Pink, orange, and yellow marigolds have significant meanings for these holidays. Though they originated in the New World, Spanish explorers brought Aztec marigold seeds to Europe where they flourished in testament to their hardiness. The bright colors and scent are said to help guide the spirits back to their altars where their families can celebrate closer to them.
TIP: If fresh florals aren't in your budget, these affordable paper flowers by ¡hola! Jalapeño are half the price and twice as nice.
04. Create an altar in memory of a loved one.
If you've lost someone important to you, you probably think of them all year. Before major holidays like Thanksgiving and Christmas fall upon us, it can be healing to take a moment to really remember those whom we wish were still with us during these special times. You don't have to go all out on your ofrenda—in Mexico, a traditionally elaborate altar meant to welcome the dead home. Arranging a few articles like photos, favorite objects, candle and flowers in a small space at home can help bring you mentally and emotionally closer to this person as you enter into another busy holiday season.
TIP: You can fit an ofrenda in a lantern like the Crafty Chica does, or even in a matchbox if you're up for a challenge.
05. Light tons of candles like the Hungarians, Polish, and Czech do.
All Saints and All Souls Day are celebrated in other countries around the world too, though they may look and feel a lot different. In Hungary, Poland and the Czech Republic, these feast day celebrations are more solemn and subdued. Rather than flocking graves and entryways with colorful garlands and banners, they light a plethora of candles in their homes, cemeteries, churches, processions, and more.
TIP: Keep your candles lit beyond the New Year with this surprisingly realistic flameless version from Terrain.
Halloween comes from All Hallows Eve, so all the fun shouldn't end on the 31st. Remember loved ones who've passed to the other side without weeping but, rather, with laughter and love. So lighten the mood with bright flowers and candles, play dance-worthy music, enjoy their favorite foods and drinks as you party for the wonderful souls who've taught you more about the meaning and value of life.