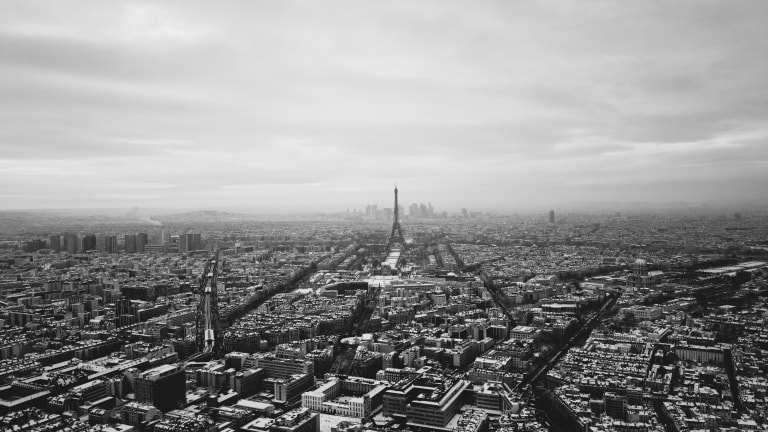 Experience Your Own 'Midnight in Paris' by Reading These Jazz-Age Books
No plane ticket—or magical carriage ride—required.
Ever since I read Madeline as a young girl, Paris has topped my travel destination bucket list. I'm not alone: With its rich art and history, beautiful architecture, decadent food, and picnic-perfect locales along the Seine, Paris is one of the most popular—and most romantic—tourist destinations in the world.
Ask anyone, though, when they would visit the "City of Lights" if they could choose a different period in history, and I bet many would choose the 1920s.
The "Roaring Twenties" was that glamorous, post-WWI period marked by economic growth, a rise in consumerism, and the liberation of women. While "flappers" were a somewhat lewd symbol of the newfound freedom women experienced, in the United States, the true triumph of this early feminism lay in the fact that American women won the right to vote in 1920 and began to work outside the home in white-collar jobs.
The 1920s also witnessed a true artistic and literary Renaissance. Paris attracted a whole slew of artists and authors like F. Scott Fitzgerald and Ernest Hemingway who all, in some way, became entwined in one another's lives. Collectively known as the "Lost Generation" (a term coined by the famous champion of the arts, Gertrude Stein), these expatriates composed many of their most famous works in Paris—all while leading lives as simultaneously glamorous and despondent as their characters'.
Even though I have now been to Paris myself, my fascination with it has far from dwindled; it is constantly fueled by new historical accounts and memoirs I find about this Lost Generation. If you, too, want to dive into the lives of the Hemingways, Fitzgeralds, Sylvia Beech, Ezra Pound, James Joyce, Gertrude Stein, Pablo Picasso, Gerald and Sara Murphy, and the many other colorful individuals of this time period, the following books will transport you to the most romantic city in the world during one of the most magical periods in history.
Read one book as a stand-alone story, or read them all to grasp the full narrative of what life was like for the Lost Generation living in Paris.
01. Moonlight Over Paris by Jennifer Robson
While I typically picture Paris as the wild, free-spirit Paris of the mid-1920s, brimming with writers, dancers, and painters, I often consider that I would not have fit in well here during this time, as I am not really the bohemian, artistic type, despite my creative spirit.
The heroine of Jennifer Robson's novel, Moonlight Over Paris, Lady Helena, didn't really fit into this group either, so I feel a particular kinship with her. Physically weakened by illness and mentally weakened by a broken engagement, Helena travels to Paris to stay with her aunt and attempts to find her strength and her purpose following the Great War.
This enchanting story follows Helena as she pursues her dream of becoming an artist and ends up falling in love with a charismatic journalist. A historical novel set against a perfectly quaint Parisian backdrop, this book is filled with intellectual salons (including Gertrude Stein's), a harsh "Maître" who pushes Helena to her limits in order to find her inner artist, and romantic self-discovery. What more could you want in a novel? (Oh, you want the Hemingways? Don't worry: They make an appearance, too.)
02. A Moveable Feast by Ernest Hemingway
In his signature blunt, choppy prose, Hemingway details the time that he spent in Paris during the 1920s with his first wife, Hadley, and their baby boy, Bumby. In this memoir, Hemingway recalls the many cafes and restaurants where he used to write (places that you can actually visit in real life, by the way) and the countless familiar faces with whom he used to spend his time (like Ezra Pound). He shares tender recollections of his early love with Hadley and the small apartment where they lived, and his memories are colored by a passionate admiration for Paris and the creativity it inspired in him.
While Ernest and Hadley's love story is rocky and not all pretty, his descriptions of Paris are hauntingly beautiful and full of life, and he makes the reader ardently desire to be there with him in that exact moment in history. In his own words, "If you are lucky enough to have lived in Paris as a young man, then wherever you go for the rest of your life, it stays with you, for Paris is a moveable feast."
03. The Paris Wife by Paula McLain
This historical novel about the Hemingways is both the sweetest love story and the most heartbreakingly disappointing one. It is rough and real and true. (Yes, I was channeling Hemingway there.)
The Paris wife is, of course, Hadley Hemingway, and the novel is written from her perspective. We get to experience Paris through Hadley's eyes: hours spent at Sylvia Beach's famed Shakespeare and Company bookstore, irresponsible partying with the Fitzgeralds, solitary walks along the Seine. Hadley's portrayal of their life in Paris is not always a glamorous depiction, and yet this only makes the city all the more real, especially given the post-war setting. Not everything is glitter and glitz and glam.
I will freely admit that my image of Ernest Hemingway was significantly tainted by this book: The way he treated his wife was often unjust and sometimes just plain terrible. Yet his words at the end of A Moveable Feast show regret, even if they don't absolve him of his guilt: "When I saw my wife again standing by the tracks as the train came in by the piled logs at the station, I wished I had died before I ever loved anyone but her."
04. Tender is the Night by F. Scott Fitzgerald
This book is the last completed novel Fitzgerald wrote before his sudden death. It is obvious that he portrayed parts of his own wife, Zelda, in the character of Nicole, most notably in their shared mental illnesses. And yet, despite stays in sanitariums, there is more tenderness, beauty, and grace found in Nicole than there is darkness, just as there was in Zelda.
While Paris is only one of several settings in this novel, Fitzgerald packs enough champagne, houseboat cafes, and romantic dialogue into the Parisian part of the novel that you are left feeling like Paris comprises the majority of it. The two female characters in this novel are both young, naive, and a bit silly, and yet they exude a romantic aura that reflects the air of Paris. They both love and are loved by the novel's "hero," Dick Diver (though not in the same way), and they both make you fall in love with Paris just a little bit more through their soirées and shopping sprees in the city.
And if this book doesn't convince you to move Paris up on your vacation list, it might just convince you to take a trip to the French Riviera (Cannes), where a large part of the novel takes place and where the young Rosemary first falls head over heels for Mr. Diver.
05. Z: A Novel of Zelda Fitzgerald by Therese Anne Fowler
Speaking of Zelda Fitzgerald, this book is devoted entirely to the famous (or infamous?) wife of F. Scott Fitzgerald. If there is anything I got out of this book, it is that there is so much more to Zelda than she is often given credit for. Similar to The Paris Wife, this historical novel imagines what Zelda would have said, given the opportunity to tell her story.
A Southern girl whisked away to New York City at the start of the Jazz Age, Zelda was a girl who knew what she wanted and fought for it. And while the story of Zelda and Scott is not always a pretty one (far from it, the reader will find), I especially devoured the vivid descriptions of Paris through Zelda's eyes, taking in their apartment view of the Arc de Triomphe and the cobblestone streets below. In Paris, Zelda explained, "you felt that you were part of something, someplace much greater than yourself."
06. Everybody Was So Young: Gerald and Sara Murphy: A Lost Generation Love Story by Amanda Vaill
I love this biography because, unlike the Hemingways or the Fitzgeralds, the story of the Murphys is relatively unknown: I felt like I was uncovering the last missing pieces of the Lost Generation. Although they traveled all over the globe, the Murphys spent a lot of time in Paris for its exquisite beauty—Sara very succinctly referred to their time there as "the era."
Gerald and Sara lived their own beautiful, yet tragic, love story. Fitzgerald actually modeled Dick and Nicole Diver in Tender is the Night, to some degree, on their lives (an association that Sara despised but Gerald admitted to years later). And beyond any character ideas their lives gave their contemporaries, it seems that the Murphys served as nurturing figures among the writers and artists with whom they came into contact, breathing encouragement and support into their friends' work.
Whether you pick up one of these novels in order to experience the lives of the Lost Generation or to get lost in the streets of Paris, I assure you that you will discover beauty in some form between their pages. Paris had a certain alluring, irresistible draw in the 1920s—and it still does today.