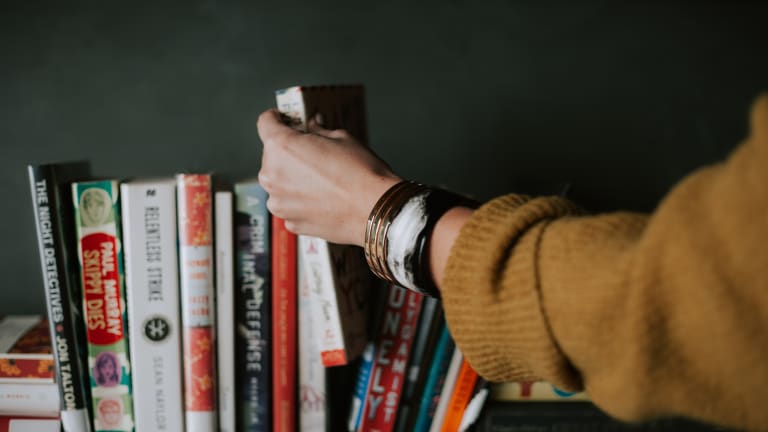 New Titles to Add to Your Bookshelf This Fall
A fresh start for your mind
"Life starts all over again when it gets crisp in the fall", wrote F. Scott Fitzgerald. And, it's true. There is something about autumn time that sparks a sense of renewal in all of us. Every year this season ushers in the first days of school with fresh lesson plans and teachers, while outside the changing leaves on the trees make room for new growth in spring.
We too find ourselves in a new springtime of our life whenever we turn the last pages of a book. During the crisp autumn months is when I long to discover books that will inspire creativity or challenge me to look at a topic from a different perspective. Whether it's a cookbook or a memoir, I love learning something I've never known before.
Below are the newest titles to peak my interest this fall. From Joanna Gaines to Nicholas Sparks, I believe there is a book for everyone to curl up with this season.
01. Heartland by Sarah Smarsh
Sarah Smarsh is a celebrated journalist and essayist. Her work has appeared in publications including The New York Times, The Guardian, and in two collection of essays: Scratch (Simon & Schuster) and Tales of Two Americas (Penguin Books). She has a passion for educating others on social issues, particularly the class divide in our own country. It's the focus of her memoir, Heartland: A Memoir of Working Hard and Being Broke in the Richest Country on Earth, which was published last month. Smarsh shares her story of growing up in a poor working-class family in Kansas and the " impact intergenerational poverty can have on individuals, families, and communities."
Fans of Brené Brown's previous works, such as Daring Greatly, The Gifts of Imperfection, and Rising Strong, will be excited to hear that she is adding a new book to the collection on October 9. Brown is a grounded theory researcher who has spent two decades taking an in-depth look into the vulnerabilities we strive to keep hidden from others and how we can learn to live wholeheartedly instead of out of fear. In her newest work, Dare to Lead, Brown lays the blueprint for how leaders can implement "daring leadership in a culture defined by scarcity, fear, and uncertainty." According to the Amazon listing, Dare to Lead seeks to answer the question, "how do you cultivate braver, more daring leaders, and how do you embed the value of courage in your culture?"
03. Homebody by Joanna Gaines
Everyone's favorite shiplap lovin' Texan is showing no sign of slowing down. Joanna Gaines, the co-star with her husband Chip of the much-beloved show Fixer Upper, will release her third book in less than three years this November. Homebody: A Guide to Creating Spaces You Never Want to Leave, is for anyone who has dreamed of hiring Jo to sprinkle her creative fairy dust on their home. Alright, it's not the same as having Joanna in the flesh, but after flipping through 352 pages of "practical steps for navigating and embracing your authentic design style," we think you'll accept Homebody as a close second. Pre-order it now on Amazon or snatch up this beauty when it debuts on November 6.
Who hasn't fallen in love with at least one Nicholas Sparks novel? If you don't have a favorite yet, maybe Every Breath will be the one for you. Sparks' newest book reminds us that the ways of the heart are often confusing and plagued with difficult decisions. The story follows Hope Anderson and Tru Walls who meet in Hope's family vacation town of Sunset Beach, North Carolina and are each in the middle of their own personal and familial dilemmas. According to the Amazon listing, "Their connection is as electric as it is unfathomable . . . but in the immersive days that follow, their feelings for each other will give way to choices that pit family duty against personal happiness in devastating ways." Be on the lookout for Every Breath on October 16.
Gina Homolka is the creator of the Skinnytaste blog and is the New York Times Best Selling author of two previous cookbooks. Fans are drawn to Homolka's easy to prepare meals that "are big on flavor and light on calories," the Amazon listing details. Her newest cookbook, One & Done, will feature 140 recipes for the "Instant Pot®, electric pressure cooker, air fryer, slow cooker, multi-cooker, Dutch oven, sheet pan, skillet, and more." Whether you relish your time in the kitchen or need healthy meal options for your family's busy lifestyle, Gina will have just the recipe for you. Add One & Done to your cookbook collection on October 9.
06. In Pieces by Sally Field
Sally Field is one of the greatest actresses of our time. She's given the world spellbinding performances in films such as Not Without my Daughter, Sybil and Norma Rae. The riveting performer has now written her memoir "with raw honesty and the fresh, pitch-perfect prose of a natural-born writer," the Amazon listing explains. Released on September 18, Sally shares her life as a woman in show business as well as what has taken place behind the camera lens: "her lifelong relationships—including her complicated love for her own mother."