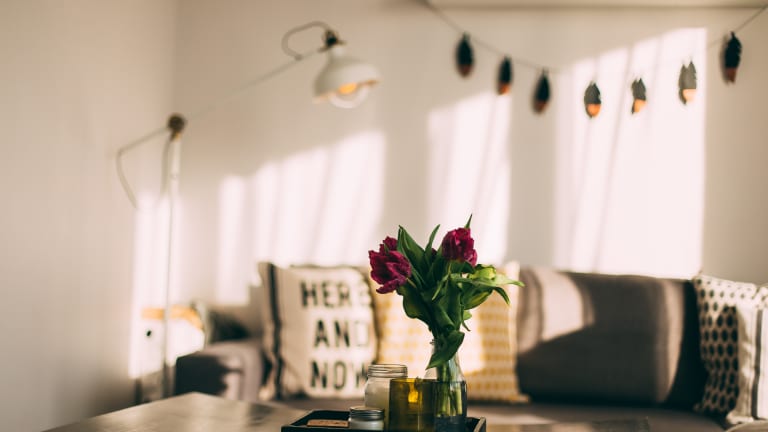 5 Ways to Make the Most of a Home You Don't Love
Imperfect doesn't have to mean undecorated
We used to live in a gorgeous apartment. It had vaulted ceilings, a balcony that overlooked a nature trail, and a spacious laundry room. Then, we moved to a small town with limited options. Our new apartment, well, let's just say it has a lot of "quirks."
It's exciting to watch my friends become homeowners and to share in their joy. It's also a bit difficult, because I know we'll be in the rental phase for at least a few more years. When the comparison bug hits, it's easy to get frustrated. But through living in this apartment, I've learned to channel my frustration into creativity by making small improvements. Those creative efforts have helped me be more content.
Here are five ways to turn a less-than-desirable space into a peaceful, welcoming haven—without spending a lot of money.
01. Declutter
When living in a tight space, decluttering is key. Like so many others, I found my decluttering inspiration in The Life-Changing Magic of Tidying Up by Marie Kondo. Rather than focusing on what to get rid of, she focuses on what to keep, emphasizing that one should only keep items that "spark joy."
On a surface level, decluttering has helped me maximize our storage space. It's still tight but not overflowing, and every item has a place. Following Kondo's guidance has also helped me develop a more grateful spirit. The apartment itself doesn't spark joy, but the things within it do.
02. Add small touches to create a positive ambiance
Sometimes, the smallest details have the biggest impact. For instance, a plant can be a real room-changer, and there are several low-maintenance plants that do well indoors. Fixer Upper fans have likely noticed that Joanna Gaines often uses plants in her designs. I got my husband a plant for his office at work, and it brought some much-needed life into the windowless space.
One of my favorite simple touches is a scented candle. In the evening, when dinner is over and the dishes are done, dimming the lights and lighting a candle creates a cozy atmosphere as we begin to wind down for the night.
03. Consider the colors
When renting, it's not always possible to change the foundational colors of a room. But adjusting the colors of furniture, bedding, and decorative elements can help.
I transformed our master bedroom by replacing the bedspread. In our old apartment, with its crisp white walls and light carpet, the red floral bedspread gave the room a vibrant burst of color. In our new bedroom, the bedspread clashed with our buttery-beige walls and dark floors, and the flowers felt too busy. I found a new bedspread in blue—a calming color—with a simple lattice pattern. That one change gave the bedroom the clean, serene atmosphere I craved.
As you consider color adjustments, keep in mind that nature can offer inspiration for effective color pairings. It's also a good idea to follow the "60-30-10 rule," which provides the proportions for dominant, secondary, and accent colors.
04. Use walls for storage
When closets are small and cupboards are scarce, white wire shelves provide much-needed storage without taking up floor space. You can find them in several different sizes in the closet organization section of home improvement stores. We got ours for about $12 each at Lowe's.
Our bathrooms don't have cupboards, and with two kids under two, leaving our belongings on the floor under the sink is out of the question. A wire shelf with a few dollar-store baskets on top keeps everything organized and safely out of reach. Another shelf holds our supply of towels.
In the nursery, we use the closet for general storage, so there isn't room for clothes. Plus, the closet doors stick, and I'd rather not have to tug them open every day. So, we used wire shelves to make "closet corners." Two shelves in one corner hold our daughter's clothes, and there are two in the opposite corner for our son. And since baby clothes are cute, these functional spaces double as decor.
Aside from bathrooms and kids' rooms, wire shelves would also work well for clothing in a tight studio apartment. They could hold coats, purses, and seasonal items in an entryway, or they could display dishes in a kitchen or dining area.
05. Give your furniture a facelift
You don't have to be an upholstery expert to give a couch a makeover. I know from experience.
When we moved, we left our old couch behind. We planned to buy a nice new one, but we decided to get something used and super cheap for the short term. When it became clear that "temporary" was going to be longer than we planned, I gave the couch a much-needed makeover. All it took was a slipcover and some fabric—no sewing required.
A slipcover can hide dingy, torn upholstery and make the couch look fresh. While a new couch can cost hundreds of dollars, you can find slipcovers for $25 to $100, depending on the size, the style, and the store. If you factor in sales and coupons, you might even find them for less. I found one on clearance for $15.
It's also easy to perk up worn-out throw pillows by covering them with fabric. You can create a polished look using fabric tape, or go for a more casual vibe with lots of knots and fringe. I opted for the single-knot approach. All I had to do was fold the fabric over the pillow and tie a knot. Fabric can be expensive, but if you have an open mind about what might work, it's possible to find a good deal. With a sale and a coupon, my fabric came out to about $2 a yard. It was worth every penny—one year later, we're still using that couch. 

Couch slipcovers, wire shelves, and new bedspreads haven't solved all the problems. There are some things about this apartment I just can't change. But I take pride in knowing I've done what I can to improve it. It's far from the world's best apartment, but at least for now, we've made it a place we're happy to call home.