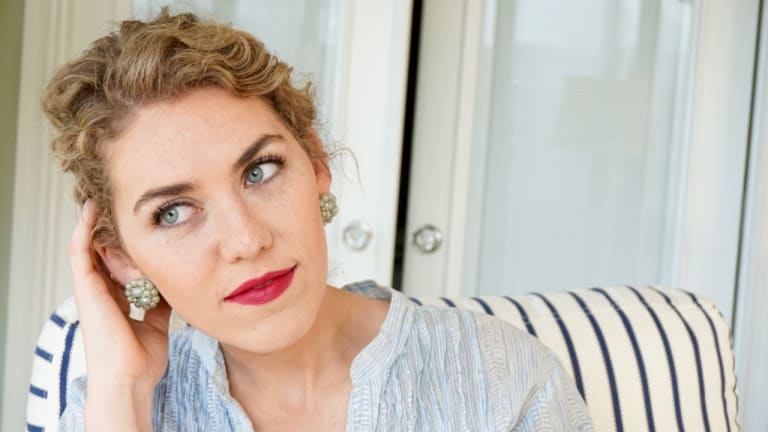 Just a Little Lipstick
The easy, effortless way to elevate your look.

Growing up, I remember gold and silver tubes of lipstick stashed in the cluttered kitchen junk drawer amid pencils and pens, in the glove compartment of the Toyota minivan, and in the pockets of Mom's purses. Melted and messy, lipstick never appealed to me (other than to play dress up, of course). Mom, on the other hand, seemed to think of it as magic in a tube. Scrounging in the kitchen drawers and riffling through her Mary Poppins purse, my mom would whisper to herself, "I just need a little lipstick…" before running out the door with a tube of it in hand.
Even when I entered high school and began to wear makeup, I was never really interested in lipstick. As I matured and entered college, though, lipstick suddenly became my makeup of choice: It gave me the polished, glam look that I wanted to achieve as a twenty-year-old. I discovered that the bold shades of red I now love to wear give off an air of confidence. The mystery that was my mom's love for lipstick was solved: The color on my lips, whether subtle or strong, brightened my face, made my eyes pop, and drew attention to my smile. What was not to love?

My mother's signature characteristic is her smile, and she always taught us the importance of smiling: When you walk into a room and you feel nervous or uncomfortable, or everyone is looking at you, smile, she told us. When you are unsure of what to say or find yourself in an awkward situation, smile. Smiling makes you seem more relaxed, confident, and approachable.
My siblings and I may have teased Mom for her seeming need for lipstick, but she knew what she was doing (as always). My mom is truly the most naturally beautiful and effortlessly elegant woman I have ever known. She has sparkling blue eyes, high cheekbones, and a big, stunning smile. She does not need an ounce of makeup. While I don't think any woman needs makeup (as I learned from forty days without it!), I finally realize why my mom stashed lipstick in nearly every nook and cranny. A small swipe of lipstick has the power to magnify the confidence and warmth brought out by the simple, beautiful act of smiling.

Whenever I picture my mom, I see her with that open-mouthed smile and her head cocked back slightly, laughing. And I think this is why I came to love lipstick— because I associate it with my mom's famous, genuine smile. Lipstick brings out her best feature and enhances her radiant smile, and I hope it has the same effect on me. If she doesn't have time to put on anything else, she almost always swipes on "just a little lipstick"—and now I know why.

How to Apply:
As any beauty guru knows, the first step to a perfect pout is to exfoliate your lips. Using a damp washcloth or towel, rub bare lips vigorously to rid them of any dry skin.
For a neutral base, dab a little foundation or concealer on your lips. (Some prefer to use a neutral lip liner and completely fill in the lips here instead.)
Carefully swipe on your lipstick of choice.
Press your lips together with a tissue between them ("smack" your lips together separated by a tissue). This removes excess color.
Put on a second coat of lipstick.
Using your finger, dab a little bit of loose translucent powder (I use bareMinerals Mineral Veil) to make the lipstick last longer. This step is key for setting the lipstick, ensuring it will stay on despite sipping, eating, or talking.
Smile!
When to Wear Each Color
A bright pink fuchsia, like my Clinique Long Last Matte Lipstick in Matte Magenta, is great for a hot summer day, paired with pastels, twirly sundresses, and sun-streaked hair. It's flirty and fun, so this color can be worn casually during the day or to jazz up your look for date night.
Classic red is just that—classic and timeless! Celebs and stars like Audrey Hepburn to T-Swift have been wearing this color for decades. It works as well for the 4th of July as it does for Christmas! If you don't think you can pull off red lipstick, then you just have not found the right shade. There really is a red for every skin tone, with blue, orange, pink, or brown undertones. This Bite Beauty Cashmere Lip Cream in Rioja was the first bold lipstick I donned, and I've been using it ever since! The cream-to-matte formula allows for easy application, is extremely long-lasting, and doesn't feel dry. It was the first formula of its kind, and now almost all makeup brands have followed suit. (The Sephora brand copycat of this formula is about half the price and comes in several shades. I have the Sephora Collection Luster Matte Long-Wear Lip Color in Deep Plum and love it.)
Purple shades are all the rage right now. I don't feel quite bold enough to wear a true purple lipstick, so I started with a pinky-purple, like this Bite Beauty Matte Creme Lip Crayon in Aubergine - Eggplant. A couple extra swipes will really bring out the purple shade, but just one or two yields a more subtle pink. Wear this shade for a night out or to a fancy event to up your wow factor. 
A neutral palette provides the pop my mom was looking for in all those drawers without drawing too much attention. I used to think that neutral or light-colored lipstick was the same as wearing nothing on your lips, but I've learned I was very wrong. Even a lip-colored lipstick, such as Nars Lipstick in Catfight, helps define your lips (and therefore your smile!). Nude lipstick makes your lips look bigger and fuller than wearing nothing at all, as your bare lips can blend into the skin around them. Though it doesn't make a statement, a neutral lip is still noticeable, helping you appear more polished and put together (but not overdone) with a simple swipe. Thus, this shade of lipstick is perfect for work, situations in which you want to maintain professionalism, or when wearing heavier eye makeup. (Mom always taught me to emphasize lips or eyes—not both!) Most of my mom's lipsticks were neutral hues, similar to her natural lip color, but they added a punch to any ensemble by instantly brightening her face and smile.
Whatever shade of lipstick you choose, remember to smile! Before you know it, you might be digging through every pocket and drawer looking for that magic little tube, too.
Editor's note: This article is adapted from a blog post previously published by the author.