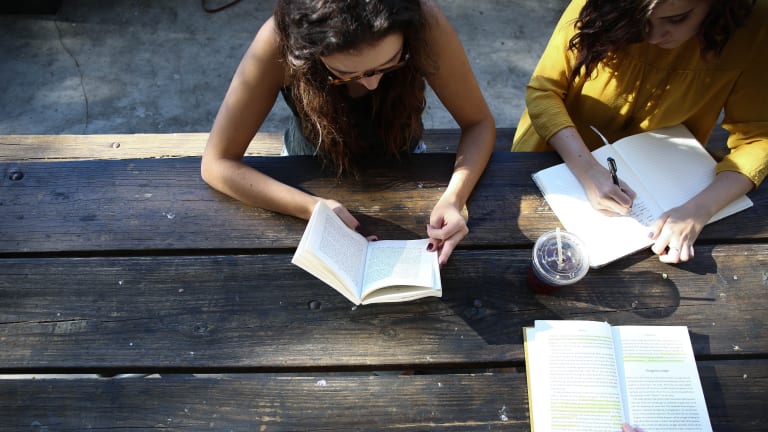 In Her Shoes: Mentoring Inner City Young Women
Insight into a program that includes moms and daughters
Name: Amairany Hi
Age: 27
Current Position: 6th Grade Math Teacher
Educational Background: Texas A&M University- Bachelors in Human Resource Development with a minor in Business. Certification in Teaching
Verily: Could you describe your career path, current position, and your involvement with the students and school?
AH: My days are spent teaching at a public charter school, YES Prep, in the greater Houston area where I obtained my certification. I am now beginning my fifth year as a sixth grade math teacher, and I couldn't be happier educating little ones. I also help run a leadership program at the school for middle and high school girls called Southwest Leadership Program, the goal of which is to help young girls grow into their full potential.
Verily: Middle school is a very important and impressionable time for young girls. Tell us more about your experience with this mentorship program.
AH: Southwest Leadership Program was created to reach young girls in eighth, ninth, and tenth grade from an inner-city community in South Houston. Girls at this age are really in a curious stage in their lives. The goal of the program is to help young girls develop into more well-rounded young women and to become their best selves through talks, mentoring, and break-out sessions about topics like self-confidence, friendship, and fashion. After having worked with similar programs in New York and Chicago during my summers, I knew I wanted to be a part of this project because of the positive impact I saw it had on those girls.
Young professionals and college woman volunteer for the Southwest Leadership Program one Saturday a month to provide guidance and presentations that help enrich the girls. During the girl's talk, we simultaneously host another talk for the girls' mothers that presents the same key aspects of the presentation for the girls. The idea is to help prepare the mothers to provide the support and guidance their daughters will need to put into action the goals the girls set with their mentors. It's like having a team of support for the girls when life starts to get tough in high school!
Verily: We imagine you've learned a lot about mentorship. What do you think it takes to be a great mentor?
AH: Great mentors need to have genuine interest in their mentees and should strive to live out the things they talk about in their mentorship. If a mentor doesn't learn to care about and pay attention to details their mentees share, it will be difficult for the girls to open up and share struggles or successes they are going through. Similarly, mentors need to continuously be working on themselves to be better. Great mentors recognize that they need to improve areas in their lives and lead by example so they can provide genuine advice.
Verily: Do you in turn, have a mentor and if so, how has it helped you?
AH: My mentor is my mother. As I was growing up, my mother always cared about the details of my life. I learned to confide in her when I began sharing things that were important and things that were difficult as a teenager. She quickly gained my trust when she didn't judge me when I shared different aspects of my life with her. Now that I am twenty-seven years old, I still turn to her when I need guidance in all aspects of my life. She continues to give me advice that is as neutral as possible and makes me stop and think instead of jumping to decisions that benefit just me.
Verily: How do you think being a woman shapes your vision for these young girls?
AH: When I look at these girls I see myself when I was in high school. As a Hispanic woman that comes from one of the poorest counties in the country, I had many odds against me. Going to and graduating from college was a way that I was able to defeat those odds and make it on my own. This has shaped who I am and who I want to help. I want these girls to feel empowered by their background and know that they have control of their future. I want them to learn skills that will help them navigate high school and beyond by getting to know themselves. Through building them up in the Southwest Leadership Program, I hope they become their true authentic selves and, in turn, gift that to others they come in contact with.
Verily: As women, we are constantly doubting ourselves. How do you deal with doubt in the decisions you make? Do you see doubt in these girls and if so, how do you help them to fight it?
AH: When I begin to doubt myself I go back and check myself. I make sure that I am contributing to the best of my ability and not looking for loopholes. Once I clear that off, I continue forward with decisions knowing that I am doing the best I can with what is within my control. No one is perfect, so when doubt is getting the best of me, I hope for the best and prepare myself to accept the outcome of decisions that don't work out the way I want them to.
I think it is more obvious to recognize doubt in the girls because they are the same doubts I had at that age. They doubt things like, "What if she doesn't want to be friends with me anymore?" Or, "What if I don't get accepted to the university I have always wanted to go to?" This is when the mentoring comes in. Having those one-on-one conversations with someone that has gone through similar experiences helps me to advise and motivate girls with their decisions and continue with their head held high even if things don't work out in their favor.
Verily: Here at Verily, we love our Daily Doses—quotes or phrases that motivate or inspire us. Do you have a mantra or phrase that helps you to live out your profession in a purposeful way?

AH: "Do it for the kids." Whenever I am having a hard time or struggling to get through a task, I go back and remind myself of why I am doing the work that I am so passionate about. It is easy to get lost in the day to day tasks and forget why I am working so hard to close the educational gap with my students. Refocusing on my students and their needs is what helps me center myself and pushes me to be the best I can be for them and continue to do what is possible in education.