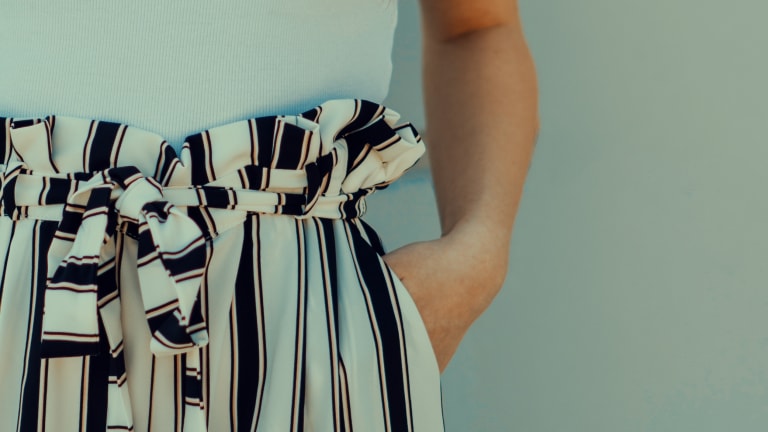 How to Rock High-Waisted Wide-Leg Pants
An instant polished, fashion-forward look
Remember Meghan Markle's statement-making outfit from Serena Williams' final tournament at Wimbledon this past summer? I know what you're thinking, all of Meghan's outfits are statement-making. Hopefully, this will jog your memory. Even if you don't watch tennis (I'm crazy about it) it was all over socials and rightly so. It is hard not to be head over heels in love with this look. It was sophisticated, minimalist, and chic for days.
Even though, all Meghan had on was a shirt tucked into some pants, the genius of the look is the high-waist and the wide leg. This silhouette is so completely striking. I mean without doing much at all you look instantly polished, fashion-forward, and put together. Think of these pants as your save-the-day piece, especially when you're running late in the morning, have two important meetings later today, and you know there is a desk to dinner situation after-work.
I hope you're seeing why I'm clocking these fashion-forward trousers as a closet essential for fall. If you're looking for that one item to help step it up a notch, this is it. If you can't see it yet, let me prove it to you.
First, not only are high-waist, wide-leg pants a great staple when you need to look pulled together in a flash, they also provide you with almost-control-top-like coverage when you have a little belly bulge or stomach fullness. The wide legs are so roomy and easy to move in, definitely more comfortable than skinny jeans. 
I wore these Club Monaco pants all summer to work, to the grocery, to the beach, to events—you get the idea. No matter what the occasion, I loved how the high waist kept my shirt from popping out, and I never worried about looking messy while running around town because the pants had such a sophisticated vibe. They made me feel absolutely lovely, comfy, and distinguished.
I mean how can one piece of clothing be so polished, figure-flattering, and statement-making all at the same time? I'm not sure, but what I do know is like most of you all, I'm a one and done outfit kind of girl, true minimalist at heart. If there is one thing I hate, it's fussing with my clothes, which I never do in these pants.
Since the high-waist and wide leg creates so much drama and movement within a look, it can seem difficult to figure out how to style such an avant-garde piece. Or you may be wondering just how versatile can pants like these be: Will they work with other items in your closet? Here are a few a different high-waist, wide leg pant options and a few tips for different ways to rock this staple for multiple occasions this fall.
Business Formal
Business Casual 
Weekend Casual
Party-Chic
Fall Fun
Quick Tips for Styling
If you decide to wear high-waisted, wide leg pants, make sure you . . .
Wear the Correct Underwear: To avoid what I affectionately refer to as VPLs (visible panty lines), invest in a pair of shapewear shorts like these, you can wear them instead of underwear. 
Wear the Correct Size/Hem Length: Don't be afraid to get your pants hemmed or tailored for a more perfect fit. The pants should not "wear you" or overwhelm your figure, especially if you're petite. 
Wear Streamlined Cuts: Try to avoid overly flared legs or pants that have shiny fabrics or large, big embellishments, like oversized gold sailor buttons or ruffled pockets.
Wear Pants at the Natural Waist: On your body, this is the narrowest part of your waist.
Avoid Over-Accessorizing: Remember, these pants are the statement; a simple top, jewelry, and a neutral bag are all you need to add. Bonus points if you pull off a monochromatic look, think white shirt, white high-waist pants, neutral accessories.
Wear with a Tucked-In Top: Tucking in your top accentuates the overall streamlined look of the pants.
Avoid Overly Blousy Tops/Bulky Jackets: Again, trying to keep it simple, the wide leg provides enough volume on the bottom, so we don't need more volume on the top. Proportion is key.
Avoid Bra-ish Crop Tops: Just don't do it friend. Trust me.