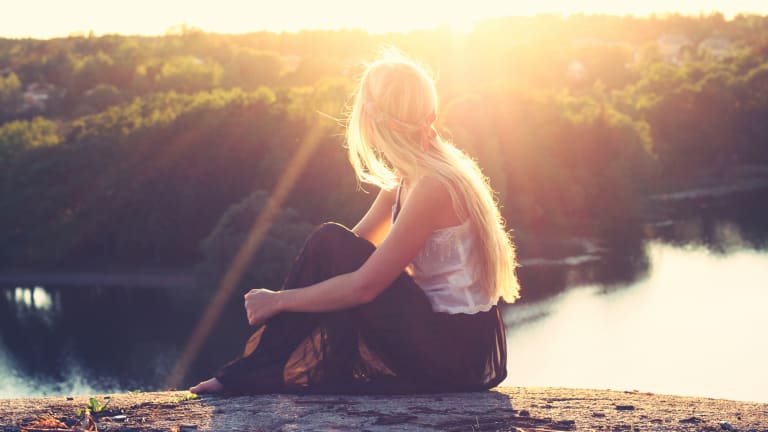 What a Holocaust Victim Taught Me About Cultivating Inner Strength
Changing the world begins in ourselves.
Becoming a woman in what could rightly be termed an age of anxiety, both in the United States and in the world, there have been times I've given in to discouragement and the lie that there is nothing I can bring to the world, no goodness in me that can serve others.
But a summer ago, I came across a book of writings from the diaries of Etty Hillesum, a Dutch Jewish woman who experienced a spiritual awakening a couple years before her life was ended in a Nazi concentration camp. Etty's ability to find emotional balance in the midst of unspeakable horrors has given me great comfort and strength in my own trials. Her journal entries map the transformation of her inner world and have made Etty a model for my own interior and emotional growth. Though there are many things the modern woman can learn from Etty, here are a few of my favorites.
01. The cultivated inner life can be a haven in times of struggle. 
Etty visualized her inner world as a landscape, "great, wide plains" over which she could travel freely. Though she was easily distressed through much of her life by the things that happened outside of herself, she learned to discover what she calls "this 'quiet room' inside me" that allowed her to be peaceful in the midst of struggle.
In July of 1942, Etty penned this entry: "The jasmine behind my house has been completely ruined by the rains and storms of the last few days; its white blossoms are floating about in muddy black pools on the low garage roof. But somewhere inside me the jasmine continues to blossom undisturbed, just as profusely and delicately as ever it did." 
So many times, I allow the little things of life to unsettle me: a poorly worded email, bad weather, worries about what might go wrong in the day ahead of me. Etty reminds me that I can cultivate a place of rest within myself, a place where I can go when the world around me feels chaotic. Learning to rest in this place doesn't mean that I disengage from the world; rather, because I'm able to visualize a more peaceful scene, I'm able to enter into the world more fully and with greater calm.
02. Being present to others allows us to positively impact others.
Etty mentions that before her spiritual awakening, it took very little to disturb her: "In the past I considered it my right to succumb to every twinge of sadness; everything had to make way for it, and nothing was of any importance compared with the great huge grief that filled my entire being."
Through growth in her inner life and the guidance of a therapist, Etty began to discover how attention to her inner world could strengthen her interactions with the outside world. Instead of being swallowed by personal grief, Etty began to turn her attention outside of herself so she could be present to others in their suffering: "I have learned one important thing today: wherever you happen to find yourself, be there with your whole heart. If your heart is elsewhere, you won't give enough to the community in which you happen to be, and that community will be poorer for it."
Etty's attitude, even as the war drew closer to her home, inspires me to reflect on how I can give of myself to others. The inner life that Etty cultivated served as a place from which she could draw strength to serve others. Toward the end of her life, she chose to work with those being deported to the concentration camps in order to more fully share in their suffering and to offer them a calm and caring presence in a harsh and chaotic environment.
In my own life, I see the beauty of developing this presence of self when interacting with those around me. Truly listening to friends and co-workers instead of distractedly starting to type an email or thinking about my own problems is a first step in being more wholeheartedly present to the communities in which I have been placed.
03. Change in the world starts within ourselves. 
In our time, when there is so much turmoil and vitriol among various groups, I am amazed by the relevance of the perspective Etty offers in 1942. Instead of blaming others for problems, she says we must start by looking long and hard at ourselves: "I no longer believe that we can change anything in the world until we have first changed ourselves…. We must look into ourselves and nowhere else."
This is a refreshing outlook. Instead of becoming overwhelmed by the world and its problems, I can start looking at where I struggle. For example, because I am someone who becomes easily discouraged in the face of difficulties, Etty would suggest that I learn to counter discouragement with encouraging thoughts and actions. If, for example, someone makes an unkind remark, I can choose not to retreat into my hurt feelings. If I'm starting to beat up on myself for something I forgot to do, I can stop that train of thought and remind myself that I'm a human being and that I'll do better next time.
Though Etty and I lived in two different generations and time periods in history, her thoughts from the mid-twentieth century are still applicable to our times in the early years of the twenty-first. Etty reminds me that in facing both the small inconveniences and the large problems of our time, all the resources I need to face these situations can be found within. At times, I may need a therapist, a spiritual director, or friends to help me discover these inner resources, but they are always there, waiting to be discovered. With these resources, I can begin to love the people around me more intentionally. And, like Etty, I can bring positive change to my little corner of the world, starting with myself.