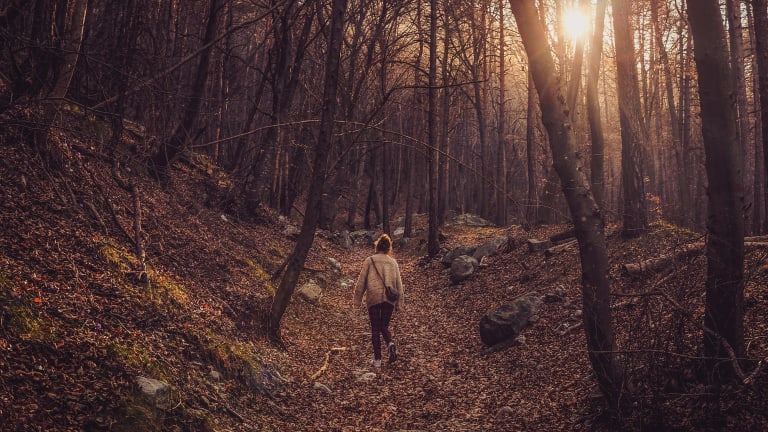 5 Unexpected Workouts That Won't Feel Like You're Exercising At All
This fall, exercise without working out.
I've never been a big fan of the words "working out." They imply that exercise requires a ton of effort—it sounds like not only do you have to work, you also need to go out to do it. For many of us who have a hard time squeezing it into our busy schedules, a well-intentioned workout regimen often turns into a workout-when-I-can regimen.
This is why I love the idea of multitasking when it comes to exercise. I can't imagine our ancient ancestors hitting up a paleolithic gym to build strength and stamina. Their workouts more likely consisted of hunting, picking wild edible plants, climbing trees to harvest eggs or honey, or making tools and weapons.
When it comes to getting important physical activity in, ask yourself, "What would Neanderthals do?" Skeptical? Here's a short list to start.
Gardening
Raking leaves, pulling weeds, composting, tilling soil—these all take real work, and they all need to be done pretty regularly. If you or someone you know happens to be blessed with a garden, backyard, or other outdoor space, consider it your free new membership to nature's gym.
Uphill Walking
I've been guilty of taking the road less risen 99 percent of the time, but I should have looked at slopes and hills as opportunities for cardio training and exercising new groups of muscles. If walking uphill at the beginning or end of your commute isn't in the cards, taking the stairs has a similar effect.
Foraging
Harvest season is the perfect time to grab some baskets and head outdoors for an afternoon of apple or pumpkin picking, autumn foraging—think: ripe fruits and fungi (but use caution!)—or gathering pine cones, twigs, vibrant leaves and other flora to decorate your home for fall. 
Bread Baking
Making it ourselves is so much cheaper than buying from the grocery store (we're talking pennies vs. $4–5 per loaf). All that kneading before and in between rises takes serious elbow grease. If you're as big a fan of The Great British Baking Show as I am, try making a couple baguettes and it will be clear why Paul Hollywood is the bread man and Mary Berry the doyenne of desserts.
Building
The strength it takes to build something as simple as a birdhouse is extremely underrated. My husband and I spent most of one Saturday building a simple birdhouse with our daughters, and I broke out into a sweat even though it was pretty chilly outside. We had to take turns going inside to take breaks. At the end of the day, we had done a good amount of physical activity and had something to show for it. Instead of a birdhouse, you can DIY a small piece of furniture, home decor, cute storage ladder, or chic wine rack. The possibilities are endless, and so is the exercise!
What are your favorite fall exercises that don't feel like exercise? We'd love to hear your ideas so please share them in the comments below!