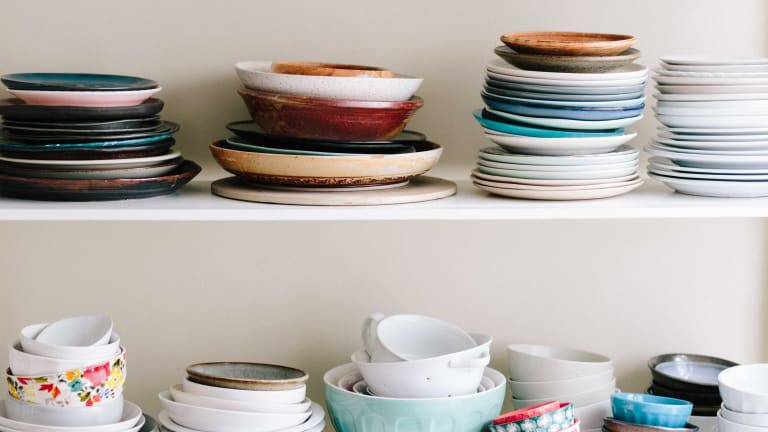 Budget-Friendly Hacks Every Anthropologie Shopper Should Know
Style doesn't have to break the bank.
Who among us doesn't want our homes to resemble some element of the simple, earthy beauty contained in an Anthropologie store? For the budget conscious, Anthropologie may not always feel in reach. But let's be honest, Anthro knock offs don't always measure up to the real deal. As it turns out though, there are a few regular and reliable ways to shop Anthropologie on a budget.
This has been hands down the most effective way for me to remain a loyal Anthropologie shopper on a budget. AnthroPerks is a loyalty reward program. It's not a credit card. It doesn't have a monthly or annual fee. The sign-up process is simple and the rewards can't be beat. Sign ups include name, email address, mailing address, and birthday.
AnthroPerks members receive:
15 percent off any item (full price or sale) during the month of your birthday
Anywhere between 15 percent and 40 percent off full price and sale items during AnthroDays (announced periodically approximately six times a year).
Easy returns via their member look up (no receipts needed).
As evidence of how effective this is, take a recent example from my shopping experience. During a recent AnthroDay, AnthroPerks Members received 40 percent off all full price and sale items. I was able to purchase three stone planters for a grand total of $35 (two were on sale, the other one was full price).
Every Holiday season, Anthropologie rotates gifts to place on sale. This is great not only for the holiday season, but for gifts throughout the year. Some examples of the sale are:
$5 monogram mugs and glasses
20 percent off candles
20 percent off jewelry and beauty products
One year, I bought all my colleagues monogram mugs, because at $5/piece, it was too simple not to. And I always stock up on their Capri Blue candles. They are the loveliest smelling candles (seriously, they smell like their store), and they burn for a long time (we're talking months, folks). They're a perfect treat for yourself and to give as gifts to friends throughout the year.
03. Visit the sale section often
The sale section at Anthropologie is usually regularly updated, and there are several days throughout the year when sale prices are discounted even further (as is the case with most retailers). You may have to dig through the Anthro sale section, but for the right finds, it's well worth it.
Take note, too, that many of their dishes and home goods get placed in the sale room. While it's unlikely you'll be able to buy a full set of dishes on sale, one of the beauties of Anthropologie is that many of their dishes can be mixed and matched. So, if you love those four dessert plates you eyed in the sale room, snag them and know that surely you'll can find another set of four that will complement them either there or somewhere else.
04. Watch for Teacher Appreciation, Mother's Day Sale, and other rotating sales
Every September or October, Anthropologie offers a sale for teachers. Teachers receive 15-20 percent off their purchase during this once a year occasion.
In early May, they often release a 15-20 percent off coupon, perfect to snag that last minute gift for your mom.
Follow blogs like The Anthropologie Sale Calendar at Mom Deals,  Breakfast at Anthropologie, or Effortlessly with Roxy for the most up to date sales, as well as their curated favorite finds. Or, just sign up for the Anthropologie email updates.
When it comes to beauty in our homes and our styles, sometimes the knock off look just simply won't do. True, we can't have everything we want in life, but with a little planning we can have a lot. Happy shopping!