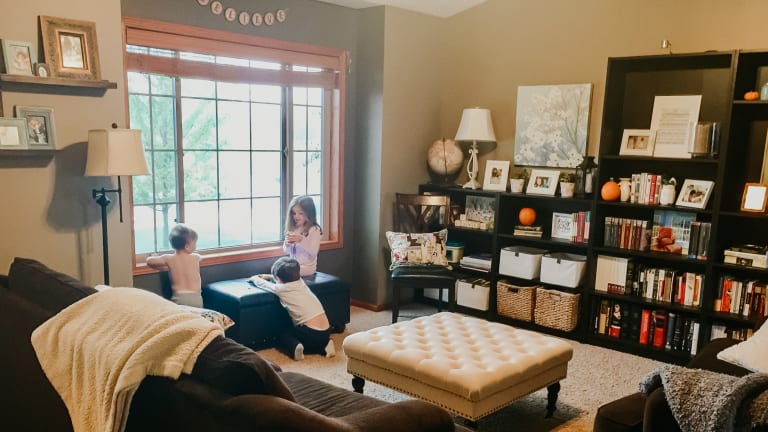 At Home with Her: A Living Room That Tells Our Story
The heart of her home
Name: Laura Triggs
City: St. Cloud, Minnesota
Tell us about your favorite spot in your home.
The morning sun peeks in and my husband sinks into the couch, sipping coffee and reading The Wall Street Journal. I sit next to him with my book and enjoy the clean and quiet for a moment, but soon we hear kids stirring. We ready ourselves for that lazy Saturday morning brand of chaos: Who wants eggs? I can't find the Woody-and-Buzz cup. Here's your coffee. Let go of her hair. Kids, toys, cheerios everywhere.
Welcome to our living room off the kitchen on our open-concept main floor.
This room is nothing like you'd find in a Pottery Barn catalogue, but it has a beauty to it. We've thought about the colors and the layout. I thought of hosting book club as we rearranged the seating, wondered where our parents would sit with cake plates on their knees at the next birthday party. I put artistic touches here and there. This room is really just the story of our family. If you walked in here, you'd learn about us.
Tell us how this spot came to be designed the way it is.
Last year, Kyle and I decided to make a little project of reworking this living room. It had been suffering the effects of confused owners. We didn't know what to do with the wall that peaked in a vaulted ceiling between two rooms, dwarfing all the furniture. We didn't know how to use the awkward extra space of an open-concept design. We wanted to create a room that we would just love to be in, that would invite reading, talking, playing, and recharging.
What first became clear was that the picture window facing the front of the house was the natural focal point. It took me three years to notice that. We replaced the loveseat that had blocked part of the window with our toy chest, and the effect is bright and lovely.
What you really notice when you first walk into the room, however, are the bookcases against the once-overbearing peaked wall. The four Billy bookcases from Ikea—two medium and two tall— were lined up and secured to the wall by my husband (who was on such a serious mission to put them together when we redid the living room, that he felt alarmingly foreign and attractive and I hesitated to get too close).
We arranged the shelving to allow spaces for art, vases, trinkets from T.J. Maxx, and lighting. There are white frames with pictures of our kids—sharing a deck chair, climbing on Daddy. There is one silver and absurdly shiny Vera Wang frame we got as a wedding gift, displaying a bride pulling the groom in for their first kiss. Then, of course, books. I never knew how fun it was to be surrounded by your books.
The seating is a work in progress. I read that you shouldn't let your furniture hug the walls, so we pulled our loveseat and couch out to let them breathe a little. The two make an "L" shape, and the square is completed with the bookshelf and window wall. There's a chair from the kitchen table in the corner where we play school. The spacing is not quite right. The love seat is too close to the kitchen—food-flinging distance from the high chair—and the couch is somehow too long. But we make do. There's room for conversation and play and a little wrestling.
Have there been particularly inspiring or moving moments in this corner of your home, or is there a particular feeling you get when you are in this space in your house?
This room is a central stopping point in our house that communicates clearly the joy and the messiness involved in raising our family.
The kids spend a lot of time under the picture window. They put their trains and people on the windowsill to perform against the natural backdrop of the trees outside. When one of us leaves, this is where three little figures pop up to wave goodbye, which is a big to-do. The window is usually covered with handprints, but my mother-in-law was here yesterday, so the glass is beautifully clear now.
At one time I hated the color of the furniture. Kyle bought the couch and loveseat before we were engaged, and they are dark brown. He called them "earthy" at the time—proudly—and pronounced the "th" like you would in the word "the," which drove me doubly crazy I considered it a stroke of bad luck that he made the purchase before I had any real say in the matter. I would have picked something lighter, airier, sweeter. But the silver lining is that they hide peanut-butter smears well and don't mind being bounced on. When we're all out of toddlers, we'll get something I like.
Someday, when I'm a quirky, silver-streaked grandma and have a little more time to myself, maybe I'll have a new, impeccably designed living room of my own, to make Virginia Wolfe proud. I'll sit in there and read my old print books and write this and that for my kids and grandkids. I'll picture the early adventures in this old living room, from the old split-level house I used to find so underwhelming. I'll look back with nostalgia and tell them, those were the good times, the "lean" times, the times of endless laundry and dishes. Those were the days of absolute love and family, when my dream of raising a little brood with my cute husband was just coming true.