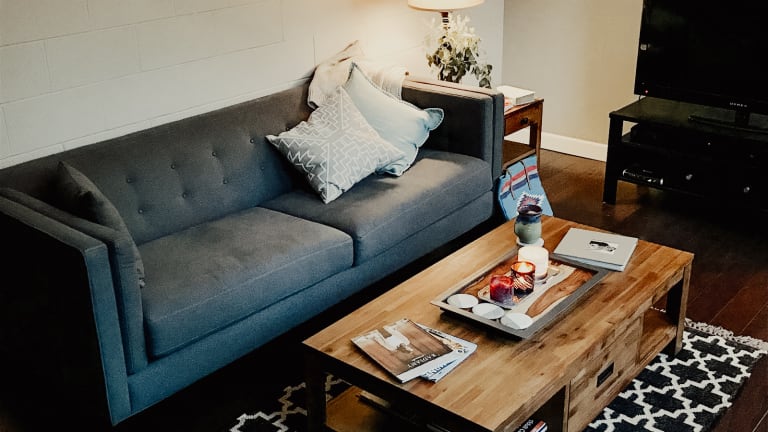 At Home With Her: My Nestling Corner
A place to find peace and recharge
Name: Susanna Parent
City: Saint Paul, MN
Tell us about your favorite spot in your home. Why is it your favorite spot?
My favorite spot in my home is on the left side of the gray couch in my living room. Shortly after my feet hit the floor each morning, I walk downstairs and snuggle into the corner of this couch, facing three large windows overlooking our street. I call it my nestling corner.
As I have lived in different homes over the years, the arrangement of my little corner has evolved, and depending on the season and time of day, what I have around me can vary. If you find me there in the morning, I'll be cozied up with a blanket and a cup of strong French press coffee as I write in my journal. It is where I prepare for the day, receive encouragement, and get ready to launch out into the world. If you find me there around midday, I'll be sipping a tall mug of Chai tea as I write a friend a letter or flip through the pages of a book. If the sun has gone down for the day and my husband is home from work, you will find us there sipping a glass of wine and nibbling on meat and cheese as we share our hopes for the next day, week, month, or year. The more time I spend in this little corner of my home, the more I am drawn to it. It has become a self-created sanctuary.
Is there a particular story about how this spot came to be arranged/decorated the way it is? Are there any particular pieces that have significant history?
My nestling corner is part of my story because it reminds me of my mother, and it is where I try to daily live out the example she set for me. Growing up, I would walk upstairs rubbing the sleep from my eyes and see my mother sitting in her rocking chair with her steaming coffee, weathered Bible, and journal. She rose early to spend a few minutes reflecting during the quiet calm of the morning.
In the home I share with my husband, my favorite spot closely resembles the place where I found my mother each morning. To the left of my corner on the couch is a wooden side-table with a lamp which spills light onto my journal and my not-yet-as-weathered-Bible. On the coffee table, where I sometimes prop up my bare feet, is a shelf with a box of stationery for making and writing cards, as well as letters from friends that I plan to reply to. It brings me joy to think about the letters I plan to write, from welcoming a friend's newborn baby into the world to catching up with a loved one who lives far away. When I look around the room, I am literally surrounded with love as I glance at family photos capturing priceless memories.
Have there been particularly inspiring or moving moments in this corner of your home? Or is there a particular feeling you get when you are in this space in your house?
My nestling corner is a place of simplicity, yet also a place that encourages me to start the day with a smile and an extra spring in my step. The softness of the light and the warm blanket are a welcoming invitation to spend a few moments in the quiet solitude of the morning. If I wake up extra early, I sit in this place by myself, but it's only a matter of time before I hear the comforting sounds of my husband's footsteps as he walks down to join me. It brings me joy that our living room is a place where he too finds his peace and comfort for the day, as he sits beside me in a calm silence, and we start our day together. Francis de Sales said, "Every morning prepare your soul for a tranquil day." The corner of my couch is where I aim to prepare my body, mind, and soul for a tranquil day in which I am deeply aware of the goodness of our lives.