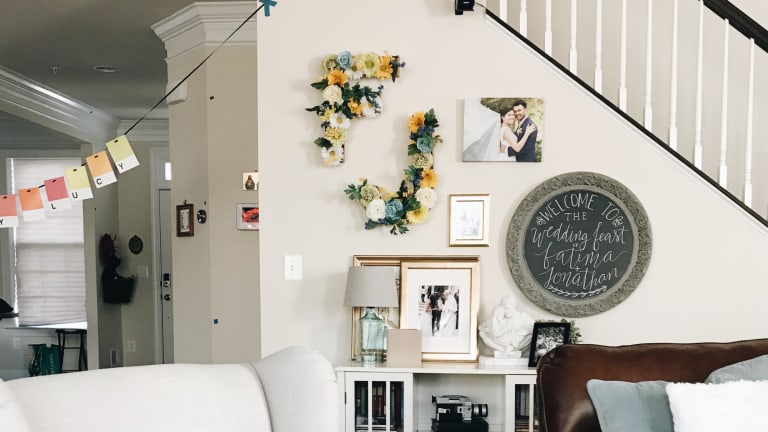 At Home with Her: A Wall for Wedding Memories
Visual keepsakes strengthen our marriage.
Name: Fatima Perez
Tell us about your favorite spot in your home. Why is it your favorite spot?
My favorite spot in my home is the wall in front of our stairs. On the wall hang visual keepsakes from the moment my husband asked me to be his wife and from our wedding day, the start of our journey as a married couple.
Is there a particular story about how this spot came to be arranged/decorated the way it is? Are there any particular pieces that have significant history to you or your family?
As I was designing the rest of the family room, I wanted that specific stair wall to be meaningful. Eventually, as I was sorting through wall art and other decor, this idea just naturally emerged.
The visual reminders continue on the console table, too, with other significant moments—our framed marriage blessing from the Vatican; a photograph of my husband and me receiving a blessing from Pope Francis during our honeymoon in Italy; and a statue, which was my husband's gift to me on our wedding day.
Have there been particularly inspiring or moving moments in this corner of your home? Or, is there a particular feeling you get when you are in this space in your house?
I wanted to highlight those two joyfully momentous occasions so we can reflect on them during both good and difficult times. Regardless of any curveballs that are thrown our way or valleys we find ourselves in, it's so important to be mindful of when we both boldly decided to embark on this journey together. It's an important and humbling reminder of that decision to love and serve one another and our family—and to continue to love and serve again and again, each and every day.
I also think it's great for our children and our families and friends to see our beginnings, and how the rest of our home is drawn from the moments captured on that wall and table!