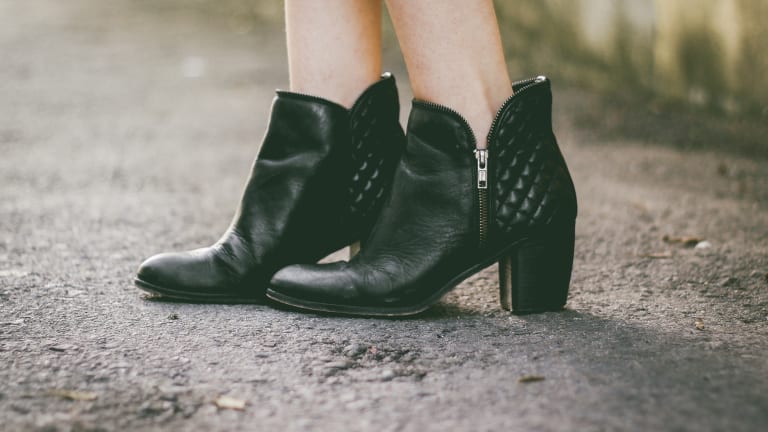 How to Wear Ankle Boots with Workwear
Plus a boot company that supports women!
It wasn't long ago that my sweet friend Ellery reached out to ask me for some ankle boot recommendations for the fall and advice on how she should wear them with workwear—excellent question, which I will get into in a minute!
First, if you're looking for the perfect ankle boot to wear to work, look no further than the Perez 90MM Bootie by ABLE, which I'm wearing above in black leather. I have been wearing these darlings all fall, and they've easily become my go-to shoe for work, because at 3.5 inches they're walkable and comfortable. Plus, the design and silhouette pairs well with my slacks (cropped or not), work dresses, and skirts. I'd be remiss if I didn't mention that the ABLE's Perez boots also kill on the weekends with jeans for hanging out and dresses for going out.
Note: I wear size 10 and they fit true to size.
If I had only purchased these one pair of ankle boots at the beginning of fall, I would've saved money. But the comfort and versatility of my ABLE ankle boots are not the only thing that makes them special.
ABLE is a lifestyle brand on a mission to end generational poverty by providing economic opportunity for women. They are in fact, the first brand to publish their lowest wages because they believe complete transparency is the only way to empower and protect the industry's vulnerable workers, most of whom are women. Did you know that 98 percent of fashion's workers do not earn a living wage? This means that the products we enjoy are most often made by women who cannot afford their basic needs. To ABLE, that is unacceptable. It should be unacceptable to us as well.
As the company explains on their website, "ABLE chooses to work with women because they know that when women thrive so do the economies in which they operate." When you purchase ABLE boots, you're helping to giving woman an opportunity to make a living wage with dignity. Not only that but you'll have some sick boots to wear to work and well into the winter.
Now, let's get down to Ellery's question on how to wear ankle boots to work!
Minding the dress code
When deciding which of your ankle boots to wear to work, be sure to take into account your company's culture and what would be appropriate in that setting.
If your work environment is more liberal when it comes to dress code then feel free to play with different textures, patterns, and heel heights. Think suede rust-colored booties, like these.
If your workplace is more on the conservative side, it's safer to stick to neutral colors (black, tan, grey), comfortable heights (3.5 inches and under), and understated textures like suede and leather, like these.
The different types of ankle boots
Dressier Ankle Boots:
Usually have a pointy toe and a stiletto or a skinnier heel
Must be neutral color in suede, leather, or patent leather
Wears well with suits, jumpsuits and skinny or wide leg trousers, or pencil skirts
Try these: Sock, Pointy-Toe, Kitten Heel, Block, and Stiletto
Tip: You can also wear a flat, pointy-toe bootie as a more stylish alternative to a ballet flat, the pointy toe makes the low heel much more formal than just a basic flat boot, which is more casual.
Casual Ankle Boots:
Have a moderate-sized stacked or block heel
Can be any color in suede, leather, patent leather
Perfect for business casual, pairs well with cropped trousers, knee length skirts, work dresses, or dark jeans for casual Fridays.
Tip: There should be a tiny bit of room between the boots and your trousers. If they are too long, you can always roll them and secure with fashion tape inside the roll.
Now for the styling part! Below are seven looks that demonstrate how you can wear an ankle boot with various work outfits in either business formal or business casual settings. 
Business Casual: Dress + Topcoat + Ankle Boots 
Business Formal: Skirt Suit + Ankle Boots
Business Casual: Midi Length Skirt + Sweater + Ankle Boots
Business Casual: Cardigan + Print Dress + Skinny Belt + Ankle Boots
Business Formal: Sweater + Pencil Skirt + Ankle Boots
Business Casual: Cropped Trouser + Shirt + Ankle Boots
Business Formal: Suit + Ankle Boots