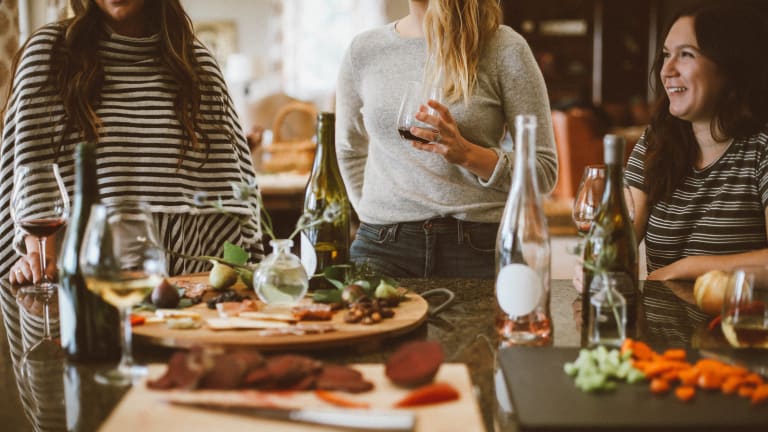 Why Cutting My Eating-Out Budget Was the Best Thing I've Done for My Relationships
There's something special about a home-cooked meal.
When we were first married, my husband and I were serial restaurant-goers. Whether we were sitting down to a nice meal or simply grabbing tacos at our favorite spot downtown, we loved connecting and bonding over good food—and we did it often.
After a few months of marriage, however, our weekly culinary adventures came to a screeching halt. In order to meet various financial goals, my husband and I scoured our family budget, looking for fat to trim. Our eating-out budget was the first thing we jettisoned. We gave ourselves a tiny monthly allowance to grab the occasional Sunday brunch, but other than that, we resolved to prepare all of our meals at home.
Concerned that I would sorely miss our favorite haunts, and determined not to resign myself to a lifetime of burnt grilled cheese sandwiches and lackluster salads, I set to work looking up simple recipes to add to our weekly repertoire.
This new undertaking had surprising results. First of all, I learned that I really love to cook. There is something therapeutic about creating a meal with your own hands, in a way that is unparalleled by ordering off a restaurant menu or ripping open a frozen package. I noticed that the colors, textures, and aromas of natural foods made me feel grounded and whole. Even the simplest act of sautéing onion and garlic in sizzling olive oil calmed and soothed me, especially after a hectic day at work.
But I also discovered something even more powerful: the way food brings people together.
Cooking at home helped me foster community.
My extended family is Italian, and growing up, our meals were no small affair. They started with fruit, cheese and nuts, pasta with shrimp and thickly-sliced bread dipped in olive oil. Out came the main course, then salads, then dessert. There was absolutely nothing haphazard, artificial, or rushed about any of it, and these gatherings remain among my favorite memories.
Surprisingly, what I remember most isn't the food itself: It's the people at the table.
Social science supports my experience: Recent research suggests that people feel emotionally close to one another when they sit down to eat the same food. This explains why people might feel more connected to one another while eating a homemade meal than meeting at a restaurant.
My husband and I have seen this reality come to life in our home. Lately, we've had a tremendous amount of fun with our friends when we host them instead of eating out. Not only is it arguably more comfortable to sit in our living room than at a restaurant table or bar, it also facilitates more intimate conversation.
In inviting people over for a meal, we welcome them into our home and our lives. Whether we are hosting our good friends, coworkers, or parents, serving someone a meal that we prepared feels like a symbolic act of love.
Cooking with friends expanded my understanding of hospitality.
Between choosing a recipe, grocery shopping, cooking the meal, and cleaning the house, hosting guests can take a lot of work and planning. Sometimes, though, hospitality is as simple as opening the front door.
Recently, one of my friends was in town and called to ask if we could meet up. It was a busy week, and I didn't have time to plan a meal. Instead of heading to a bar or ordering takeout, we googled a recipe I'd never made before, picked up some groceries, and laid some cutting boards on my kitchen table. I handed her a knife and some fresh vegetables, and we prepared the meal together. We chopped and drank wine and stir-fried chicken. My house smelled incredible and we had a fun evening sharing the meal we made together.
Since then, I've had several similar opportunities to invite people straight into the mess of my day and week to break bread—or chips and guacamole—and share life together.
Cooking with my husband became a bonding experience.
My husband and I enjoyed the rootedness we felt as we started to cook at home more. Taking the time to prepare a meal after work became an event: picking out the ingredients, pouring a drink, playing some Frank Sinatra music and setting a nice table.
While we still enjoy occasionally eating out at our favorite restaurants, we've come to treasure the intentionality and creativity of cooking our own meals. Sometimes, we'll host our own version of "Iron Chef" and each prepare a meal using the same ingredients. My husband made me laugh—and made us both slightly queasy—when he poured half a jar of apple cider vinegar on sweet potatoes because he thought it would be extra flavorful. (Thankfully, our culinary skills have since improved dramatically.)
How do you start the transition?
If you're not in the habit of cooking regularly, it can feel intimidating to get started. Fortunately, it doesn't have to be. Here are three tips that helped me transition from eating out often to preparing and hosting meals.
Keep it simple. If you're daunted by the prospect of serving an entire dinner party, start small. Invite a few friends over for a wine, cheese, and chocolate night. Better yet, invite your friends to each bring their favorite wine, cheese, or chocolate, so you can share in the preparation.
Invite your guests to participate. You don't need to have the whole meal ready when your guests arrive. In fact, many guests enjoy helping their host prepare the meal, as it creates a sense of togetherness (plus, it's a lot of fun). Set out cutting boards and ask people to help chop vegetables or stir sauce. I've found that this puts a lot of guests at ease, particularly shyer ones: Giving them a task will make them feel more engaged, as well as minimize any initial awkwardness.
Create a bank of go-to recipes. Scour your favorite food blogs or magazines and keep a physical or mental list of your favorites. Here are a few of my recent tried-and-true recipes: Mango chicken curry Spicy chipotle meatballs Caprese sandwiches—Grab your favorite premade or homemade pesto, ciabatta rolls, local tomatoes, and fresh mozzarella. Slice and toast the rolls, spread pesto on each side, and add thin slices of tomatoes and cheese.
When my husband and I decided to cut our restaurant budget, I was worried that I would miss our frequent date nights out. But our new lifestyle has changed my life in ways I never could have imagined. Our new practice of eating at home has broadened my comfort zone and, in doing so, helped me forge deeper and more meaningful connections with the people in my life.