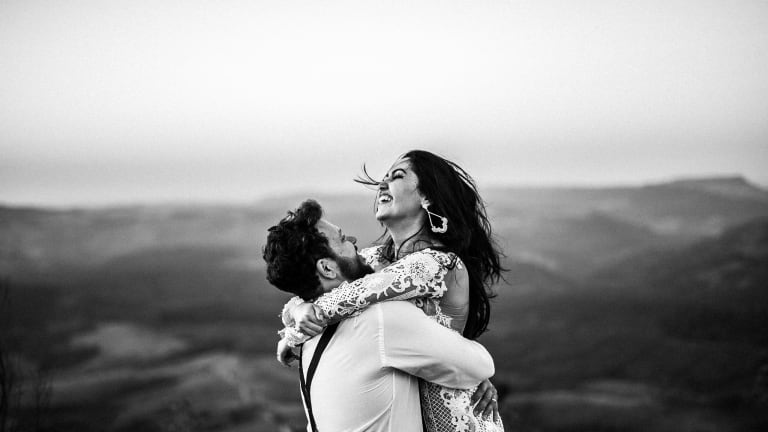 When She Knew: Imagining Nobody Else
Sometimes being in love doesn't hit you like a ton of bricks.
My heart was pounding. After a laughter-filled, five-hour drive home from his brother's graduation party, I knew he was about to ask me out. He did, and we went on two dates before I called it off and gave him the line, "I'd love to continue a friendship with you, but nothing more."
Two years later, my heart was pounding yet again. After putting one another in the "no" box, our friendship not only continued, but it deepened. One morning we unexpectedly crossed paths as we walked out of church. It was a church I often attended, but it was uncommon for me to see him there. As we walked out together, I had a feeling he was there for a reason, and was about to ask me out for the second time. He suavely and confidently did so. I said yes, and four months later, I called it off again.
The first week of that breakup I felt relief, and, given our history, I didn't take it lightly. I thought and prayed long and hard before making my decision, mostly because I knew that when I broke up with him, I didn't want to second-guess myself and be caught up in a whirlwind of emotion. I wanted to make a smart and logical decision and stick to it.
In retrospect, however, my problem was that I compared too much. I compared my feelings with those of my girl friends in their relationships. They all seemed to be falling head over heels for their boyfriends, and falling hard fast. What led me to end our relationship after what truly was an awesome time of getting to know each other better was the fact that I hadn't been hit with the proverbial "ton of bricks" yet—I didn't have that deep "in love" feeling I was expecting. I knew that I had a deep respect for him, and that he was one of the most upstanding men I had ever known.
But when the first week was over (by the way, my ex handled the whole thing like a champ), the second week of the breakup threw me for a loop. You know that feeling in the pit of your stomach when you're homesick? He lived only two miles away from me, but I felt like he was two countries away from me. It was hard to think of anything else but being in his presence.
During this time, I tried my best to remember what I thought was my incredibly logical thought process. I recalled my reasons for breaking up with him, trying to keep myself from making an imprudent and emotional call. But everything in me wanted to walk up to his door and ask for the chance to try "us" again. I'm not generally a crier, but in my heartbreak I called my oldest sister and bawled. I felt so silly for being weepy, but my heart had unexpectedly broken, and the pieces were starting to painfully hit the floor.
For me, the growth of love was like a slow burn. I now realize that I had put unnecessary pressure on myself due to the unrealistic expectations I had, expectations that were based on other people's experiences and not on the two of us as individuals. I thought I should have felt more for him at that stage in our relationship. I expected to have more clarity and certainty after four months together.
Breaking up helped me see what I was unable to at first. During our time apart I realized how much I desired to rely on him. I learned that although I could continue being self-sufficient, he made me better. He made me feel safe and secure. He encouraged me to make my goals a reality. And most of all he taught me to love well.
My wanting "nothing more than a friendship" turned into marrying the man who is more to me than I ever knew I needed—and I am grateful I get to rely on him for the rest of our days.