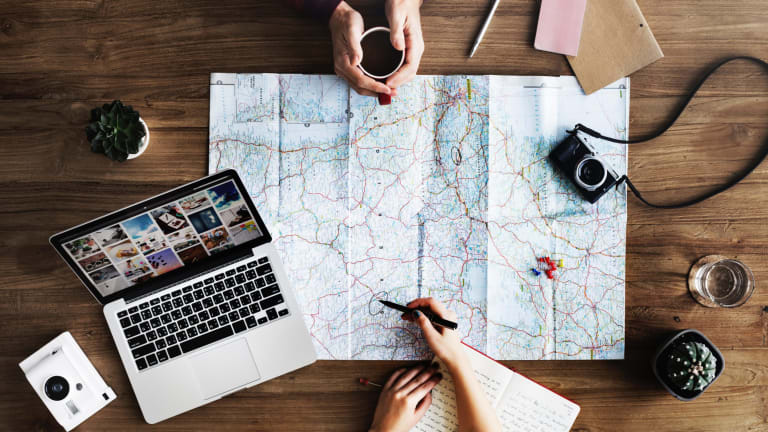 Travel with a Local: Norfolk, Virginia
A Naval base, breweries, history, and art--there's something for everyone!
Destination: Norfolk, Virginia
Verily Tour Guide: Cassidy Wright
Norfolk is a growing city located along the southeast corner of Virginia, with a lot to offer adults and children alike. It's home to the largest Naval base, so military families are bound to come to Norfolk (and we're pretty patriotic because of it!). If you're into ships and sailing, you've come to the right place, but even if ships aren't your thing, we've got plenty of sights for history buffs, foodie and brewery lovers, and artistic types to keep just about everyone happy!
Where You Should Stay
323 Fairfax Avenue,Norfolk, Virginia
While the main hotels are along the Waterside, I recommend a bed and breakfast called the Page House Inn. Located in the Ghent neighborhood, this nineteenth century house is well-preserved and is near the Hague, a popular inlet, and the Chrysler Museum of Art. You walk inside and instantly are hit with a wave of nostalgia, like you're in another time. The innkeeper and her dog are very welcoming and insistent that you join the other guests in the large dining room for breakfast. The rooms themselves each speak to different personalities—my favorite is the Bathe Suit (named for its incredibly large bathroom, complete with a stand-up shower and jetted whirlpool tub).
Where You Should Eat
1300 Redgate Ave. Norfolk, Virginia
1901 Colonial Ave. Norfolk, VA 23508
4311 Colley Ave. Norfolk, VA 23517
333 Waterside Dr. Norfolk, VA 23510
345 Granby St. Norfolk, VA 23510
1919 Monticello Ave. Norfolk, VA 23517
211 W 24th St. Norfolk, VA 23517
Norfolk has unique, local restaurants scattered throughout—from Torch in the Chelsea neighborhood for American food and craft beer, to Greek cuisine at Ora Pax. If you want something more casual, pizza at Cogans in never a bad idea. Downtown, we have a Grilled Cheese Bistro that is quaint and small but is well worth the wait, mostly for the delicious experience. Doumar's is diner-style food where you can pop in for the best ice cream—they're credited with inventing the world's first waffle cone!
Norfolk is also home to nine breweries, all close to walking distance. It's relaxing any time of year to grab a beer and lay out in the beer garden at O'Connors, or play corn hole at Smartmouth.

The Best Coffeehouses in Town
[media-credit name="Photo cred: Cafe Stella" link="https://www.facebook.com/cafestelladowntownnfk/" align="aligncenter" width="800"][/media-credit]
1907 Colonial Ave. Norfolk, Va 23517
116 Granby St. Norfolk, Va 23517
Cafe Stella is a local favorite. If you go often enough, you start to see the usual people, especially on a Sunday for brunch. Their coffee tastes amazing, and they offer a great breakfast menu. Once you pick a seat, you can't help but look around at the antiques that surround you. Your breakfast is brought to you, and you can't help but talk about the old aprons, plant prints in frames, and unique bowls and platters nearby. You question if you want to play a game of cards there, or read a novel like the gentleman at the table next to you. This cafe is cozy and a place full of curiosities, but more importantly it's where families and friends meet over a simple cup of good coffee.
Sites Worth Seeing
The USS Wisconsin—Located on the Elizabeth River Trail, you can walk right on board and imagine its mission during World War II. Serving in the Pacific Theatre, this battleship interacted mostly in Japanese waters, earning itself five battle stars.

The Mermaid Factory—It would be almost impossible to drive around Norfolk and not see a mermaid. We have about a hundred of them placed all around the city, each decorated with a unique theme. At the Mermaid Factory, you can make your own to take home with you. Talk about your souvenir!

Chrysler Museum of Art—It's free! And it's hard to pass up walking on creaky wooden floors, staring at a Degas painting. Most popular is its collection of glass art. It's fascinating to see medieval beer steins and Tiffany glass work. In addition, the museum holds a glass studio demonstration every day. Whether you're a fan of American colonial art or modern art, Egyptian work, or Greek statues, this museum has a little bit of everything.

Seasonal sites:
Concerts at sunset during the summer on Hermitage grounds—bring your lawn chairs and listen to folk music as you watch the sun set
Wine Festival at Town Pointe Park—Every spring (first weekend in May) and fall (third weekend of October), this is an opportunity to meet up with friends and sample a variety of wines (and some beer) from Virginia wineries. It's quite common to see groups laid out on a picnic blanket, sipping wine, and watching the Elizabeth River. Any wines that sparked your fancy can be bought in bottles to bring home to keep the good times rolling.
Virginia International Tattoo Festival—Held every April to honor our heroes, this festival is simply amazing. Military bands from all over the world play a brief song that represents their country, or even some pop culture songs to sing along to. Near the end, viewers get to recognize the living Medal of Honor winners and hear their stories of bravery and courage while serving in the U.S. Military. My favorite is when audience members stand when their military branch is called, so that you can soak in all those in the stadium that have served.