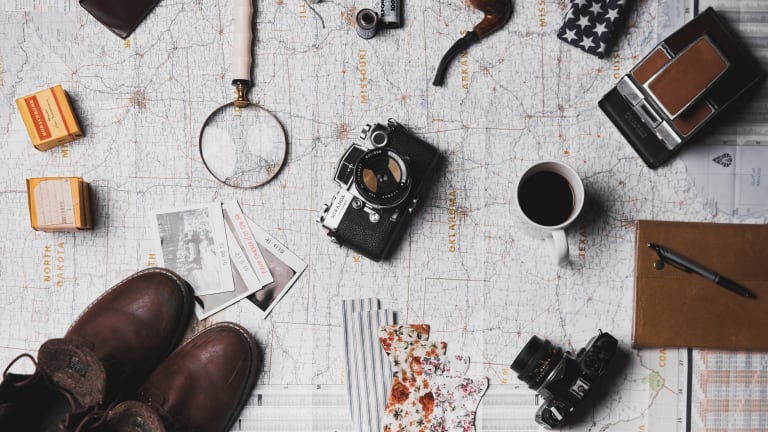 Travel with a Local: Saint Paul, Minnesota
Big-city excitement with small-town charm.
Why You Should Visit
Whether you are looking to explore a new destination with your girlfriends or impress your significant other with an amazing date, Saint Paul has diverse and budget-friendly opportunities. Home of F. Scott Fitzgerald, Saint Paul served as inspiration for The Great Gatsby. Visitors will love the ways their imagination will soar thinking about that book while surrounded by the historic architecture of this great city. But even if you're not a Fitzgerald fan, there are plenty of scenic sights for walking, museums for the history buff, unique restaurants . . . and I'm just getting started. There are more than 300,000 people who live in Saint Paul, and there is something in this city for everyone.
Where You Should Stay
What I love about this city is its charm, and Saint Paul is not lacking in cozy accommodations with great views and close proximity to nearby bars, cafes, restaurants, and beautiful neighborhoods. So stay awhile, and find your Saint Paul gem. You have plenty of options to choose from.
If Airbnbs are your thing, you could spend a night in a nineteenth-century mansion or in a home on the coveted Summit Avenue.
If you'd like to make your stay a little more luxurious, there is the New Victorian Mansion Bed & Breakfast (325 Dayton Avenue, Saint Paul) in the historic Cathedral Hill neighborhood, steps away from many of the Fitzgerald and Gilded Age sights suggested later in this guide.
Another option is the Covington Inn (100 Harriet Island Road B3, Saint Paul), a floating bed and breakfast on the Mississippi River with a stunning view of downtown Saint Paul.
The Best Coffeehouses in Town
459 West 7th Street, Saint Paul, MN, 55102
Claddagh Coffee is the name of a quaint and charming cafe in the West 7th neighborhood near downtown Saint Paul. Named after a small fishing village in Galway, Claddagh is also the style of a popular ring that represents friendship, love, and loyalty. The cozy, homey, Irish atmosphere invites you in with warm hospitality, making it a fun spot to meet up with friends or an ideal location to spend a few hours studying or working in their brick-lined downstairs cafe. The cooks bake delicious house-made pastries and create piping hot menu items to choose from for breakfast or lunch. You might expect to see a "Salty Dog" in the Irish village of Claddagh, and it is also the name of one of Claddagh's specialty drinks. I have four ingredients for you. Espresso. Caramel. Chocolate. Sea salt. Need I say more? If you do need me to say more, or just really don't like coffee, I recommend their house-made chai tea latte.
867 Grand Avenue, Saint Paul, MN, 55105
One of my all-time favorites for meeting a friend for coffee, setting up a business meeting, or grabbing a croissant on the go. This local and family-owned bakery is located on the lovely Grand Avenue in Saint Paul. If you are looking for something savory, try their ham and cheese filled croissant. For those with a sweet tooth, my go-tos are the Lingonberry Muffin or the chocolate-filled croissant sprinkled with mini chocolate chips—treats best enjoyed sitting by their adobe fireplace.
180 Grand Ave, Saint Paul, MN, 55102
If you are looking for a family-friendly coffee shop with a wide variety of gluten-free options or just something completely unique, this is the cafe to visit. They are known for their smoothie bowls, crepes, oatmeal bowls, and decadent espresso art, and they have a side room with tables and activities for children to play with. Their "Beehive" smoothie bowl boasts Greek yogurt, bee pollen, and date, pistachio and chia pudding. Their espresso drinks are carefully and creatively made, including fun options like the "Creme Brulee," made with espresso, brulee sugar, caramel, and vanilla.
Sites Worth Seeing
Summit Avenue, F. Scott Fitzgerald History, and Gilded Age Mansions
You'll definitely want to spend some time walking or driving down Summit Avenue. This impressive tree-lined street spans nearly five miles from the Mississippi River to the Cathedral of Saint Paul, with 373 of the original 440 mansions built between 1855 and the 1920s still in place. Give yourself a self-guided tour, or if you visit between May and the end of September, reserve a spot on the 90-minute walking tour of Summit Avenue hosted by the James J. Hill House. Either way, don't miss an opportunity to take a tour of the James J. Hill House (240 Summit Ave, Saint Paul). Then, head down the hill into downtown Saint Paul to tour the Alexander Ramsey House (265 S. Exchange St., Saint Paul).
Many of F. Scott Fizgerald's childhood and adult homes are located on Summit Avenue or the surrounding streets. The home that he died in, a row house, is on Summit Avenue. You'll notice the plaque out front acknowledging its place on the national historic registry. Today, it's a private residence, so sadly visitors like us can only imagine his living situation from the outside. Download this F. Scott Fitzgerald historic guide before you visit to make sure you don't miss the various places he lived and frequented as a child and in his marriage to Zelda.
Stop for a cocktail and chat about Fitzgerald's life and works at the Commodore Bar & Restaurant in downtown Saint Paul (79 Western Avenue North, Saint Paul). In the 1920s the Commodore Hotel bar in Saint Paul was closed due to the prohibition—but the basement speakeasy was visited by F. Scott Fitzgerald himself. Now the Commodore has reopened in all its art deco glory. Here you can order one of their classic libations, the Fitzgerald, a drink mixed with gin, house sour, and bitters and garnished with a lemon wheel.
239 Selby Ave, Saint Paul, MN, 55102
Located on a hill on Summit Avenue, this majestic cathedral offers sweeping views of the Minnesota State Capitol and downtown Saint Paul. The cornerstone for this cathedral was laid in 1907. Nearly sixty years later, it landed on the National Register of Historic Places. It was designed by E. L. Masqueray, who was also the designer of the Basilica of Saint Mary in Minneapolis. The space can seat three thousand people.
The Shrine of the Nations behind the sanctuary gives honor to the national patron saints of the people who settled the city of Saint Paul and the state of Minnesota. The interior walls are built from travertine found in Mankato, Minnesota, and the walls of the chapels are built of Italian marble. The ornate interior and vibrant colors of the ceiling will leave you in awe and wonder.
1225 Estabrook Drive, Saint Paul, MN
Stretch your legs by walking through Como Park! There is something here for everyone, and you won't have to spend a penny. For those who want to walk and enjoy the sights of calm Como Lake, there is a path surrounding it that will take you on a 1.67-mile loop. For gardeners, botanists, and lovers of natural beauty, the Marjorie McNeely Conservatory is a must-see.
The conservatory is open 365 days a year and entrance is free (though voluntary donations are welcome). If you visit in the winter, you will enjoy the warmth of a full acre enclosed under glass with six indoor gardens. In the warmer months, you can wander the three outdoor gardens. With fifty thousand plants and over sixteen hundred different species, there is always something new to see and appreciate. For animal lovers, visit Como Zoo. This zoo had humble beginnings, starting in the late nineteen hundreds with the donation of just three deer. Now the zoo's inhabitants include giraffes, lions, and gorillas!
For more charming historic buildings, shopping, and dining, check out Grand Avenue, just a few blocks over from Summit Avenue. Mixed between standard-fare shopping (Anthropologie, J. Crew, Pottery Barn) are some cute boutiques unique to the Twin Cities. Bibelot (1082 Grand Ave, Saint Paul) is a varied gift shop with books, accessories, and other gifts for anyone in the family. Nearby is the Wedding Shoppe (1196 Grand Avenue, St. Paul), a charming bridal boutique with a great array of dresses at a wide range of prices. For kids, don't miss the Red Balloon Bookshop (891 Grand Avenue, St. Paul), a charming, award-winning bookstore.
While Saint Paul has more than enough to keep you busy for a weekend, you may want to check out the other Twin City--Minneapolis. Though much more modern than Saint Paul, Minneapolis boasts its own history, too. While I'll leave the bulk of the tour guide fun of this city to another Travel with a Local writer, a few highlights.
If art is your thing, Minneapolis will win your heart. The Minneapolis Institute for Art (MIA)(2400 Third Avenue South Minneapolis) is always free, and offers great art as well as beautiful views of downtown Minneapolis. The Walker Art Center (725 Vineland Pl, Minneapolis) offers unique, modern art inside and a must-see sculpture garden. The Basilica of Saint Mary (1600 Hennepin Ave, Minneapolis), designed by the same architect as the Cathedral of Saint Paul, offers breathtaking architecture.
Where You Should Eat
374 Selby Avenue, Saint Paul, MN, 55102
This is a spot you will not want to miss! While writing This Side of Paradise, Fitzgerald took frequent breaks with friends here, when it was W.A. Frost's Pharmacy.
Today, Saint Paul Magazine has rated it best patio for two years in a row, and Minnesota Monthly Magazine gave it first place for romantic dining, while OpenTable mentioned it in a review of the "Twin Cities' Best Ambiance." W.A. Frost is known for its classiness and gorgeous gardens. It is best known in my mind for its romantically lit patio with zigzagging Einstein lights. This restaurant, which is also on the National Register of Historic Places, serves brunch, lunch and dinner, but the best time to go is at night.
On a chilly, winter night with the soft snow falling, you can enjoy a warm beverage in one of the cozy nooks in their brick-laden lower level lounge. In summertime, go around sunset to make the most of their patio lounge and garden bar and soak in the transition from the light of day to the warm glow of twinkly lights. W.A. Frost has a great wine list, but for cocktail lovers, I recommend their Spanish Gin & Tonic, made with spruce flavored gin, juniper berries, cucumber, tonic and a rosemary garnish. If you want something with more of a bitter bite, try their tequila Negroni!
1811 Selby Ave, Saint Paul, MN, 55104
If you follow the Travel Channel or the Food Network, you may be familiar with the rave reviews this pub has received on Diners, Drive-Ins and Dives and Bizarre Foods America. Minnesota is the birthplace of the Juicy Lucy, a burger filled with cheese, and the Blue Door Pub created a spin-off of this burger, the "Blucy." Their signature burger is stuffed with blue cheese and garlic.
This pub, which opened just ten years ago in the Merriam Park neighborhood, is a favorite in the Twin Cities. Their classic may be the Blucy, but they have an array of diverse burger options including two rotating specials like the "Blucy of the moment" burger, the most recent being the "Pastramilicious." Ingredients include pepper jack cheese, pastrami, pickles, and cream cheese. If this burger doesn't interest you, maybe the next burger on my personal Blue Door bucket list will: "The Jiffy Burger," a single-cut patty with pepper jack cheese, peanut butter, and mayo. The Blue Door is first-come, first-served—but the experience your taste buds will have is more than worth the wait. Don't forget to order the deep-fried pickles dipped in beer batter and served with garlic aioli!
As far as dinner options go, a great option for Mexican food is the chicken at the new Pajarito(605 7th Street, West Saint Paul)—a warm meal made with salsa adobada, sweet plantain and pumpkin seeds. If you are looking for a casual Italian place stop at Cossetta's Eatery and Pizzeria (211 7th Street, West Saint Paul); their upstairs Louis Ristorante & Bar provides a finer dining option. Or you could pick a few things up from their Italian Market on the first floor and head out for a picnic! If you want something unique yet American, one of my favorites is the gastropub the Happy Gnome (498 Selby Ave, St. Paul). Their Steak Tartare appetizer cannot be beat.
Editor's Note: Hidden gems exist all over our country, and local residents are the best tour guides. Submit a Travel with a Local guide for your chance to be featured at Verily!