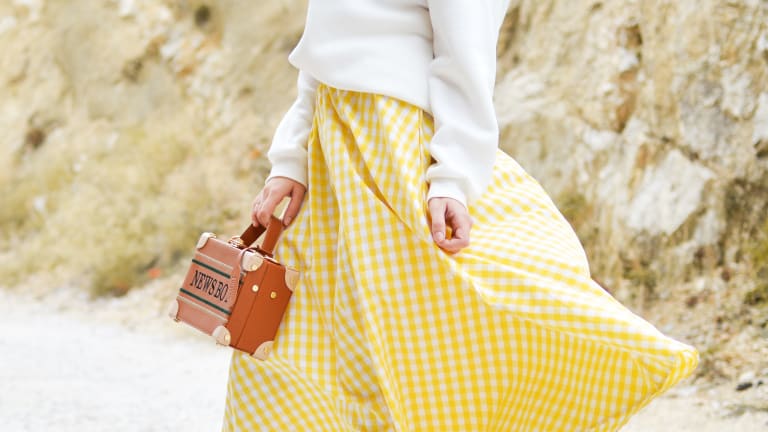 Styling Skirts for Fall
Tights not needed....yet
When the weather turns cooler, naturally we turn to pants as a quick wardrobe solution. But there is so much more fun to be had with skirts! Not to mention that skirts are way more comfortable and versatile, especially when you spend hours sitting behind a desk. I love how you can create multiple outfits with just one skirt simply by switching out your top, jacket, or shoe style. I'm seeing so many great skirts this season in different lengths, fabrics, colors, and patterns that I'm excited to try. Below is a run-down of my three favorite skirt lengths for the fall and how to rock them.
I feel like the mini gets a bad reputation because the name suggests that the skirt must be very short. In reality, there are different variations of the mini skirt, from micro to mid-thigh, from straight to flared. Personally, in the fall I like a straight mini with a lightweight turtleneck and over-the-knee boots for a party or after-work event. While a plaid mini with a silk blouse, blazer, and low-heeled sling backs or loafers would be perfect for the office. When the weather turns cold, add a pair of dark tights and taller boots and pair with a long cardigan.
Recommended Look: 
The most versatile and flattering skirt style for any body type is a knee length skirt. This go-to skirt can be worn with any shoe style. I often wear flowy, knee-length skirts with a merino sweater or hoodie and Converses. It's an ideal outfit for running errands when you want to avoid wearing jeans and yoga pants all weekend. For work or an event, try wearing that same flowy, knee-length skirt with a silk blouse tucked in and belted. Tip: Thick belts like this one and this one are best. Finally, add mules or heels for an extra feminine vibe.
Recommended Look:
The midi is my favorite of all skirt lengths. Now, if you're a Meghan Markle fan like yours truly, you'll notice this is her go-to skirt style—and for obvious reasons. This skirt length is at once sophisticated and polished and can be made even more dramatic when worn with a pair of booties or tall boots. The latest midi skirts in suede, wool, and leather are also ideal choices to keep your legs extra warm. Try wearing your midi skirt with a fitted cashmere pull-over and tall suede boots for work or a t-shirt and mules for a weekend brunch.
Recommended Look: