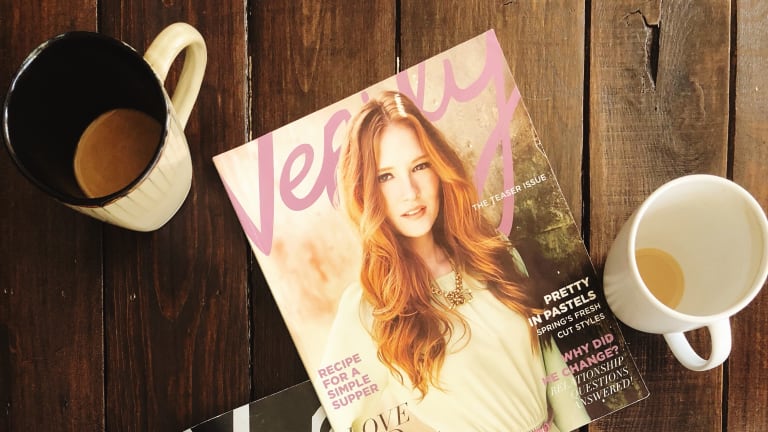 Oh Yes, It's Happening: What's Ahead For Verily
Your wish is our command
It feels good to be back! We know the wait has been painfully long for many of you, and please know, it has for us, too. But we're so excited to share fresh content with you, as well as our plans for the future of Verily!
As you may recall, when I introduced myself in the spring, I solicited your feedback. I want to reiterate that what you've come to know of Verily in terms of values, aesthetic, and daily content will remain largely the same.
But we wanted to take advantage of the transition to learn how we can be better or different to meet the wishes of our audience, too. Hundreds of you responded, and we read every single survey. In response to the questions that asked what you'd like changed at Verily, you overwhelming responded: Bring it back in print.
Your wish is our command! We're all too happy to work toward this goal, but we're going to need your help.
Same Mission, New Features
Starting today, we will have multiple new articles daily, Monday through Friday, on our site. Our social media channels (Facebook, Twitter, and Instagram) will remain active. And you can receive a digest of Verily articles either daily or weekly (subscribe here or update your options, if you are already a subscriber).
Over the summer, we have been strategizing about how we can build revenue that will allow us to go back to print, and here's where you come in.
Later this fall, we'll be launching a new feature called "Verily Yours," aimed at helping you live a life that is "less of who you should be, more of who you are." Here's how it will work.
Verily Yours is subscriber content which will be exclusive to Verily readers for a small monthly fee. This content will be delivered via email for paying subscribers. There will be four services you can subscribe to either individually (for either $3/mo or $5/mo) or as a bundle (for $7.99/mo). The services are as follows:
Verily Home ($3/mo): Designing and organizing a home that is as beautiful as our heart's desire isn't always easy. There's a reason interior design is a profession! Verily Home will give you access to professional interior design advice at a cost you can afford.
This email, delivered twice a month, will invite readers to submit a room or corner in their house they'd like to redesign. Professional designers will offer suggestions based on the reader's budget and design requests (colors, look, furniture needs, etc). It will also offer organizational tips that aid design—after all, keeping a house in order is at least half the battle in the quest for a beautiful home.
Verily Table ($5/mo): The dinner hour should be a restorative time in our days—a time to put the worries of the day behind us and enter into a restful evening before another day begins. Verily Table is meant to help foster that restoration by simplifying dinner prep and smooth the transition from day to evening. The Verily Table emails, delivered once a week, will include:
four menus (Traditional, Gluten Free, Paleo, and Vegetarian) with five dinner recipes that will each take roughly thirty minutes or less prep. The recipes will be tasty, nutritious, and optimized to minimize food waste (e.g., if a recipe calls for cilantro, it will be used in more than one recipe, in order to use the whole bunch);
cooking and kitchen tips especially aimed to help newer chefs learn their way around the kitchen;
a podcast, playlist, or TED talk to listen to while you're cooking; and
a question for discussion or reflection during dinner.
Verily Pocketbook ($3/mo): Maybe you have dreams of taking that long-awaited European vacation, owning your first home, or paying down your debt. Maybe you'd just like to feel a little more freedom when the topic of money comes up! Verily Pocketbook will be twice-monthly email, aimed to help you name your financial goals and tackle them. You can expect guidance on setting a budget, understanding investments and home loans, saving for short- and long-term goals, and regular check-ins aimed to help hold you accountable to your financial dreams.
Verily Work ($3/mo): We like to think of this email as your own personal career coach, offering you concrete tips for your work life and giving you that vote of confidence you need to succeed. This weekly email will include sections for those searching for or in their first jobs, those who've been working for five to seven years, management tips, freelance/entrepreneur tips, and even a section for moms (you work, too!).
Want just one email? Sign up individually. Want more than one email? Become a Verily Yours exclusive subscriber for $7.99/month or a one time $85/year to receive all four.
If we can grow our Verily Yours subscribers, we will be in a position to expand back to print.
Stay tuned for sneak peeks of Verily Yours and early signups. Meanwhile, enjoy the new content!
Verily yours,
Meg McDonnell
P.S. As we re-launch, our ads may take some time to optimize. If you see an ad that you believe to be inappropriate, email us directly at ads [at] verilymag [dot] com.