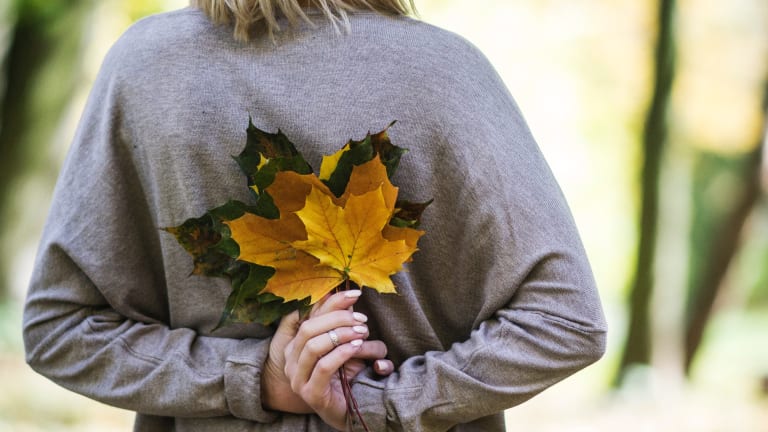 New Year's Isn't the Only Time for Resolutions
Why not try making positive changes with the turn of the season instead?
How many times have you crafted elaborate New Year's resolutions, only to fall short by January 2?
I'll go first: Too many to count.
Each year, I sketch out a life plan that would make even the most ambitious women balk, resolving to make global changes in every area of my life from the physical to the spiritual, from the intellectual to the interpersonal. They are so aspirational that it's no surprise I can't sustain them for more than twelve hours. And according to one poll, this cycle of aggressive goal-setting followed by crashing defeat is an epidemic: Four out of five people report breaking their New Year's resolutions at some point, and one-third of them don't even make it to the end of January.
Part of the problem is surely that we set unrealistic expectations for ourselves. We resolve to improve in essentially every area of our lives, to make January 1 vastly different from December 31, and to sustain this radical newness for twelve full months.
But what if another impediment to our success is the time of year? Labeling January 1 as a great watershed moment in our lives is arbitrary. After all, were it not for the cultural designation of January 1 as the New Year, it would simply be another winter day.
What if instead of selecting the New Year as the catalyst for radical reform, we used the natural change in the seasons as an opportunity for growth? What if instead of forcing resolutions, we let them happen organically, shifting our schedules and routines in a way that mirrors the changing seasons?
Serendipitously, the onset of fall is ripe with natural new beginnings: Blistering heat gives way to crispness, trees shed their leaves, and daylight wanes. Fall is also a time that, as a society, we enthusiastically move from relaxed summer rhythms into new school years, activities, and commitments.
And the idea of fall resolutions is catching on. "While spring is the season of physical rebirth—flowers blooming, snow clearing, mates mating—fall is the season of cultural rebirth," writes Megan Garber, noting that not only may fall resolutions feel more natural, but sustaining healthy habits through the new year may also be markedly easier if we begin cultivating those habits in the fall months. Plus, Katie Clemons notes, fall resolutions don't have to be public. "They're a little secret we can each carry in our chest pockets, folded against our hearts in order to craft a richer life," she writes, "instead of comparing and competing with one another and ourselves come January 1, when we really just need the silence to unwind." And its proximity to the holidays seems to help, observes Lauren Rabin, prompting us to meditate on both fitness goals and our relationships.
Even if our lives no longer naturally offer us a new beginning, like a semester or school year, we can still use fall as a time to set intentional goals and to enjoy a fresh start. Here are four simple steps you can take to make this fall your own version of a new beginning.
01. Purge and decorate.
Inviting healthy change in our lives often starts with cleaning, decluttering, and simplifying our physical spaces. Pick a Saturday to do a good old-fashioned purge of your home, office, or apartment, so that your surroundings set the tone for a fresh start. Just as January isn't the only opportunity for resolutions, springtime need not be the only season for a good deep-clean.
And if the brisk weather and shorter days are leaving you feeling a bit glum, fill your home with all the trappings of fall. Fresh chrysanthemums, bowls of pumpkins and gourds, and spicy candles do wonders to swap post-summer blues for a festive spirit.
02. Devise a fall bucket list.
As the summer comes to a close, it is easy to slide right into a routine of intense focus on our work, studies, or family obligations. To ensure you keep some lightness and fun in your life, sit down with your friends, family, or significant other to plan a fall bucket list. It can be as simple as visiting a pumpkin patch or your local farmers' market to enjoy seasonal foods—or as adventurous as a week-long backpacking trip through the mountains.
The only rule is to actually do the things you write down!
03. Review your priorities and set goals.
Sit down with a journal or blank piece of paper and write down everything you 1) need to do (i.e., work, attend classes, complete projects) and 2) would like to do (e.g., pick up a new project, meet a financial goal).
Rank them in order of priority, and then break them down into small, attainable action items. Author and speaker Laura Vanderkam discusses how setting actionable, modest goals instead of vague, aspirational ones is the key to actually achieving them. For instance, setting a monthly goal to "run three times a week" is much more attainable than vaguely stating that this fall, you will "train for a half marathon."
04. Reflect.
It is important to periodically take time to reflect on your life, examining both your short-term and long-term goals, dreams, and desires: what you would like to accomplish in your career and life, how you would like to live, whether the way you are currently living complements your goals, and if not, how you can implement positive changes to live a healthier, more balanced life.
What better time to revisit these questions than the start of a new season?
The autumn months give us so many good things—and not just the debut of seasonal lattes. The onset of fall may leave you feeling downcast, exuberant, or simply indifferent, but regardless, the new season invites us into meaningful change. Whether this involves a simple shift or a plunge into deep-seated reform, know that this is your time to explore new ways to live an intentional, inspired, and connected life.