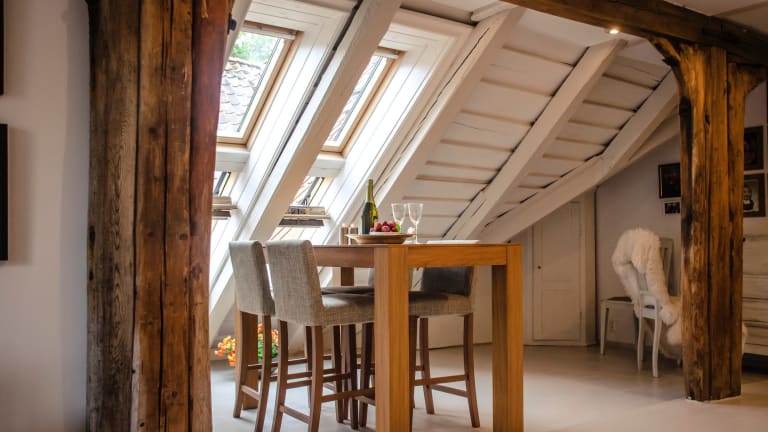 How to Get Fixer Upper Style on a Budget
Everything but demo day … and the price tag.
The first comment that guests usually make when they step inside my apartment is, "Your place looks straight out of Fixer Upper!" (Of course, they are not being primed at all by the Magnolia Story book or the Magnolia Journal magazines sitting in plain sight.) Like many people, my husband and I are mildly obsessed with Fixer Upper, its star couple, Chip and Joanna Gaines, and the whole Magnolia enterprise. If binge watching episodes (now reruns!) on Friday nights has done nothing else for us, at the very least it has helped us figure out how to copy the Gaines' iconic style.
With Chip and Joanna Gaines' home decor line for Target, Hearth & Hand, as well as the complete Magnolia Home Furniture line, Magnolia paint colors, and the original Magnolia Market, the dynamic duo has certainly made it easy to emulate their enviable style. However, accessibility (ahem, cost) may be a prohibitive factor for many. For those who may not be in the market for a $1,000 armchair or who are not in their forever home but still want to make their humble abode feel like home, my ever-frugal husband and I scoured the internet for the look for less. After several trips to HomeGoods, IKEA, and Target and spending hours scrolling through options on Wayfair, Overstock, and Birch Lane, we figured out the key ingredients to that Fixer Upper look, no matter your budget.
Color Palette
Our little apartment may not have an open concept or French doors, but the number one thing that gives our home—and any Fixer Upper home—the Magnolia style is its color palette. Stick to light neutrals (whites, grays, beige) with touches of deep browns and black, plus blues such as navy, dusty blue, and even pale blue-greens. Dusty rose (a moodier blush) and olive green can be used as pops of color that don't feel too stark. As renters, we can't paint our apartment, but luckily we had beautiful white walls to work with. We incorporated these colors through our furniture and accents such as rugs, throw pillows, and above all, carefully-chosen frames and wall decor.
1) Americana Egg 2) True White 3) Sunday Stroll 4) Blackboard 5) Weekend 6) Rainy Days 7) Ella Rose 8) Olive Grove 9) Texas Summer
Textures
Another key ingredient to Jojo's magic recipe is the textures and materials she uses.
Brown or camel-colored leather seems to be a big one. Whether that is in the form of a centerpiece leather couch or a leather tote bag hanging in the entrance, Jo loves her leather.
Metal—both more modern, sleek, black metal and silver galvanized metal—shows up in bed frames, baskets, trays, signs, and hooks.
Wood is another favorite texture in Jo's designs. We all know she loves wood floors, but wood accents like trays, farmhouse tables, frames, crates, candlesticks, and cutting boards also scream "Magnolia!" The more distressed and imperfect the wood, the better.
Complementing these rugged textures with softer, natural textures such as cotton armchairs, wool rugs (or a synthetic version), jute rugs, and woven baskets filled with blankets complete the look that Jo nails every time. Bonus points if you can find decor that mixes more than one of these materials!
For Big Ticket Items, Choose the Look for Less
Initially, I really wanted to keep our living room to a bright, white color palette. But my husband convinced me to buy a leather sofa after showing me many Fixer Upper living rooms showcasing leather sofas. We decided on one from Birch Lane (a Wayfair brand) which is about a third of the price of the Pottery Barn look-alike we had been eyeing. While we were hesitant about buying such a huge item online—and it is definitely not cheap—it is extremely comfortable, absolutely a centerpiece of the room, and a couch we will have forever.
Our (faux) iron bed frame and (polyester) upholstered headboard are from Overstock and Birch Lane, respectively. (For even less, simply add a fancy nailhead, upholstered headboard without the full bed frame.) They may not be Restoration Hardware or Magnolia Home Furniture, but that's fine with us—we have received countless compliments on both. Paying a fraction of the name brand cost and the free shipping didn't hurt either!
Finally, check out Overstock and Wayfair for rugs; I swear I've spotted our rugs on the show before.The brands NuLOOM and Safavieh, sold on both sites, have some beautiful options, including geometric and oriental styles. Jute rugs or runners handle the weather elements and dirt brought into entryways without sacrificing Jo's style.
For dining chairs, mix it up: Use two upholstered or farmhouse chairs at the heads of the table, and less expensive metal ones around the sides. A tufted armchair and an upholstered ottoman (complete with a tray on top) that doubles as a coffee table will add the final touches to your very own Fixer Upper, sans demo day.
Accents
Almost every episode of Fixer Upper ends with Joanna pulling an all-nighter to add the finishing touches to the home. Renters unable to change the structure of an apartment or those limited by budget to make substantial changes can still achieve the Fixer Upper look with accents. Trays, candlesticks, wooden cutting boards, plants, or a glass or ceramic pitcher filled with fresh or faux flowers can sit atop tables, mantles, nightstands, or kitchen counters to up your Fixer Upper game. Frames, wall hooks, antique clocks, and metal or wooden signs add interest to blank walls, while rugs, baskets, throw blankets, and pillows dress up the rest of your space.
My husband and I designed a gallery wall of family photos in white, cream, and blue frames from HomeGoods. We framed odd-shaped maps of our special places in cheap white frames from art stores. We added white backing to fill in gaps between the maps and the frames, creating a matted look without the price tag of a tailored frame. Big woven baskets for blankets, unique hooks for your entryway, and wooden or metal trays for ottomans and tabletops are easy finds at HomeGoods. Another shortcut is to buy a cheap dresser or desk from IKEA or an antique sale and then replace its knobs with unique options from World Market or Anthropologie.
Throw pillows add pops of color to a neutral backdrop—they adorn our couches and beds aplenty (to my husband's dismay). Channel your inner Jojo by draping a cozy blanket or a wool scarf over the back of an armchair or the bottom of a bed. Candlesticks and potted plants on a mantle or side table or in a fireplace embody classic Joanna style.
Even changing the hand towels or hand soap in bathrooms can make an apartment bathroom that hasn't been updated since the seventies feel on par with a Magnolia makeover. We bought a couple of patterned hand towels and a pretty shower curtain from Target, and coordinating hand soap that looks expensive but was actually a steal from the soap section at HomeGoods.
Although we created a look for less, our apartment feels anything but cheap. Even while living transient lives as renters, we have used these tips and tricks to make our apartment a "fixer upper" we love coming home to. We may not be able to choose our paint colors or "demo day" the kitchen. But we can still create a warm, inviting place that makes this stage of our lives one that we never want to leave.