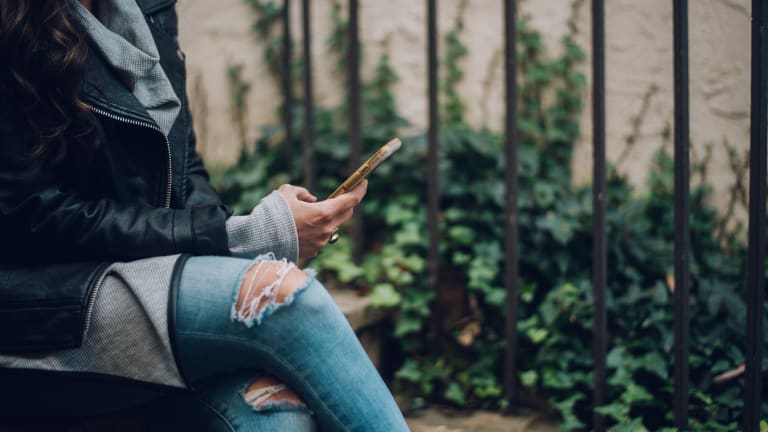 How Gratitude Fixed My Relationship with Instagram
Feeling inadequate? Time for a change.
By now, few of us are unaware that research suggests social media can affect everything from our stress levels to our relationships to our sleep. And according to one study, Instagram is the worst offender for mental health, particularly for young women. More than Facebook, Twitter, YouTube, or even Snapchat, Instagram is attributed with causing anxiety, low self-esteem, body image issues, depression, and constant FOMO.
But these studies only confirm what most of us already know from experience: It's far too easy to fall prey to comparison, materialism, and self-criticism just from thumbing through our feeds. My house will never look like that. I wish I could afford that makeup. How is her life so perfect? Sometimes it feels like the only solution is to delete the app entirely.
But is that the only solution? Or even the best one? Not exactly. Not only is it a little unrealistic for most of us to stop using Instagram altogether, it's also not necessarily the answer to the problem. Through a little trial and error, and some mindfulness and self-growth, I've adopted a new approach to Instagram that has curbed my tendencies toward comparison, jealousy, and self-criticism and made the social media platform more fun and inspiring for me.
My relationship with Instagram looks entirely different than it has at any point since I first made my profile five years ago. Here are the changes I made.
01. I stopped following accounts that made me feel bad about myself.
I started going through the accounts I followed, asking myself whether each one left me feeling more positive, inspired, or thankful for what I had. If the answer was "no," then I unfollowed it. Pretty simple.
While determining what kinds of accounts to unfollow will look different for everybody, for me they fell into two main categories: celebrities (whose glamorous lifestyles I just don't need to see on a regular basis) and—maybe even more importantly—brands.
Studies have revealed that Instagram has the most influence on shopping habits of all social media platforms, and 72 percent of Instagram users have reported making purchase decisions based on something they have seen on the platform. I was no exception. I'd made more than a few impulsive purchases that had, quite frankly, not given me much joy (and certainly left a dent in my wallet). Even when I wasn't pulling out my credit card, I found myself frequently coveting unnecessary clothing, home, or baby items only because they surfaced in my feed.
Since then, I've been more conscious of which companies are good, honest brands that I want to support, and which companies are merely leading me toward consumerism. By unfollowing accounts that instilled materialistic or thankless attitudes in me, I was able to focus on what I already had, rather than what I perceived to be missing. I was able to cultivate gratitude.
Gratitude makes what we already have enough—and it shows us that we are enough, just as we are.
02. I recognized which accounts are most meaningful to me.
Figuring out what I did want out of my feed was just as important as figuring out what I didn't want.
For me, this is primarily my family and friends, bloggers who focus on values or hobbies that are important to me, and accounts that inspire me with their snippets of beauty. I'm a big reader, and I'm inspired to read even more when I see cozy images of classic novels next to a big blanket and a steaming cup of coffee—so "bookstagram" accounts are a must. I have a slight obsession with small-shop artists who ignite my creative side and whose artwork I would love to fill my home with; I even recently took up modern calligraphy, encouraged by all the beautiful hand-lettering accounts I follow. I also enjoy interior design accounts, especially DIY ones that give me ideas for little projects in my own home.
Depending on your interests and passions, your feed may be full of nature photographers, style bloggers, fitness gurus, cake decorators, or Pomeranian breeders. The important part isn't which accounts we follow; it's how those accounts make us feel.
My entire Instagram experience changed for the better the day I discovered the "Save to Collection" feature, which allows you to add posts in a private collection of photos on your profile. Now it's easy to save the bits of inspiration I find: I keep collections for everything from "first birthday party inspiration" for my daughter's birthday to "gallery wall goals" for my living room.
But it's just as easy to use the feature to figure out what it is you want out of your feed. See a post that brightened your day? Add it to a collection. Over time, see if you notice a pattern—and adjust whom you follow accordingly.
03. I gave myself time restrictions.
It shouldn't come as a surprise to anyone that one of the most dangerous things about social media, and particularly Instagram, is how easy it is to waste obscene amounts of time on it. Out of boredom, curiosity, and bad habits, I am guilty of whipping open the Instagram app sometimes dozens of times a day, often not even realizing what I'm doing.
Sound familiar? According to 2017 statistics, young people under the age of 25 spend on average more than 32 minutes a day on Instagram, and those 25 and up spend more than 24 minutes a day on average. And user activity is only rising, thanks in part to the "Stories" feature, which overtook Snapchat's Stories in 2017 with an estimated 200 million daily users.
Even if I justified the two minutes I spent on Instagram here or the four minutes there on the grounds that I was merely filling in those little, unoccupied moments in my day, I realized that the amount of time I was spending on the app was verging on unhealthy. It is essential to recognize when it is time to give the margins of our day to more important things—in my case, like appreciating the hilarious way that my baby girl examines her food before eating it (often pulling it out of her mouth half-chewed to re-examine it) instead of looking at my phone after I put her in her highchair.
Spending less time on Instagram has also made me better appreciate and value my time, that precious thing that we all wish we had more of. I love the quote attributed to Albert Einstein: "There are only two ways to live your life. One is as though nothing is a miracle. The other is as though everything is a miracle." I want to be able to notice the little miracles in my life each and every day, which necessitates spending a little less time on my phone and carving out more space for simply being present.
Instagram is rolling out a feature that allows users to see for themselves how much time they are spending on the app every day. This may be the nudge many of us need to spend our time a bit more intentionally.
04. I started using Instagram to be social.
Finally, I started using Instagram to actually interact with the people who filled up my feed. After all, isn't being social what social media is for?
I initiated conversations with friends I had not talked to since elementary school, which brought me joy as fond memories from my childhood resurfaced. When I shared the latest book I'd read on my Story, my inbox flooded with responses from college friends, acquaintances, and even a friend from fourth grade. I've shared more than a few videos and photos of my daughter getting into mischief or reaching a new milestone, and friends often comment or message me about their own children's latest phase.
Interacting with the many people on my feed humanized them again: I found that I became less jealous of their seeming perfection. Furthermore, I learned to be careful not to assume their intentions. If someone shares a photo of her newly decorated living room, it's more likely because she is thankful for having a beautiful space to gather with her family than that she wants to make others feel bad about their own home decor.
It's amazing what clear vision gratitude gives us—and what peace.
Now that I've changed the way I think about and use Instagram, I'm less susceptible to those negative mental health effects. If gratitude is our focus, then competition, resentment, and facades all disappear. Our Instagram feeds can and should serve as visual reminders of people, places, things, and experiences that we are thankful for, inspired by, and want to remember.