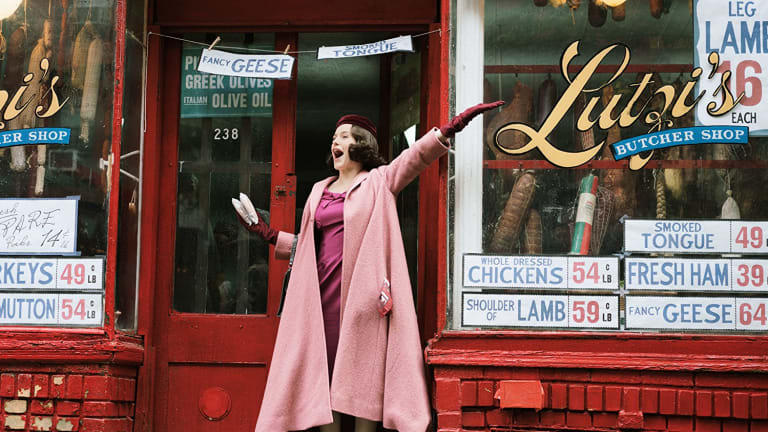 5 TV Shows That Caught Our Eye This Fall
Be sure to set your DVRs.
Fall is undeniably one of the coziest seasons, and lucky for us we have an amazing lineup of television shows to cuddle up and watch as the weather changes. This fall our TVs will be graced with some exciting reboots, new releases, and series returns.
The Good Place // NBC (September 27)
The Good Place starring Kristen Bell and Ted Danson, is a lighthearted comedy about a group of deceased characters that all find themselves in the Good Place, aka heaven or paradise. Bell's comedy will be returning for its third season this fall. The show is full of twists and shocking reveals, and just when you think you have it figured out, the show takes a turn that completely changes your understanding. As if being one of TV's best comedies wasn't enough, it touches on moral philosophy and addresses the idea of what it really means to be good. Previous seasons are available for streaming on Netflix and Hulu.
Murphy Brown Reboot // CBS (Thursday, September 27 at 9:30/8:30 CST)
Almost thirty years after the release of the original show, Murphy Brown will be returning to television. Candice Bergen returns as the straight-talking journalist, and we will also see the return of many of the original cast members. The show picks up in a whole new world for journalism. It's not the Murphy Brown of decades past, but it will tackle issues like fake news, social media, and politics in the modern age, with the same blunt tone as before.
The Marvelous Mrs. Maisel // Amazon (TBD)
Speaking of strong female leads, the Amazon original,The Marvelous Mrs. Maisel will be returning for its second season this fall. The show is about Midge Maisel, the perfect housewife, mother, and daughter to her Jewish family in 1950s Manhattan. After the upheaval of her perfect life, Midge discovers a talent for stand up comedy, and uses her own topsy-turvy life as fodder for her sets. The show is produced by Amy Sherman-Palladino, the creator of Gilmore Girls and Bunheads, and stars Rachel Brosnahan and Alex Borstein. Rumor has it that our beloved Lorelai Gilmore (professionally known as Lauren Graham) will make an appearance in the second season.
God Friended Me // CBS (Sunday, September 30 at 8:30/7:30 CST)
God Friended Meis a comedy-drama series that tackles human existence and faith. It's set to follow in the footsteps of the NBC comedy The Good Place (see above) by tracking a nonbeliever named Miles after he receives a mysterious friend request from God on Facebook. The show chronicles the life-changing events kicked off by this friendship. It's an intriguing premise and will be interesting to see how it plays out. God Friended Me stars Brandon Micheal and Violett Beane.
This is Us // NBC (September 25)
No TV roundup would be complete without This is Us. The third season of this tear-jerker will be released this September and will continue to follow the lives of the Pearson clan, both in the present day and during their humble beginnings in the seventies. The show follows the Pearson "Big Three"—Randall, Kate and Kevin—and their parents, Jack and Rebecca. The show offers a beautiful reflection on family, both biological and chosen. Worth every tear!