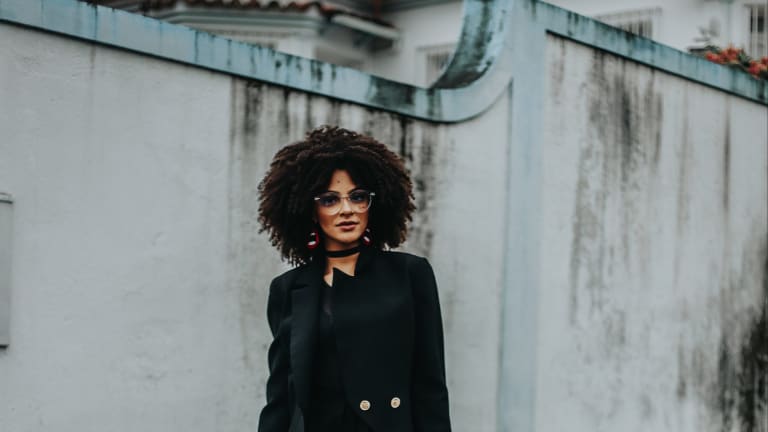 Fall Blazer Redux
Putting a new twist on a fall classic
Fall always feels like a fresh start to me. Maybe it's the autumn colors, the crisp breeze, or the excitement of rediscovering closet favorites that have been tucked away since last winter. I'm not sure. One thing I do know is that when it comes to styling this time of year, layers are definitely key, and blazers are one of my go-to layers.
Now, if you're thinking blazers are a little played out, I feel you. This year I want to help you give this classic fall layer a much-needed style revival with four new looks. Chances are you own one of these four blazers; I hope you get a kick out giving these fresh looks a spin.
Look 1: Navy Blazer + Distressed Jeans
I have a navy J.Crew blazer I bought light-years ago. I still wear it to this day. We usually style our navy blazers with skinny jeans and brown riding boots. Why not try wearing your navy blazer with a white t-shirt, ripped jeans and low-heeled sling-backs? It feels a bit more of the moment.
Try this: 
Look 2: Black Blazer + Suede Mini
Remember the suede mini skirt that was popping up in everyone's Instagram feed last fall, reviving sixties and seventies-era vibes? Consider giving it a bit more polish this season by adding a super feminine tie-neck blouse and then throwing on your basic black blazer with suede over-the-knee boots. The overall look is a touch more intelligent and sophisticated.
Try this: 
Look 3: Camel Blazer + Leather Pants
If you can handle it—leather pants. I know, I know. It feels super-duper flashy. But I promise you it's not, and it's just the touch of edgy your sleepy camel blazer needs. Bring it down to earth with a silk shirt tucked in or a soft merino sweater underneath—depending on how cold it is that day. Throw on some sensible brogues for a classic look!
Try this:
Look 4: Mixing Prints
Now, if after all of that you're still a bit bored with the blazer scene, try a plaid blazer like this one. To complete the look add black skinny jeans, a sleeveless blouse, and leopard print flats. Yes, plaid and leopard. Trust me. You'll achieve that mixing prints technique everyone is trying to master, in an understated, elegant way.
Try this: