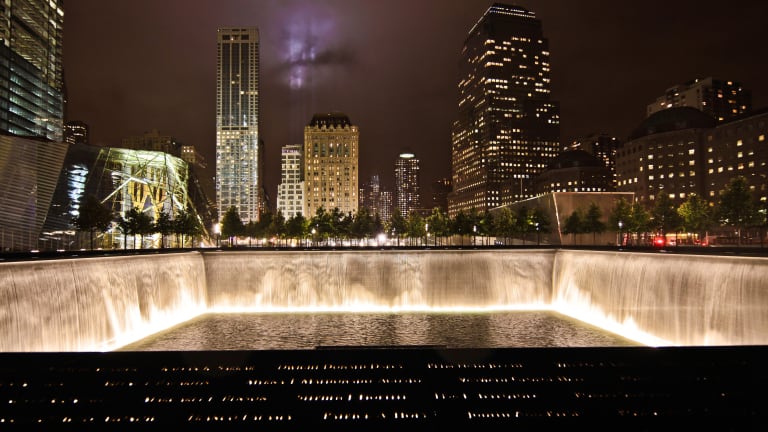 In Her Shoes: Communications Director for the National 9/11 Memorial & Museum
Honoring lost lives through storytelling
Have you ever wondered what it's like to work in a specific job or field? Each month, we're interviewing women about their professional life--from what she studied, to what she does in her day-to-day, and even her own personal #DailyDose mantra. Join us as we take a walk In Her Shoes.
Name: Kate Monaghan Connolly
Age: 34
Current Position: Senior Communications Director for the National September 11 Memorial & Museum
Educational Background: BA in Philosophy; journalism internships.
Professional Background: Kate has held a number of positions in communications over the past ten years. In her current position, Kate runs external, strategic, and crisis communications for the National September
11 Memorial & Museum, managing a team of two. Kate also implements internal communications and best-practices for staff and collaborators. She has had this position since April 2016.
 Highlights of her experience at the 9/11 Memorial & Museum include witnessing first-hand the extreme care taken by employees to honor those killed on September 11, 2001 and in the World Trade Center Bombing on February 26, 1993, as well as sharing and shaping the stories of those lost and those who worked so hard to rebuild. Through this, Kate has deepened her love for the great city she calls home.
Verily: How would you describe your current role at the memorial?
KMC: A communications professional is fundamentally a storyteller. My role at the 9/11 Memorial & Museum as the Senior Director of Communications is to build a compelling media strategy and manage a dynamic team whose role is to share the story of the 9/11 Memorial & Museum. Our aim is to understand and communicate what we are doing today in support of our mission, the history of 9/11, and how we can continue to be a positive presence in the world educating future generations. This story is shared through all forms of media—broadcast, digital, radio, print, etc. and through internal communications within our organization.

Verily: Tell us more about the art of storytelling through history and how the museum portrays this?
KMC: You have such a short time to get people's attention so you really have to ask, "If my audience left knowing or experiencing one thing, what would it be?" So, the museum, as it should, tells the story of the history of the day and its surrounding history but even more, it leaves visitors with a sense that good can triumph in the face of evil.

Friends who visit always tell me that the museum is very well done, that it was a sad but meaningful visit, and that they are blown away by the immense goodness of those who responded on 9/11 and after. This awe is not just in reference to the first responders, but also colleagues or complete strangers helping each other evacuate.
Verily: What has been your greatest honor in this position?
KMC: The greatest honor is easily the very small part I play in continuing to share the stories of these men, women and children. Most of them were doing what I do everyday—commuting, working, being with families and friends—just going about their daily lives. Sharing a story that provides a more intimate knowledge of one of these people so that they are not simply one of 2,983 killed on September 11, 2001 or February 26, 1993 is not only an honor for me but also a sacred obligation.
Verily: You handle public relations with the media about the museum. What do you think is the foundation of good communication with the media?
KMC: I think just starting with the basics: Be polite, timely, and accurate while verifying exactly what's being requested and the surrounding context—reporters aren't the only ones who get to ask questions! And remember, members of the media have a job to do just like everybody else. Also, if you don't know the answer, don't speculate and don't be afraid to refer to other organizations or people for information.
Finally, when you are crafting a news release or talking points or a communications strategy, be sure to ask, why are we doing this? Who is our audience? What is our objective? This will keep you from getting lost in the weeds.
Verily: That's great to keep in mind for many other jobs I am sure. Do you ever struggle to find the right words to say or how best to say what you are trying to communicate?
KMC: Absolutely. I think about what I am communicating a lot, and it doesn't always come out right—it's a mixture of science and art, and sometimes there are forces beyond your control that affect how your message is received. Prior to studying philosophy, I was a music major, and I do think that background is uniquely suitable for communications because it requires performance under pressure and deep thinking. One particular subject that is never far from my mind is hermeneutics, which is concerned with interpretation and meaning. We are all so complex and thousands of experiences in our lives lead us to interpret our daily experiences through our own individual, unique lenses—you can get really overwhelmed with this reality when something isn't received in the way you intend, or you can learn from it and try again next time.
Verily: What unique qualities do you bring to your role at the 9/11 Memorial as a woman?
KMC: Honestly, I am struggling with this one. I am not sure I would delineate my qualities as being feminine or masculine, I am sure they are both at different times. I'm a curious person who is very interested in doing things well, but I am also unafraid to do things a different way, that is, I am not overly concerned with maintaining rules for the sake of maintaining them. Sometimes conventions are in place for a reason, and sometimes they are just there as holdovers—it's helpful to step back and assess which they are, especially if they are unwieldy or overly complex.
Verily: Here at Verily, we love our Daily Doses—quotes or phrases that motivate or inspire us. Do you have a mantra or phrase that helps you to see the broader perspective?
KMC: I'd love to say I never lose the broader perspective because of the content I am surrounded by: the fact that I work for a memorial museum that shares a story, in part, of ordinary people going to work one day and never coming home. But sometimes I do need a reminder. There are two maxims that come to mind:
"There is more than one right answer." Sometimes we get really stuck on one path. I find this maxim helps me discern when to be assertive and when to change course and follow another path.
"There's no good reason to lose your peace." Even in high pressure environments or common everyday disappointments, I can protect my "peace" and weather the storm.