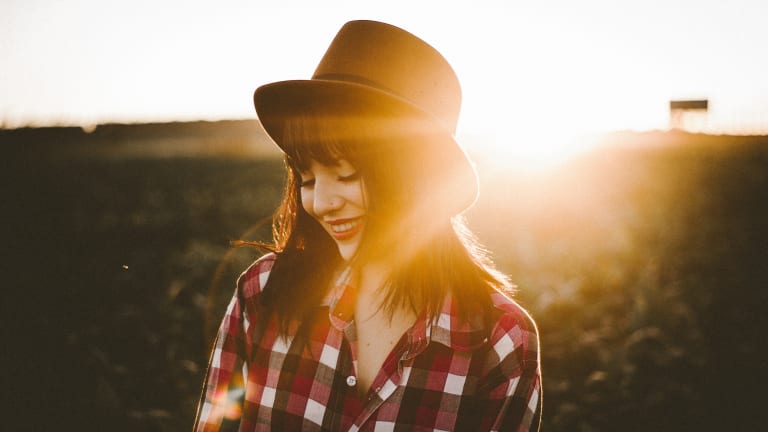 Being Brave Enough to Begin Again
What finishing college nearly ten years "late" taught me about chasing dreams.
When I return to college this fall, it will be the first time I'll have a full schedule since senior year of high school—and that was almost ten years ago.
After graduation I watched as many of my friends packed up their belongings and headed to university, some to Florida and others to Ohio, while I chose to remain home and work. I lived with my single mom, and I helped her with bills as well as assisting with care for my two younger siblings. Though I have slowly chisel away at a degree—taking classes where they fit between work schedules and responsibilities at home—I can't stand to let another spring pass and still not have that long-awaited diploma framed and hanging on my wall.
I'd be lying if I said the thought of jumping head first into full-time classes doesn't scare me. The last several weeks have been a run-around of the same doubt and negative self-talk I've been battling through the years to get to this point.
"It's too late."
"What makes you think you will be able to finish this time?"
Turns out, though, I'm not the only one trying to pursue an education later in life. According to a CNBC report, more older Americans are becoming inspired to return to school. "In 2009, students aged 25 and older accounted for roughly 40 percent of all college and graduate students, according to the National Center for Education Statistics. That figure is expected to rise to 43 percent by 2020 as 9.6 million older students head to campus."
But this isn't just about education.
Different Kinds of Dreams and Bravery
In the 2003 movie adaption of Peter Pan, Mrs. Darling has a conversation with her children about bravery. As she tucks them into bed, Wendy scoffs at the idea of her father being brave. Mrs. Darling lovingly tells her children that "there are many different kinds of bravery. . . .There's the bravery of thinking of others before oneself. . . . He's made many sacrifices for his family and put away many dreams." Michael, the youngest Darling child, promptly asks where he put them. "He put them in the drawer," responds Mrs. Darling, "and sometimes late at night, we take them out and admire them. But, it gets harder and harder to close the drawer. He does. And, that is why he is brave."
We all know women in our own communities who selflessly set aside their professional or hobby dreams to take care of another dream—their families.
We have a right to put our dreams in the drawer, and sometimes it's necessary that they stay in the drawer. But we must not be afraid to take them back out again when the time is right. A growing number of us are realizing it's never too late to re-engage a hobby or career path once set aside.
As I've learned, it can be a fine line deciphering the when, where, and how of following certain dreams. In her book, One Beautiful Dream:The Rollicking Tale of Family Chaos, Personal Passions, and Saying Yes to Them Both, Jennifer Fulwiler shares about how she faced constant interruptions while drafting the manuscript for her first book as she simultaneously raised six young children. She created writing schedules for herself, desperately trying to fit in her dream during nap times and the early hours of the morning before the kids woke up. People thought she was crazy for pursuing these two dreams at the same time, and she wondered the same. But, she explains, the "desire to be a good mother came from the innermost part of my soul, that sacred space where our purest truths reside. Yet, it was in that same primal place that I sensed that this work that I wanted to do was good and that I wasn't supposed to put it on hold indefinitely."
Maybe there's been a larger gap between you and an old hobby. In Big Magic: Creative Living Beyond Fear, Elizabeth Gilbert tells the story of a friend who re-discovered a passion for figure skating at age forty. Susan, "quit the sport during adolescence when it became clear she didn't have quite enough talent to become a champion." She returned to figure skating after discovering it had been years since she felt "light, joyous and…creative."
"Please note," says Gilbert, "that my friend did not quit her job, did not sell her home, did not sever all her relationships and move to Toronto to study seventy hours a week with an exacting Olympic-level skating coach. And no, this story does not end with her winning any championship medals, it doesn't have to. In fact, this story does not end at all, because Susan is still figure skating several mornings a week."
We each write our own story. For some that means being "all in" from the start, turning dreams into life-long careers, while others use the spare time they have each day to work on a dream while juggling meal plans and babies. As the weeks inch closer to the start of the semester, I'm looking forward to finally writing the final chapter of a dream I started so long ago, regardless of the fears and self-doubts which accompany it. There is no right way when it comes to pursuing achievements, and it's certainly never too late to start. I believe the most inspiring stories are the stories of people who have the courage to begin again.