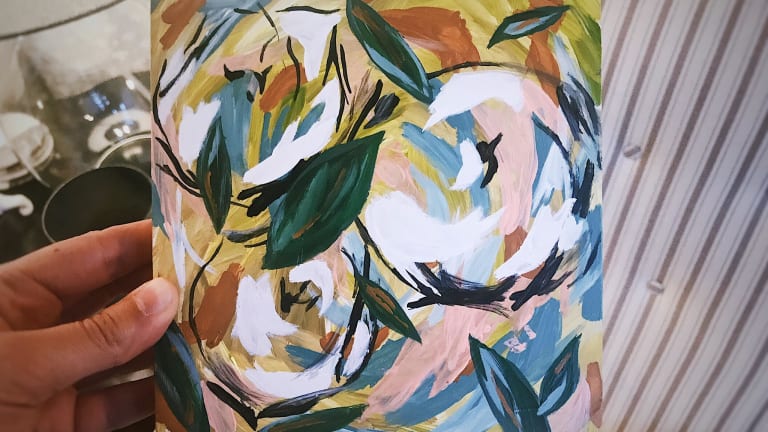 At Home With Her: The Art Studio of Childhood Dreams
This studio is home to more than just beautiful art
Name: Morgan Rollinson
Location: Raleigh, North Carolina
Tell us about your favorite spot in your home. Why is it your favorite spot?
A tiny yellow house in a historic part of Raleigh, North Carolina is where my husband, our black Labrador, and I have made our home. Tucked into one of the smaller rooms of the house is my art studio—where I pull long nights and early mornings pursuing the art career I've dreamed about since childhood. I love this space because we have dubbed it my corner to create, and therefore I have the freedom to drip paint on the floors, hang paintings on the walls, and leave my works in progress wherever I please.
Is there a particular story about how this spot came to be arranged/decorated the way it is? Are there any particular pieces that have significant history?
The plaster walls are painted a light creamy color called "Chocolate Froth" and the original hardwood floors creak around me as I paint. Our neighbors tell us this space has been a baby nursery, a room for brothers' bunk beds during the seventies, and even home to a pet pig in the 1950s!
While we've devoted most of the space to my art, my husband works mostly from home at a corner desk, and I love that he and I get to spend so much time together while also getting work done.
Have there been particularly inspiring or moving moments in this corner of your home, or, is there a particular feeling you get when you are in this space in your house?
Waking up early to paint on a quiet Saturday morning when the morning sun shines through the windows in this space and my dog lies at my feet brings me a particular kind of peace and happiness that few things can rival.
Editor's Note: Check out Morgan's Instagram feed for some of the beautiful art that's come out of this charming studio. Thanks for sharing, Morgan!
Submit your favorite room or corner to At Home With Her for a chance to be featured on Verily!