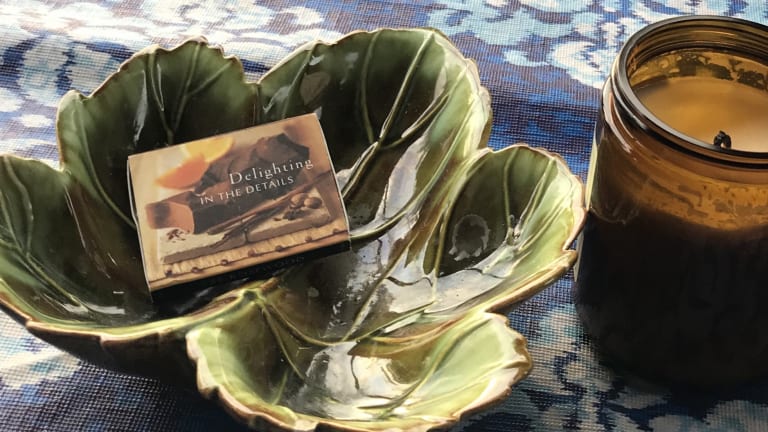 At Home With Her: A Screened-In Porch That Breathes Inspiration
A favorite breezy, uncluttered spot
Name: Mary Rose Somarriba
Location: Cleveland, Ohio
Tell us about your favorite spot in your home. Why is it your favorite spot?
One of my favorite spaces in my home is my screened-in porch. When my husband and I bought our home last year, we felt we had been granted so many gifts all at once. Friends in walking distance, city sounds that I love, a backyard with tall trees and flowering bushes to transport me to the country, and even a beautiful chapel next door to transport me to the divine. Inside, I fell in love with our ninety-year-old home's archways and crown moulding, tall ceilings and cross-wind-designed windows. The only thing missing was air conditioning, and I'd be lying if I didn't admit I was worried about how we'd survive summer months in this house. But thankfully even this missing fixture led me to find even more charm in our home, in particular a great appreciation for what's now my favorite spot in the house—the screened-in porch.
Is there a particular story about how this spot came to be arranged/decorated the way it is? Are there any particular pieces that have significant history?
I cannot take credit for what makes this porch so peaceful. It's as if the builders in 1928 knew this was the perfect spot to enjoy a morning coffee, the air more likely to be cool, and your eyes less likely to squint, as the sun rises on the other side of the house. Surrounded by sheer screen on three sides, you can feel the breeze move through the room. I can also see people driving down our busy street on their way to work and kids walking to school—a view I've always enjoyed to make me feel a part of a larger community.
My mother-in-law helped me find a blue table cloth that would add some brightness and a floral design to the area, and my mom treated me to a wind chime that reminds me of an old vacation home where we used to spend leisure time as a family. I kept a rocking bench left by the previous owners, and I finally set up the one-person hammock my father-in-law brought from Nicaragua years before with our last name on it. Finally, I found one of my grandfather's final items passed on to me, a leaf-shaped bowl (which I now realize may have been an ashtray all along), and I keep it in the center of the table, with matches for an apple-scented candle. Now the space feels not only like I'm connected to both nature and the city, it has the personalized elements that make the space feel like home to me.
Have there been particularly inspiring or moving moments in this corner of your home, or, is there a particular feeling you get when you are in this space in your house?
This screened-in porch has become a go-to spot for chats with my husband at the start of the day with a coffee, or at the end of day with a cocktail—we feel just close enough to have a private conversation without the kids, while still connected to the house, where they play in the living room. It has become a favorite spot for me to set up a workstation, sketching my ideas on paper or typing them out on my laptop. And it has become an impeccable spot to enjoy the thrill of a night's rainstorm.
Each different experience enriches this part of my home, adding to the enjoyment of whatever solo or shared moments lie ahead within these windowed walls.
—
Submit your favorite room or corner to At Home With Her for a chance to be featured on Verily!