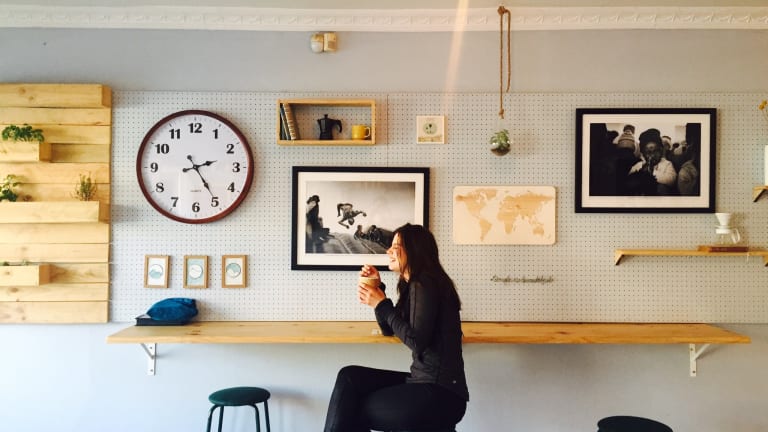 An Introvert's Guide to Finding Friends in a New City
Don't let being the new girl in town hold you back.
We all need a girl squad, the women we turn to for sharing laughter, tears, support, comfort, and advice—even chapstick. The ones who are by our side during tough times, long chats, nights out (or in), life transitions, relationship ups and downs, and whatever else life throws at us. But what happens if you move away, leaving behind your ride-or-die girls?
It can be intimidating to make new friends, especially if you're on the quiet side like me. I've moved to three cities in the last two years, each very different: first, from Boston to Washington, D.C., then, from D.C. to Los Angeles. These moves have taught me what does (and does not) work when trying to meet people as an introvert. I learned the hard way; so here are the tactics that worked for me to help you find your own girl tribe—whatever age or state of life you're in.
Ask around for introductions.
Don't be shy about asking your friends, family, coworkers, and other connections if they can introduce you to someone they know in your new city. It helps to do this ahead of time so you can get the social momentum going before you move. More often than not, people are eager to help the new girl find her way—who wouldn't want another friend? You're also pretty likely to hit it off with a friend of a friend versus a total stranger.
Do one social thing every week.
Stretch yourself to socialize once a week. It doesn't have to be a loud happy hour, it could just be an afternoon coffee break during work or a playground date with each other's kids. Hold yourself accountable to this weekly goal and you'll see the results. Plan ahead so you don't get overwhelmed in the midst of a busy week and forget or back out.
Find a recurring event or group.
Try to find a recurring activity to join or attend. That way, you'll see the same people consistently and start to form relationships over time.
Use online sources like Eventbrite, Meetup, and Facebook Events Discover. Be open to apps like Bumble BFF, too. Book clubs, volunteer programs, parent school programs, sports teams, prayer groups, arts and crafts lessons, and networking meetups are all great options.
Choose the activities you enjoy doing or want to learn more about. Then you'll be in your element and meet others who share your interests. As Susan Cain writes in her book Quiet: The Power of Introverts in a World That Won't Stop Talking, "Everyone shines, given the right lighting." At the very least, you'll have a good time doing something you like.
Choose quality over quantity.
Don't feel like you have to meet everyone in the group. In her book, Poised for Success: Mastering the Four Qualities That Distinguish Outstanding Professionals, Jacqueline Whitmore explains, "You can go to an event and be there for 20 to 30 minutes and make a great connection just by talking to one or two people. One quality conversation is more beneficial than 20 superficial ones."
Make the first move.
Have your eye on a prospective girlfriend? Don't sit back and wait for her to reach out, take initiative and make the first move. Ask for her number and shoot her a text, or friend her on Facebook and send a message inviting her to hang out. It's very normal, so you shouldn't feel weird about it. And she probably won't turn you down, either!
I usually like to invite new friends to some sort of activity or event destination like craft fairs, art museums, or outdoor markets. These settings give you more conversation material beyond small talk. Even if you don't end up being besties, you can be content with a rewarding connection. Getting together one-on-one also plays to your introvert strengths.
Follow up, follow up, follow up.
Pursue the gals you hit it off with. After vibing, keep the connection going by inviting her to join you at another event or meet-up individually. And if she can't make it, don't give up. Follow up until you find a time that works. Persistence and forced extroversion pays off. Cain advises, "Sometimes it helps to be a pretend extrovert. There will always be time to be quiet later."
Plan something with a co-host.
If you're not getting a lot of invites, organize something yourself. With a co-host, you can merge your friend groups for a good turnout. It also puts you in control to select a location or activity you're comfortable with. I did this recently with a girlfriend who has a big friend network here in Los Angeles—we're planning a poolside cabana happy hour (want to come?).
Avoid introspective slumps.
Shake off any introspective habits or thoughts. Too much introspection will stall your social life. Stop the spiral, and force yourself to act: Should I go to that party? Just go. What if it's really awkward? Then you can leave early. I keep busy and distracted before meeting up with someone or heading to a party so I won't convince myself otherwise.
Create a list of names—seriously.
This one may seem silly, but it actually helps. When you're meeting a lot of new people, it's easy to forget names and when and where you met them. Write it all down in a notebook, on a Sticky Note, in your phone, or wherever. Then you'll have a quick reference of people to contact—and have an encouraging reminder of how many people you've met.
Pace your dating life.
Single introverts, hear me out. Your love life is definitely a priority, but don't rush it—at least not when you first move to a new city. Jumping from date to date will only distract you from hunting down your girl squad. It's almost easier to meet guys than girls, with dating apps and all, so dating at this time can inadvertently take the place of forming friendships.
Instead, spend your social energy strategically. What will be more fulfilling, three first dates or three brunches with the girls? We all know first dates rarely turn into long-term relationships, but bonding with the girls over mimosas and french toast probably will. Certainly mix some dates in your social schedule, but focus on finding your girls before finding your guy.
Respect your need for alone time.
We introverts get energized through time spent alone. If you're craving some quality time with a good book, Netflix, or the great outdoors, give in. Take care of yourself and know your needs.
Cain reminds us, "Don't think of introversion as something that needs to be cured...Spend your free time the way you like, not the way you think you're supposed to." Just because you moved to a new place doesn't mean you have to change who you are. You shouldn't. It's totally fine to just chill alone and do you. You'll make friends at your own pace.
Remember, it's gonna take some time.
Don't get discouraged if you don't find your new BFFs right away. Have patience and set realistic expectations. Building relationships of any kind takes time—for both introverts and extroverts. For me, it's taken a full year to find my go-to ladies in Los Angeles. As soon as you feel settled, start searching. Your new girl squad is waiting to welcome you.