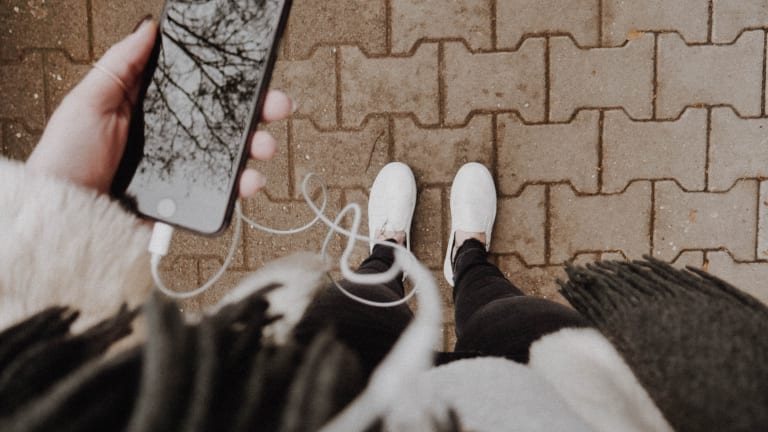 7 Empowering Podcasts for Freelancers and Entrepreneurs
The dream of ditching your 9 to 5 to chart your own path is within reach
As more and more women choose freelance paths and hybrid careers, the tools for launching a business have become more accessible than ever. The barrier for the freelance life is lower than it used to be, and there are tons of resources dedicated to helping you start a side hustle or launch a full-time business. According to a recent report from the accounting software company Freshbooks on women in the workforce, 84 percent of women think self-employment makes it easier to be a working mother and 63 percent of women believe self-employment will lead to faster career advancement.
Speaking for myself, I knew working from home would be the best option for me to be able to help support my family while still getting to make lunches and go on playdates. That's why I left a steady paycheck as a marketing professional to become a freelance writer—and I've never looked back.
Whatever your reason, the dream of ditching your 9 to 5 to chart your own path is within reach. But it's important to put in the work and do your research before taking such a large leap. Why not learn from those who have already made the leap?
Here are seven empowering podcasts for current or aspiring freelancers and entrepreneurs that will teach you how to work for yourself instead of someone else.
01. How I Built This
 The stars of Shark Tank, the founder of Lyft, and the inventor of Wikipedia are just some of the high-profile business starters featured on the show. Produced by NPR, How I Built This explores stories from entrepreneurs you've heard of. Host Guy Raz asks questions about the background, journey, and goals of the guests. It's incredibly inspiring to hear some of the biggest names in the business world describe the difficult paths they've walked to get to where they are today. From Lululemon to Larabar to Ben & Jerry's, How I Built This explores how brands are able to go from a pipe dream to a ridiculously successful reality. This show will help you dream big while also planning out concrete steps to take you there.
Can't miss episode: "Howard Schultz of Starbucks"
02. Being Boss
This podcast is perfect for any creative women looking to embark on an artistic journey while developing a boss attitude. Hosts Kathleen Shannon and Emily Thompson chat about topics ranging from how to stay in your art if you're freaking out about finances to how to incorporate self-care and daydreaming into your habits and routines. They also have several mom-centric episodes about the difficulties of launching a business while raising small children.
Can't miss episode: "Life and Work as a Full-time Artist With Amira Rahim"
03. Smart Passive Income
Pat Flynn didn't know what his next step would be after being laid off as an engineer. But he quickly discovered the beauty of passive income—an income that required some initial work but that doesn't require you to be actively involved on a daily basis. Now, he hosts Smart Passive Income, a podcast to help others do the same. If you have big dreams of passive income streams and being able to spend most of your time away from your laptop, Pat's show is a must. He's all about the tactical action steps that help you craft a joyful, purposeful life while making money. He also hosts Ask Pat, a podcast where listeners can call in with specific questions to be featured on the show, making you feel like you're listening in to a helpful business coaching session.
Can't miss episode: "The Incredible Story Behind Kelsey Baldwin's Business, Paper and Oats"
04. Harvard Business Review IdeaCast
 Although not specifically focused on entrepreneurship, IdeaCast has plenty of great takeaways for anyone interested in business. By taking traditional business tips and blending them with modern career choices, anyone working for themselves can take a lot of tactics away from this show. Bringing together the brightest minds in business and streaming them through your earbuds, IdeaCast will help you take your many ideas and streamline them into one comprehensive business plan. It's like an MBA in your headphones, minus the student loans and all-nighters in the library.
Can't miss episode: "Choosing a Strategy for Your Startup"
05. RISE
Bestselling author Rachel Hollis takes listeners behind the scenes of her lifestyle media company, teaching listeners about digital marketing, effective goal making, and how to launch a business on a budget. Her fun, bubbly personality makes her a great fit for anyone who needs encouragement combined with concrete tips. Some episodes feature expert guests while others are just Rachel, chatting to you through a microphone and sharing the secrets of her success. It's like a long lunch date with a business-focused bestie.
Can't miss episode: "How You Can Use Instagram to Sell a Product"
06. Mind Your Business
 How does your Myers-Briggs type affect your entrepreneurial desires? What areas of your business do you struggle with the most? How does your past impact your business fears? How can you lean into your customers' emotions to get them to purchase from you? In Mind Your Business, James Wedmore, a well-known marketing guru, helps entrepreneurs build thriving businesses from the inside out by coaching them on their mindset.
Can't miss episode: "Know Thyself, Know Thy Business"
07. Creative Speaker
If you've ever thought about speaking as a career path, or incorporating it as a revenue stream, Jessica Rasdall has you covered. After her own bad judgment caused the death of one of her dearest friends, Jessica has made a living speaking, and now teaches other women to turn their mess into their message. She's appeared on The Today Show, Good Morning America, and plenty of other outlets sharing her story and inspiring others to share their own. Speaking is a great way to educate others while making an income, and Jessica's podcast breaks down the "why" and the "how" of landing speaking gigs.
Can't miss episode: "Must Have Resources for Speakers"
Whether you're trying to take an Etsy shop to the next level or hoping to leave your full-time job to turn your side hustle into something more, it's important to know what working for yourself involves. Next time you're washing dishes or driving home from work, power up iTunes and listen to one of these inspiring shows about making a living doing what you love.