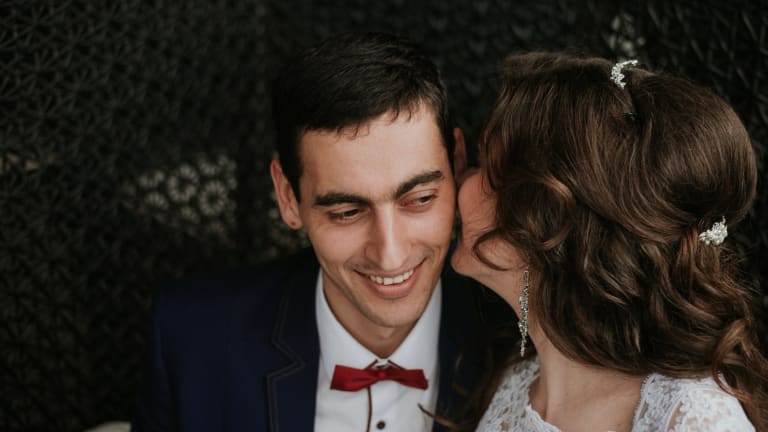 3 Celebrities (Who Formerly Didn't Want to Get Married) Who Have Surprising Things to Say Post-Marriage
"He's worth celebrating."
Let's face it—as a society we are obsessed with celebrity marriages and relationships. We give them clever nicknames and often consider them #relationshipgoals. However, a lot of our favorite celebrity couples weren't always so enthusiastic about the idea about getting married. Here are some celebrities who had a change of heart after marrying their significant others, and had surprisingly insightful things to say.
Jessica Chastain
Actress and producer Jessica Chastain says she never cared to get married until she met her husband Italian fashion executive, Gian Luca Passi de Preposulo. Raised by her single mother, she said that she watched her mother struggle through relationships of her own. However, after meeting her husband, her ideas about having a wedding changed. "There are some things worth celebrating—and he's worth celebrating," Chastain toldPeople Magazine.
Hugh Grant
Considered back in the day to be a bit of a playboy, Hugh Grant, once told the Daily Mail that he was skeptical about marriage and unsure about commitment. "I have known a few good marriages, but very few," he said. "'And others look to me like they're pretty miserable. I don't really think that's a recipe for happiness."
Now married and sharing three kids with his wife, the British actor toldPage Six that he wishes he had married his wife sooner. "I should have done it before," he said. "I'm just lucky. I'm lucky. I've got a great wife. I love her."
George Clooney
For years, George Clooney was Hollywood's favorite bachelor. Handsome and talented, the actor was often asked by the befuddled press why he hadn't settled down and started a family. Despite formerly claiming that he would never have kids or get married, Clooney's views changed. Later in life, he married international law and civil rights lawyer, Amal Clooney and become a father to twins, Alexander and Ella.
Clooney's story is a good reminder that there is no pressure to have a desire to get married despite societal pressures to follow the typical life trajectory. It's also okay to change your mind about marriage down the line if you meet someone who has been worth the wait and makes you want to take a leap of faith.