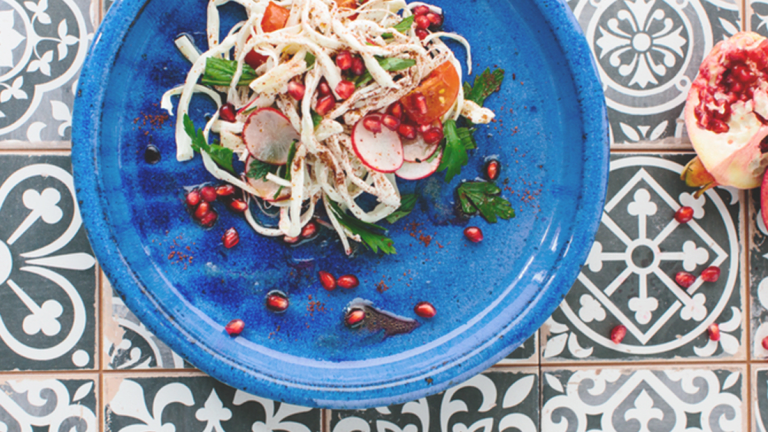 How Healthy Eating Made My Dating Life Healthier, Too
And nope, it wasn't because I looked better.
Holding hands, we strolled a few blocks from his apartment to the local grocery store. It was a sunny Saturday, and we had plans to go swing dancing that night. "What do you want to do for dinner? Should we go out?" my boyfriend asked.
A few years before, I would have jumped at any chance to eat out and have a sugary drink. But I had recently changed my eating habits for the better. So I proposed, "How about we just make tacos here?"
After picking out ground beef, spicy seasoning, cheddar cheese, flour tortillas, ripe tomatoes, shredded lettuce, and mild salsa, we stirred up a tasty taco feast. The meat sizzled on the stove, and mouthwatering scents swirled around the kitchen, as we flirted and chopped tomatoes. It was the perfect pre-dancing meal.
It was also, not coincidentally, healthy. And this new lifestyle wasn't just transformative to my personal health but also my dating life and relationships.
This surprising secondary effect of healthy eating has nothing to do with your weight or physique. It's all about the moderation and mindfulness you learn from keeping a healthy diet and getting all the positive mind and body benefits.
Let me explain.
I was a more mindful and happy S.O.
Healthy eating requires willpower and commitment. It takes a whole lot of mindfulness to turn down tempting treats and consistently make good food choices. Mindful eating means limiting distractions while eating and listening to your body's cues. When practicing a healthy diet you become accustomed to asking yourself questions like, If you're full already, do you really need to finish the entire burger? 
When you get into a healthy routine, the mindfulness you practice will affect the rest of your life, including your relationships. How, exactly? The presence of mind you develop makes you more thoughtful and attentive—not just to food, but also to the people in your life, too. 
There is a lot of research that proves the connection between mindfulness and happiness, including one study that tracked the behaviors of over 2,200 adults. In this study, Harvard researcher Matt Killingsworth found that we are happiest when living in the present moment and least happy when our minds are distracted and wandering. You probably know this from your own experience, too. It just feels good to focus on the now, free from worry about the future.
With a more mindful approach to eating and living, your newfound mindfulness will help you to be kinder to yourself and your romantic interests and the resulting positivity will attract admirers. 
I had more energy to live in the moment.
Anyone who has been on a dating app binge can tell you that dating requires a lot of energy (Dating burnout, anyone?) But, as simple as this connection might be, consuming the right balance of nutrients and food can help you take on date after date with your best foot forward.
In fact, when you combine the right variety of foods, you increase the levels of brain chemicals associated with energy such as dopamine, serotonin, and norepinephrine. Tara Gidus, official dietician for Orlando Magic and Disney, explains, "A balanced meal includes whole grains, lean protein, fiber-rich fruits and vegetables, fat-free or low-fat dairy and a small amount of healthy fats. Balance out your plate with all the food groups for sustained energy."
So whatever eating lifestyle you follow, eating a healthy combination and variety of foods will make sure you have the energy to engage in the present. 
I found it easier to connect emotionally.
Depending on how you deal with stress and act in a bad mood, you might find yourself closed off, or taking out your anxiety on those you love the most. But, you guessed it, eating a healthy diet can help here, too. 
The Mental Health Foundation shares that a poor diet can actually wear down your mental health. But for me, it all was about balance. Both a disordered preoccupation with food, and poor health from unhealthy eating of any kind, made me feel irritated, and thus less likely to want to connect in a positive way with others. 
By mastering balance and committing to a better overall diet, I'm also more in control of my emotions—and enjoy sharing meals with my S.O. more, too. 
We planned more creative dates together.
Dinner and drinks is a go-to date plan. As is a hipster brunch. And sure, this is definitely fine on occasion. But after a while the uncontrolled portions and delicious options on restaurant menus can wreak havoc on healthy habits, as well as make for really routine, cliche dates. 
Instead, I found that eating healthier pushed me to get more creative with date planning. We found ourselves meeting up at a local farmers' market to buy ingredients to cook meals together, going on afternoon hikes with a picnic in tow—and also, because I had more energy, I often had time for things like spur-of-the-moment outdoor concert. My commitment to healthy eating made my dating life more exciting and filled with more energy. And it was a bit easier on the wallet, too. 
We even grew closer as a couple.
Of course, you don't want to force your own healthy habits on your S.O. That said, it's easier to keep it up if you hang out with people with the same discipline. By supporting each other to eat healthily, you'll find yourself bonding over a shared goal, which has been proven to make relationships stronger. Not only that, research published in The Journal of Sports Medicine and Physical Fitness found that romantic partners who exercise and share a healthy lifestyle maintain their healthy habits longer than those who don't. 
Of course, your relationship isn't doomed if you don't follow the same meal plan. But like any shared interests or habits, eating well together can bring you closer—and help keep your healthy lifestyle on track.