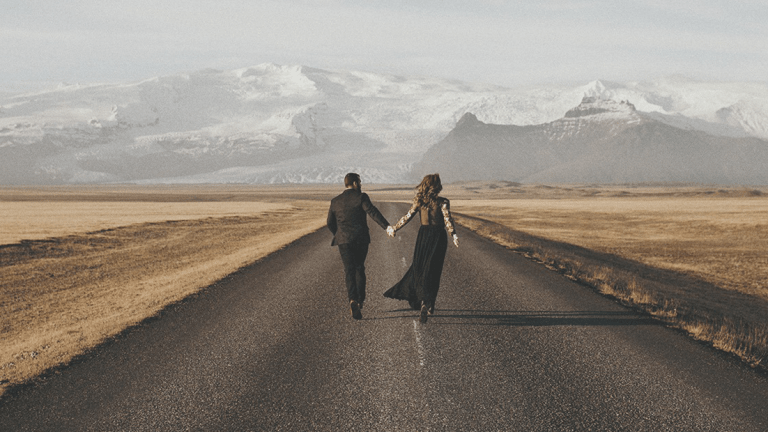 We Took Our Honeymoon—and Didn't Come Back for a Year
Here's why this crazy nomadic adventure was the best start to our marriage.
Within ten days of our wedding, my husband and I quit our jobs, gave away our furniture, stored our belongings, and took a flight out of New York—knowing we wouldn't be back in the U.S. for at least a year. The opposite of settling down or buying a house, we left everything behind us, oversize backpacks in tow.
Adventuring around with a week's worth of clothing and the bare necessities, we learned more about ourselves in one year than I think we could have in five. Across Spain, Nepal, Italy, Greece, and Japan, we straddled motorcycles, cared for the dying (yes, really), hiked through the Himalayas, dug garden beds, and took train trips to France and the Taj Mahal.
The idea behind our yearlong honeymoon was to grow in our marriage as we volunteered, shared cultural experiences, and sought new opportunities—all things that would inspire how we lived the rest of our lives. But it's only in retrospect that I realize how fundamentally life-changing this whole experience was.
That said, traveling for a year, especially in the way we approached it, is not for everyone. In fact, I might say it's only for a select (and crazy) few. But the marriage lessons we learned from that first year are ones that can be learned, and should be learned, no matter where you are or how long you have been married.
01. We started with a blank canvas.
By journeying far away from everything we knew, we departed from the old normal. We started marriage fresh. We didn't have our jobs, our homes, our cars, our grocery stores—not even our family and friends. With a blank slate, we could be creative and dream about how we wanted our lives to actually look.
Being continents away, we didn't have outside opinions and voices distracting us or influencing us. Those early days of our marriage were focused on what was most important to us—and listening to our own voices. We discovered passions hidden deep within us: teaching for him, writing for me. We identified previous, bad habits we wanted to end. Rather than letting life snowball with material items and commitments and jobs, we constructed our own path.
So we spent afternoons talking about what we wanted out of this new life together, how we envision raising a family, and how we'd support each other along the way. We wrote down goals for our marriage and what we imagined our lives to be.
02. We learned how to rely on one another—in big ways.
We were working on an organic farm in Japan when I came down with aseptic meningitis. The language barrier proved challenging at the local hospital and my husband was the only person who could help translate, care for me, and be by my side. It was scary, but it was also incredible to see his love for me. Later on, when my grandfather passed away while we were in Thailand, I couldn't drive over to see my siblings or hug my parents. Joe was my anchor, and I leaned heavily on him.
Not only was it the distance, but the time difference, too. If it was 3 p.m. in Myanmar, it was 3:30 a.m. in Michigan (yes, not all time zones are by the hour!). I couldn't pop over to my best friend's house for a pick-me-up chat or bond with my sister over a glass of wine. My husband was the only person, usually within thousands of miles, who knew me in depth. We didn't even have our native language to rely on for small chat. But we had each other.
03. We transformed into financial partners.
Traveling on a budget, especially for twelve months, is a job in and of itself. You aren't just managing a regular rent payment or car insurance bill. You're deciding which country you'll go to next, where you'll stay, how much to spend on groceries, excursions, and transportation. (Will we take the bus or a tuk tuk?)
With no income, we took a cautious approach to spending. We chose the places we'd volunteer for room and board, which countries we'd splurge in, and when to buy souvenirs. The balance between spending and enjoying our time was constantly reviewed. A strict monthly budget helped fuel additional months on the road.
Determining how to spend money so intricately led us to discuss the bigger financial picture: our overall goals, financial perspective, and approach to retirement and savings. We discovered that experiences are far more valuable to us than material goods and that we'd keep that value constant in our marriage.
04. We forged a bond in raw, meaningful moments.
When we volunteered with Mother Teresa's order, the Missionaries of Charity in Calcutta, we were paired at a house for the dying and destitute. Joe was on the men's side, I on the women's. When I'd pop over on occasion to say hi or grab him for the walk home, I witnessed how gently he cared for the most vulnerable people. As our journey continued, I later saw him sweat in the fields in Tuscany and manage miscommunications in hilarious fashion in Poland. I saw him on the tiresome days of travel across India and on the joyous ones like when we shook hands with Pope Francis.
Who Joe is as a man, a husband, and a gift in my life became clearer and more beautiful to me each day. Stepping away from normal life allowed us to see who our partner really is—in all their glory and all their human weakness.
05. We took in bold, bright, and beautiful things together.
Susan Krauss Whitbourne, Ph.D., professor at the University of Massachusetts Amherst, explains that adventure and new experiences promote "the 'crescive bond' (in sociological parlance, a 'shared experience') by fostering growing and enduring connections." Our adventure across the world gave us lasting memories—from driving around a Greek island in search of cheese makers to hanging with a Buddhist monk in Nepal. Those brilliant moments have cemented us and given us photos and stories to last a lifetime—which was one of the most valuable kick-offs to start our journey together.
06. We zeroed in on the present.
The experiences and lessons learned from trekking the Camino de Santiago and biking near the temples of Bagan are ones we didn't want to assume we'd have the opportunity to pursue later. Before kids and houses and health issues, we wanted to be with one another in a rich, unforgettable way.
Rather than banking on the time or health to do something later, we took a risk, and did it then. We stepped out of the clutter and into the present. We became more aware that tomorrow is never, ever promised and that even a happy marriage doesn't protect us or buy us time. Perhaps the biggest gift of traveling for a year was a newfound focus in the now, loving each other fully today—in the present moment: the only time we truly ever have.