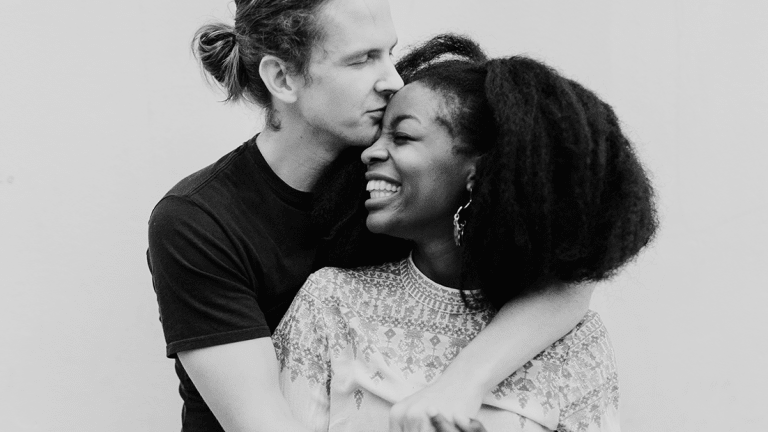 Gentlemen Speak: 5 Things These European Guys Love About American Women
Eight different countries, eleven different men—and here's what they said.
Europe: a magical continent spanning from the Atlantic Ocean to the Black Sea, rich with various cultures, languages, and geography. Naturally, when stepping into any European country—be it Spain or Switzerland—as Americans, it's uncertain how we'll be viewed. Will we be seen as the loud Americans or the friendly Americans? Or, heaven forbid, the unfashionable Americans?
And—if and when—we date men, what major differences will they see? 
Recently I wrote a piece about what it was like dating French men, asking various English-speaking women what the main differences were. This time around, I was intrigued by the opposite question: Is there anything in particular that makes American women standout to European men?
After interviewing eleven European men who are married or dating an American woman, turns out, there isn't just one particular thing, but several. From Ireland and France to those hailing from Austria and Germany—each shared with me what they love about American women.
Of course, these are generalizations, based only on a handful of experiences, but what they said might make you blush, nonetheless.
01. American women have a fantastic sense of humor.
In nearly all of my conversations with the European men, humor and wit were brought up. "I like my wife's wittiness and that she doesn't take herself too seriously," shares Christian. "Germans have nice humor as well but it tends to be more 'dry.' I like that she can be silly and laugh with me all the time. Sarcasm is different in the States, too: I enjoy American sarcasm very much."
Michael from Ireland agrees: "I enjoy talking with and listening to American women. They are fun and don't take themselves too seriously. You can joke and laugh with them." Hailing from England, Ryan shares, "My wife is from Philadelphia and she has a real 'Philly' attitude. She's usually louder than me and always the life of the party."
The three men I interviewed from the UK had a different perspective on the generalities of female American humor, however. "American women (and American people in general) seem to take themselves a lot more seriously than the British do. Brits have a very unique self-deprecating sense of humor that Americans can't quite seem to grasp," shares Ruaridh, who's from London. James, also from London, has experienced the same: "American women have a cleaner sense of humor. They're less likely to see the funny side of bad situations or see the funny side of making fun of other people."
That said, it just might be impossible to compete with sharp, iconic, quirky British humor of our British sisters.
02. They're culturally sensitive.
The United States is often referred to as a melting pot, known as a place where people flock to from all over the world for a different life. So, it wasn't surprising to learn that the the majority of the men interviewed thought American women stand as being culturally sensitive. 
Christian, a German who married an American, reveals this perspective: "I learned from my wife how to be sensitive to cultural diversity and to keep an open mind about people who look different than you. If you ask a European what their heritage is, you'll likely get one answer. Not so with American women. [For instance], you'll quickly learn that they are 45 percent French-Canadian, 30 percent Danish, 15 percent Polish, and maybe 10 percent South African. It's fascinating to me to learn about the different parts of the world that are all part of the genealogy of one single person. I find this appreciation for diversity and heritage to be 'American.'"
Tomás, who's from Spain, has benefitted from the cultural sensitivity and openness of his wife who is from New York. "I have met all kinds of people I would not have met otherwise. My wife is always making new friends and we have a large circle of international friends who live here and in other countries." Whether they live in the States or abroad, these men were impressed with how the American women in their lives were inclusive and accepting of people from all backgrounds.
03. They're open-minded and adventurous.
"Many American women are bold and adventurous. They like to try new things, foods, and are interested to learn more about foreigners. They aren't afraid to step out of their comfort zone," shares Julien from Paris. Christian, who's from London, has experienced the same: "There's always a sense of adventure. One girlfriend surprised me with a weekend in Vermont on a whim, while another took me on an unplanned camping trip."
Men from other European nations agree that American women are willing to step outside of their comfort zones. Arnold, who worked at an Austrian hostel, shares: "American women are definitely open to new things and definitely want to try things out in order to gain some experiences." Now living in the United States, Christian concurs: "In general I would say American women are more open-minded than some of my experiences in Germany." The broad-mindedness of American women doesn't just pertain to experiences, either. "I like that American women usually are more open-minded to different themes of conversation," shares Karolis from Lithuania.
04. They operate with a sense of optimism—despite challenges or inconveniences.
Arnold was traveling on the trans-Siberian railroad from St. Petersburg to Beijing when he crossed paths with his now wife. "We met in Mongolia when we stayed at the same hostel. We were put together on the same tour to explore the country. We stayed overnight in gers (yurts) with local families. This means no running water, no shower, no restroom, no western comfort in that sense for about eleven nights," remembers Arnold. He hadn't met a lot of girls before who could handle an extended time without the aforementioned comforts. "I liked her pretty much straight from the beginning," he recalls.
Julien, who's French, encountered something similar: "American women are usually optimistic and have a positive attitude. They don't complain even when they might have a reason to, in contrast to France where complaining is more common. For example, before we were even dating, she came to New York City to visit me. She got a pretty bad cold and sore throat, but was still willing to go on all the activities I had planned and never complained or let it get in the way of making the most of the visit." Her positive outlook continued throughout their relationship. "When the opportunity came to stay longer in Hong Kong, she was optimistic and didn't complain, even though she had been looking forward to moving closer to our families."
James finds the positive outlook to be ingrained in the way American women were brought up. "They didn't grow up with a class system so they have greater expectations for their future and they're more positive about the world around them. Events like Thanksgiving encourage Americans to proclaim the things they're thankful for. England doesn't have anything like that. You'd be called 'soft' or 'uppity' to start talking about the things you're thankful for in England." According to James' experience, American women bring a fresh, optimistic spirit to their companions.
05. They're easy to connect with and share important similarities.
"Irish and Americans share a similar sense of humor and we are open to meeting people. We like to socialize. We value people and value relationships. We share a strong work ethic. We value and respect family," shares Michael. Other men also expressed that they find American women easy to relate to. "In my experience, most of them are very friendly compared with Lithuanian women. I love that most of American women are courageous, self-confident, and talky," divulges Lukas.
That said, men sweetly shared that they would love their wives and girlfriends no matter where their hometowns are. "In general I just love my wife for who she is, she could be from anywhere in the world," proclaims Ruaridh. Tomás from Spain expresses the same, "I think what I have found is that when you meet someone that you really connect with, whether it is a friend or a wife, that it does not matter where they are from. What matters is how they have chosen to live their life, what their values are, if they want to continue to grow and learn in life and if you work well as a team."