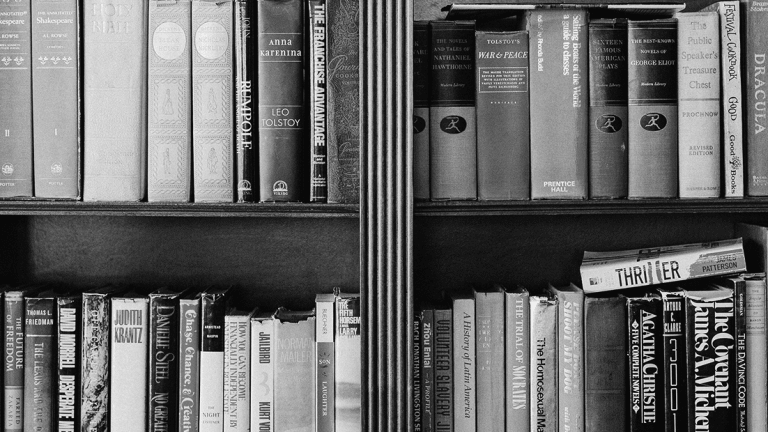 Gentlemen Speak: 5 Romantic Books Guys Actually Love
Looking to read a book with your guy? Consider these.
As Valentine's Day approaches each year, I've noticed that there's one area where marketers don't even try to sell me love: the realm of fiction. Grown men, apparently, have the same tastes as the kid at the start of The Princess Bride—eager to get through the mushy stuff to the sword fights and action—or so publishers seem to think.
The truth is, guys appreciate a good romance. We may not fill up our shelves with the latest romance novel (after all, books primarily written for and marketed to women are, not so shockingly, still predominantly consumed by women), but a great number of our literary faves have love stories at the heart of them.
Don't believe me? It's not just me. I polled guys for their favorite love stories, and the list may surprise you. To cover a wide variety of tastes, I divided them up into genres. And because reading is actually a super-romantic activity—it's not a bad idea to add some of these to both of your book lists.
01. The Classic: 'The Great Gatsby' by F. Scott Fitzgerald
This syllabus staple easily topped the list of our faves. Though this is a tragedy about the failure of the American Dream, it's also a love story. It's a tad relatable when it comes to the intense feelings a man may feel toward his first love. "It's all too easy to identify with Gatsby's feelings. . . . But hopefully, every man learned to avoid acting on those feelings in the awful ways that Gatsby does," Peter says.
02. The Comedy: the Jeeves and Wooster stories by P. G. Wodehouse
Some may object and say that these stories are anti-romance—Wooster tries to escape an engagement, but that escape is often only realized through the restoration of another relationship. The Genius Valet and his Hapless Man wander through England and its colonies sowing chaos, stealing cow creamers, and cementing couples. In ways, they are the ultimate matchmakers. And it's fun to read. As Jude says, "Wodehouse is the one satirist that seems to love, not despise, his characters." This kind of love for his characters seems to make us all less cynical about romance as well. "Even while you root for Bertie to avoid his aunts' latest engagement schemes, you can't help but root at the same time for him to bring the other couples together," Another guy, Tim, explains. "The characters that run through his life are so weirdly fun that you can't help but cheer when they find their match and find happiness."
03. & 04. The Fantasies: 'The Name of the Wind' and 'The Wise Man's Fear' by Patrick Rothfuss
"He slayed kings, fought dragons, sought vengeance. Kvothe: You may have heard of him." That's how fans always describe these books. They've sold millions and millions of copies. Lin-Manuel Miranda is adapting them for television. Rothfuss, after George R. R. Martin, may be the most successful living fantasy writer. Inside, however, you won't find that standard Epic Fantasy Romp. You'll find something much more earnest and idiosyncratic: the story of Kvothe and Denna, scared kids who tried to find love and, as a result, likely broke the world. As Paul says, "The books show that broken people can, if they find each other, make moments of incomparable beauty. They can learn to find their flaws and their failings as precious as their gifts and strengths."
05. The Graphic Novel: 'Saga' by Brian K. Vaughan and Fiona Staples
Saga regularly tops comics sales and makes the New York Times bestseller list. But you may be surprised that this showed up in a list of romances. The thing is, the stars are not super-powered men in tights but rather star-crossed spouses fleeing across a war-torn universe with their illegally conceived child. It's very, very rare for a marriage to be positively depicted at all in fiction, let alone so beautifully and honestly—making even the most commitment-phobic man consider making vows.
Honorable Mention: anything and everything by Jane Austen (Yes, really!)
For boys of 15, Jane Austen is the loathly lady we're forced to read at school. She seems to care way too much about planning balls and the ethics of staging an amateur play with houseguests. But for us men who return to her later in life (whether through intrigue or watching a movie with a girl), we invariably discover one of the most savage wits of the English language. Austen is the one author I know that every guy who reads as an adult (eventually) falls for—though, I must admit, their devotion is due primarily to this rather than this.
Not to mention, all too many of us can relate to awkward Mr. Darcy, who really made a terrible impression simply because he was desperately searching for an excuse not to dance. In defense of Darcy, Justin Petrisek tells Verily: "I can personally attest that as a man, I hate going outside my comfort zone, and dancing is certainly outside my comfort zone." Amen, brother.