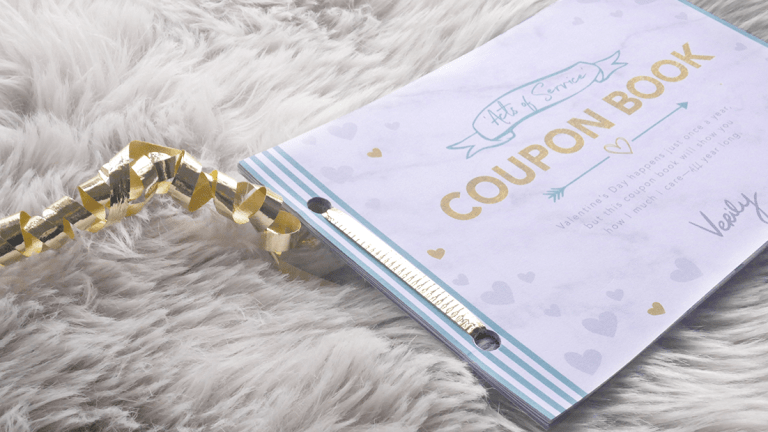 We Made a Beautiful Coupon Book for Your 'Acts of Service' Man
Right in time for Valentine's Day. (Just hit print! You're welcome.)
If you're a fan of Dr. Gary Chapman's The 5 Love Languages, you're probably familiar with the lightbulb moment. You know, when suddenly it all makes sense. "Aha!" you think. "That's why he really didn't care too much about the cologne I gave him!" Or maybe you pause to wonder, "Hm, this is why compliments don't resonate with him as much as they do with me . . ." 
However your epiphany comes to you, often you're sent reeling back, wondering, "What does this mean for our relationship? What do I need to change?"
Or, in light of next week, maybe: "What the heck do I get him for Valentine's Day?" 
If your S.O. receives love mostly through acts of service, this conundrum can become especially tricky. Merely executing tasks on another's behalf, for many of us, just doesn't feel like enough. Not only that, surprises are important for romance—and presenting a gift is the epitome of surprise (and the essence of this romantic holiday!). Plus, it involves a bit of brainstorming, while other love languages may seem a bit more clear-cut. And sometimes we need a little help. 
We've rounded up some suggestions in the past, but this is the first year we've made it really easy to love your Acts of Service partner. That's right: We created a free, downloadable Acts of Service Coupon Book, made for Valentine's Day. 
So go on, download the beautiful PDF, hit print (or send it to your nearest Staples, if you want to be fancy . . . or if you lack a printer), and watch the love of your life smile as you present a gift that commits you to a ton of future chores—but lots of relationship happiness. 
Acts of Service Coupon Book