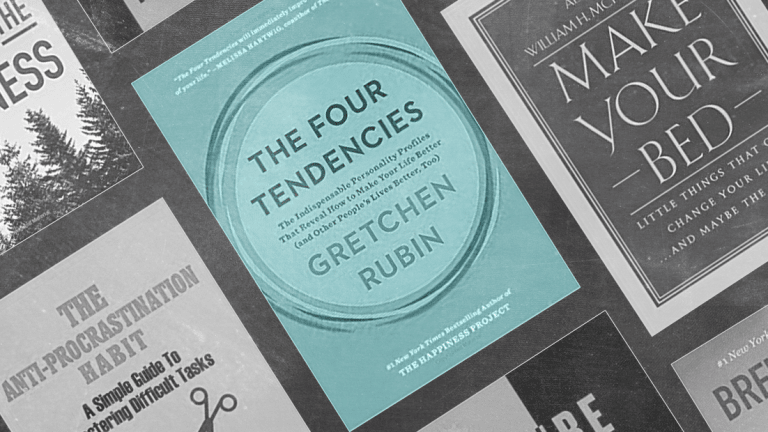 Reading These Latest Self-Help Books Can Change Your Life in Just One Weekend
Reveal your tendency, have courage, find your tribe, make your bed, and other advice
So you've made your New Year's resolution, but your enthusiasm is waning. You need a motivational boost. Although signing up for a personal trainer, nutritionist, life coach, or dating coach could offer the motivation you need, it can also get pricey really fast. Plus, it can be hard to carve out the time it takes for consultations, weekly appointments, and training sessions. You don't want to wait. You want to get started right now.
So, what's a girl to do?
Try picking up one of these self-help books that you can breeze through in a weekend, and take away tips and strategies to start using in the week ahead.
by Gretchen Rubin
When she was writing her book about habits, Gretchen Rubin identified four tendencies that describe what motivates us to make changes in our lives. The topic was so popular that she wound up writing an entire book on the concept. Knowing whether you are an Obliger, an Upholder, a Rebel, or a Questioner is key to identifying what motivates you, which can show you how best to make your resolution a reality. And this book will help you figure that out.
by Brené Brown, Ph.D., LMSW
Brené Brown is known for her incredible ability to share deeply personal reflections while combining them with the research she's conducted on the same topic. Her latest book provides four ways you can grow in self-knowledge and fearlessly live your most authentic life despite the confusing messages our society tells us. She's an empowering writer, and you'll find yourself excited about the prospect of implementing her advice.
by Tim Ferriss
Tim Ferriss, who pioneered the four-hour workweek concept, interviewed more than 130 top performers to hear their advice on a variety of topics ranging from mindfulness, the best morning routines, how to respond to failure, answers to the elusive work-life balance question, and how to identify your priorities. The book is huge, but it's divided into easy-to-digest interviews, so pick a few and get started. Consider it a jam-packed master class that you can complete in a weekend.
by Admiral William H. McRaven (Ret.)
You may have seen the admiral's inspirational commencement address where he shares his surprising advice with the graduates of the University of Texas at Austin in 2014. He told them that success starts with making your bed every day. Now he has written a book to share even more inspiring advice based on his experience as a Navy SEAL. The Amazon reviews on this book are overwhelmingly positive. Eighty-four percent of the reviewers give it a five-star rating.
by S. J. Scott
Procrastination is probably the number one reason you haven't started making progress in your New Year's resolution, and this book may have the answers you need to conquer your procrastination. S. J. Scott offers practical ways to address your tendency to procrastinate so that you can actually start working toward your goals.
by Shannon Kaiser
Shannon Kaiser addresses the common fears we have about loving ourselves and provides concrete strategies for being compassionate toward ourselves. After all, if we don't believe we're worth the same compassion and kindness we show to others, how can we be our best selves in the world?