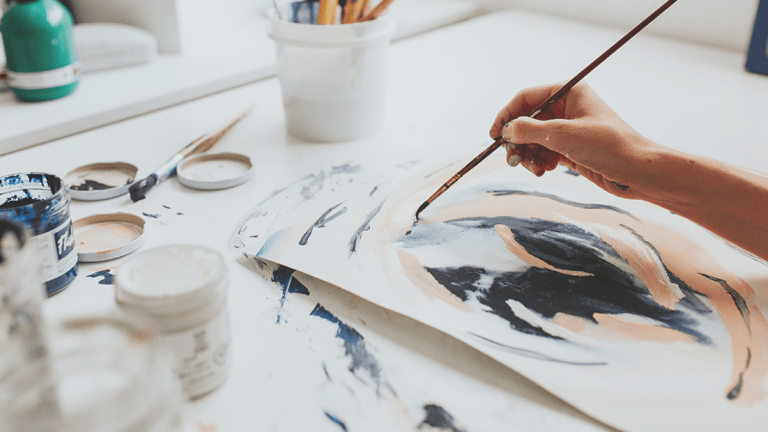 9 Inspiring Morning Routines For a More Productive and Enjoyable Day
Ready, set . . . go be awesome.
The days are getting longer here in the Northern Hemisphere. Spring is still a long way off, but with more sunlight in the early hours, right now is a great opportunity to revamp your morning routine. What routine, you ask? If you don't have one, you're missing out. As tempting as the snooze button is, the alternative—getting up and getting going—has much longer-lasting benefits. Here's where to start.
01. Set Boundaries
Arguably an essential element of creating and maintaining a morning routine is claiming it as your own. University of Houston research professor and author of The Gifts of Imperfection, Daring Greatly, Rising Strong, and Braving the Wilderness, Brené Brown, urges the importance of "the willingness to let go of exhaustion as a status symbol and productivity as self-worth." She believes it's "healthy" and "smart" to set boundaries between professional and personal time and to stick to them. To have a successful routine, the first person you need to hold accountable is yourself.
02. Breathe
Verily contributor Haruka Sakaguchi starts each new day simply by opening her bedroom window. "Fresh air cleans our lungs and soaks our brains in oxygen, allowing it to function at a significantly higher capacity," she writes. That clarity means you're more prepared for whatever the day might hold.
03. Hydrate
It sounds as effortless as breathing, but how many of us really drink enough water throughout the day? Keeping a bottle or glass of water by your bed to drink first thing starts you off on the right track. Take in some H2O before your coffee or tea and you probably won't be looking for caffeine with such desperation later in the day. We wake up dehydrated after a full night's sleep, and it's critical for our mental and physical wellbeing that we remedy that before it gets worse.
04. Postpone Screen Time
When we say we're just doing a quick news or social media check, time often slips away as we scroll. Arianna Huffington, author of The Sleep Revolution: Transforming Your Life, One Night at a Time, doesn't believe in having electronic devices in the bedroom at all, whether for work, pleasure, or even the alarm clock function. The same blue light and temptation to engage in endless browsing that she argues makes it difficult to fall asleep can also make it challenging to start your day on a positive, intentional note. Pick a time and skip the screens until then. You may be surprised by how much else you accomplish.
05. Glow with Your Greens
A girl's got to eat, and while most of us won't opt for a salad when the sun's still rising, that doesn't mean you can't get your greens in. Reese Witherspoon chooses Kimberly Snyder's Glowing Green Smoothie, which combines spinach, romaine, celery, apple, pear, banana, and more in a preparation that allows your body to get the greatest nutritional benefit possible. If cleaning the blender every morning is a roadblock, mix up a big batch on the weekend and freeze portions for convenience.
06. Work Out
Laura Vanderkam, Verily columnist and author of What the Most Successful People Do Before Breakfast, believes that the morning hours are the best time to work out, since you're likely to be in the most control of your schedule. Not much can interfere with a plan made for seven AM, whereas afternoon meetings can run long and evenings can be prime slots to catch up with friends. Prioritize a workout before other obligations have the opportunity to compete.
07. Think of Your Skin
Both Nicole Kidman and Emma Stone are ardent sunscreen users, and it shows in their smooth complexions. Kidman reports that she "smothers" Neutrogena's lotion on each morning. What started as an attempt not to develop freckles as a kid turned into a serious effort to avoid the skin cancer that both her parents had. Dermatologists agree that the stuff is important every day. A sun protection factor (SPF) of 30 is typically adequate for daily use, even when you're not planning to spend a significant amount of time outdoors.
08. Do Something Creative
Reading a short story, painting a few strokes, listening to music? As with working out, morning is the ideal time to devote to something artsy. Allowing something that satisfies your creative side a chance to stretch has been shown to reduce psychological stress. Engaging with creativity—both by creating and by taking art in—adds another dimension to your morning that can help you maintain a peaceful, balanced perspective throughout the day.
09. Go to Sleep on Time
Committing to a consistent sleep schedule (even on the weekends) is crucial to continually productive early bird hours. Messing with your circadian rhythms by going to bed and waking up later on the weekends means you're not likely to wake up Monday morning feeling refreshed. When you do hit the hay later than usual, make up for lost sleep an hour or two per night, rather than all at once.
We all know that rushed, chaotic mornings don't set the tone for a healthy and happy day. Taking the time now to consider what you'd like to achieve and creating a plan to make those things happen could be the best thing you do for yourself this year.