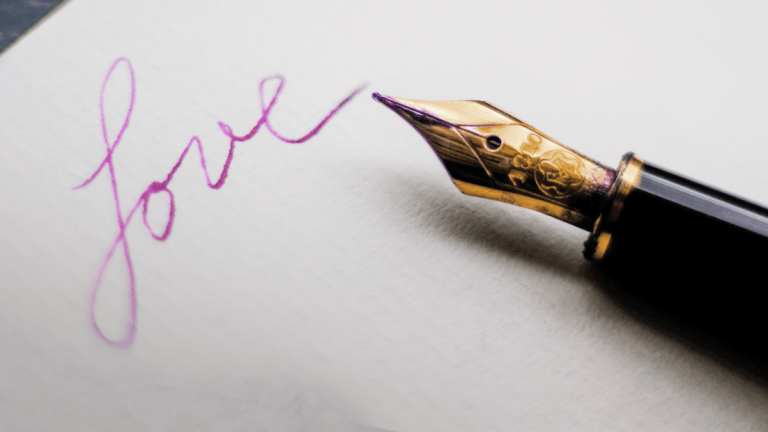 These Love Letters by Famous Women Will Make Your Heart Flutter
These women could write.
Maybe it's just me, but when I think of an old-fashioned love letter, I think of the turning point of the love story. You know—when our hero finally confesses suppressed feelings to the woman he loves ("I can bear this no longer"). In those romances, letters are often the moment of romantic climax. It is a clear act of intent, and the heroine must decide how to respond to this sudden (and always unexpected) declaration of love.
Sigh . . .
Though there's of course nothing wrong with this old-school scenario (if anything, men, please write more love letters to us), in reality, not all love letters are microcosms of burgeoning love, freshly initiated by men. Often the greatest love letters are ones that exemplify sustained, ongoing love. And often they're written by women. 
So in honor of National Handwriting Day, we've rounded up the best lines of the best love letters from famous women, in case you want to write a letter sometime soon. 
Editor's Note: These letters contain misspellings because in some cases the English language differed at the time, and in other cases they simply were bereft of the modern wonders of autocorrect.
1782: Abigail Adams to John Adams
The love between our third President and his first lady has been a source of fascination, admiration, and #relationshipgoals throughout the centuries. Their love story never gets old. For years, Abigail and John were separated as John lived abroad, serving various diplomatic purposes when our country was still new. While this certainly wasn't easy for the couple, it did create many beautiful, brilliant letters between the two, exhibiting just how profound Abigail Adams really was: 
...should I draw you the picture of my Heart, it would be what I hope you still would Love; tho it containd nothing New; the early possession you obtained there; and the absolute power you have ever mantaind over it; leaves not the smallest space unoccupied. I look back to the early days of our acquaintance; and Friendship, as to the days of Love and Innocence; and with an undiscribable pleasure I have seen near a score of years roll over our Heads, with an affection heightned and improved by time—nor have the dreary years of absence in the smallest degree effaced from my mind the Image of the dear untittled man to whom I gave my Heart.
1796: Mary Wollstonecraft to William Godwin
After a tumultuous few years, one of the earliest women's rights activists and social critic, Mary Wollstonecraft, had a short, but believed-to-be-happy marriage with writer William Godwin—only to end six months after she died in childbirth (giving birth to Mary Shelley who would later follow her mothers' footsteps and write Frankenstein). Here is part of a letter she wrote this man who would later become her husband: 
I would have liked to have dined with you today, after finishing your essay—that my eyes, and lips, I do not exactly mean my voice, might have told you that they had raised you in my esteem. What a cold word! I would say love, if you will promise not to dispute about its propriety, when I want to express an increasing affection, founded on a more intimate acquaintance with your heart and understanding.

1861: Emma Darwin to Charles Darwin
In June of 1861, Charles Darwin had hit a wall in his career. Essentially, the British clergy came to the conclusion that his theory of evolution was heresy. His wife, Emma, writes him a letter that demonstrates that her faith in her husband only rivals her faith in a higher power—lovingly encouraging him to "offer up" his pains:
I cannot tell you the compassion I have felt for all your sufferings for these weeks past that you have had so many drawbacks. Nor the gratitude I have felt for the cheerful & affectionate looks you have given me when I know you have been miserably uncomfortable.
My heart has often been too full to speak...I love you well enough to believe that I mind your sufferings nearly as much as I should my own & I find the only relief to my own mind is to take it as from God's hand, & to try to believe that all suffering & illness is meant to help us to exalt our minds & to look forward with hope to a future state.
1915: Tsarina Alexandra to Tsar Nicholas II of Russia
It's hard to imagine the love this royal couple had for each other and their children without thinking of their tragic, violent end—ending a dynasty and upsetting all of Europe. Merely three years before the Bolsheviks are thought to murder the Tsarina, her husband, and their five children, she wrote him this:
Off you go again alone and its with a very heavy heart I part from you. No more kisses and tender caresses for ever so long—I want to bury myself in you, hold you tight in my arms, make you feel the intense love of mine.

You are my very life Sweetheart, and every separation gives such endless heartache…
Goodbye my Angel, Husband of my heart I envy my flowers that will accompany you.
1931: Zelda Fitzgerald to F. Scott Fitzgerald
While their relationship was far from perfect (and by some reports, kind of dysfunctional), it was clear that the love Zelda and Scott Fitzgerald had for each other was strong—and rooted in passion. And from the letters, it is evident that Zelda could write just as well as her famous, brilliant husband:

Dearest My Love—
The sky closed over the lake like a gray oyster shell and pink pearls of clouds lay in the crease where the water met the Juras—still in the black iridescence and I wanted you to be there in the boat with me so I could watch the funny soft way you do things, so sweet, the way you move, like the tickling of a kitten's whiskers on my neck.
Dear Love—I've made Scottie [our daughter] some wonderful paper-dolls, you and me and her...I remember every single spot of light that ever gouged a shadow beside your bones so you were easy to make—and I gave you some very doggy green socks to match your eyes.