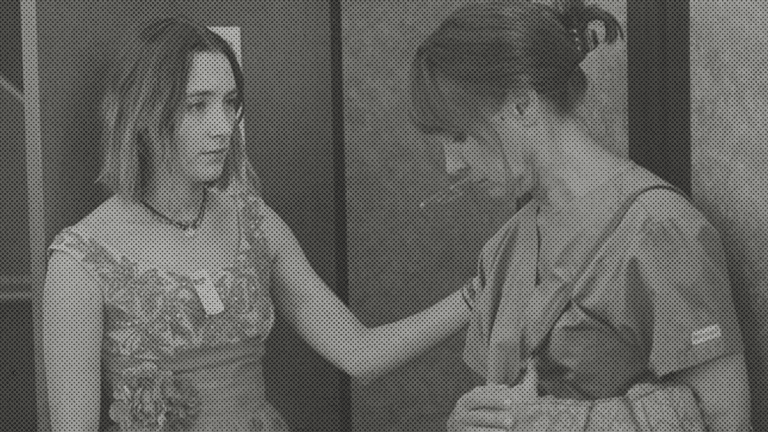 Real Women Share the Mother-Daughter Lessons They Learned After Seeing 'Lady Bird'
Do any of these sound familiar?
If you've missed the hype, Lady Bird isn't just an indie film with a limited release. It became the top-reviewed movie of all time on Rotten Tomatoes. Its director, Greta Gerwig, also wrote the script and made her solo directorial debut with the film. The New York Film Critics Circle awarded Lady Bird with Best Picture of the year, and it was nominated for four Golden Globes. To top it off, the actress who plays Lady Bird, Saoirse Ronan, is the darling star of the movie Brooklyn.
But why has Lady Bird risen to such success so quickly? Well, many say its because of the adept way it explores the ever-so-complex mother-daughter dynamic. Amid the typical coming-of-age scenarios—falling in love, fighting with a best friend, going to Catholic school, getting C's in algebra class—the story focuses on Christine ("Lady Bird") and her mother, Marion. (Its working title was even "Mothers and Daughters.") 
As generations have come together over the holidays to see and talk about this movie, women everywhere have found how even if the scenarios are different, Lady Bird has a way of speaking to every daughter and every mother. 
It explored the complexities of an emotionally abusive relationship.
"The relationship between Lady Bird and her mother was more than just a turbulent relationship between mother and daughter. The constant criticism, the inability to offer affection, even when directly requested, and the silent treatment all constitute emotional abuse. I know this because I saw my own emotionally abusive relationship with my mother in the film, and I regret the film did not explicitly name the dynamics emotionally abusive.
That said, I'm grateful Lady Bird explored the complex dynamics of knowing one's emotionally abusive mother does love you and means well. I had empathy for Lady Bird's mother, as I have empathy for my own mother. Yet, I also know those who experience emotional abuse struggle a lot to accept it was in fact abuse. And so I hope women like me didn't take the ending to mean you need to try harder to make the relationship with your mother right.
I hope they have a voice like my therapist's voice, telling them 'it's a mother's job to show unconditional love and affection;' 'her criticism of you, your college choice, your career, etc are because of her pain, not because of something you are and did;' 'no amount of effort on your part will heal your mother's pain, only she can do that.'"
-Grace
It helped us see the ways we can love each other better.
"After the movie, my mom and I had a video chat with her mother (my grandmother), to talk about it. We three generations of mothers and daughters discussed how the film got mother-daughter dynamics right. Both Marion and Lady Bird were, by turns, charming and frustrating. In one truly relatable scene, Lady Bird and her mother simultaneously shop for clothes and insult each other until Marion pulls out a lacy pink dress and Lady Bird exclaims, 'It's perfect!' All three of us had experienced that level of volubility.
As we talked, we uncovered the different ways we show love for each other, view each other as mothers and daughters, and communicate with one another. Watching Lady Bird and its portrayal of the awe and aches of the mother-daughter relationship helped us consider both how we relate to one another, and how to do it better."
–Maddie
It was an eye-opening look at tough love.
"Seeing Lady Bird showed me how sometimes unconditional love gets muddled. We see what we want for a person, rather than what they want for themselves. Watching Christine and her mom struggle to connect was a vivid reminder that we all could use a moment to take a step back and really look at how we relate to those we love most."
–Megan
It hit really close to home.
"My mom and I live in separate cities, and each saw Lady Bird on our own. When I walked out of my theater in New York City, I was both leery and dying to call my mom all at once. There was something so spot on in the mother-daughter dynamic that took me back— almost uncomfortably—to my own high school experience...and let's be honest, despite being very close to her, I gave my mom a good amount of sass. In that same way we can revert to our younger selves and roles when we go home. I almost wasn't sure I wanted to relive any of that with my mom! Lady Bird and her mom had a way of playing out nearly a dozen arguments my mom and I had of our own—down to the slamming doors. When we did catch up over the film, we both immediately went to the dressing room scene—how many times did that scenario play out and we left empty handed? Too many, that's how many!"
–Caitlin
It was a painful reality about selflessness.
"I found the mother-daughter relationship in Lady Bird to be not only complex and compelling, but also unfortunately realistic and somewhat disturbing. While I never felt compelled to villianize either party in the relationship, I did find myself wanting and hoping the mother would do more for her daughter and that she would realize all Lady Bird needed was unconditional love and a shame-free existence to be freely herself. It left me feeling that so many parents try to do their best but many fall short of the selfless and self-sacrificing demands of parenting thus leaving their children wounded and wanting."
–Kate
It's a reminder that love and pride don't get along.
"I think Lady Bird takes on different meaning when you're a mother. I still saw parts of myself in Christine, but I understood Marion, too. It's a pretty heavy movie either way, though. I loved how the movie showed that even if things get bad between a mother and a daughter, it's worth it to try again. Letting love win is always better than letting our issues fester in the name of pride. That's a lesson children and parents, alike, can take from Lady Bird." 
–Mary