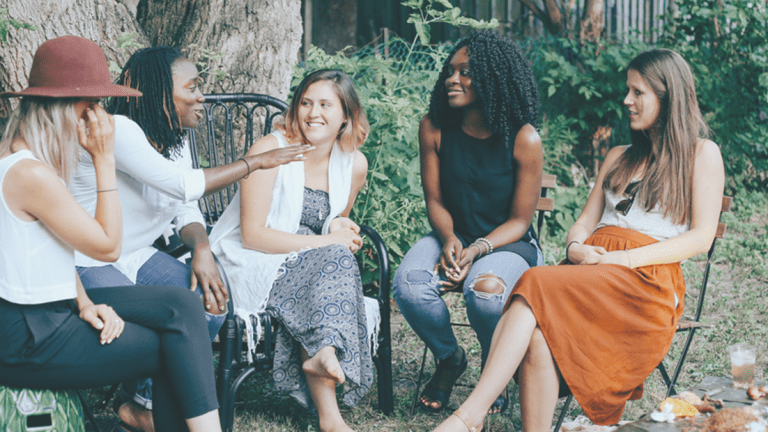 Having a Sisterhood Is More Important Now Than Ever—and Research Proves It
Making friends after age 30 may be hard, but it's worth it.
Several months ago, I began seeing this article by the New York Post circulate on social media. Entitled "Why Is It Hard to Make Friends Over 30?" the comments on the post quickly became a space of shared lamentations. Responses varied from "The only friends I still have are ones I made in childhood, or high school, or college" to "I have so much responsibility to my career or family (or both) that there is no way to share connections, no time to build friendships."
There is a great sense of sadness and loneliness surrounding this lack of community. And the isolation not only fosters depression, but without the support of our friends—our sisters—when times are hard it's also difficult to bolster our hope and courage. This can be seen in the rallying cries of women joining together in the #MeToo and #TimesUp movements. Alone, standing up against people in power is daunting if not impossible, but together we have courage, we have strength, we have understanding and support.
We have a sisterhood.
This idea of sisterhood is one that has long stood the test of time. Images of women in village communities nurturing one another's children abound in our history, with midwives and matriarchs sharing their wisdom and guidance. But today that same longing to connect to the women around us is palpable once again. Women supporting women has become a tenet of society more so in the past year than it has for quite some time, and the ways we seek it are very diverse.
Technology, itself, is a double-edged sword. In it we can isolate ourselves, becoming glued to those addictive, glowing screens and retreat from the outside world. But nestled in that digital world, we can also find that longed-for sisterhood sometimes. On Facebook, support groups fit every niche. Mothers, for example, can find common ground on parenting style, faith affiliation and life views. I have seen women in private groups lay bare their vulnerabilities, posting about their deepest fears and terrible living situations, to a group of women they've never met in real life—a technological echo of a friend seeking the love and help of her sisters. And, in turn, responses are filled with encouragement, sympathy, and even tough love. It's clear from these little online microcosms that there's a real, deep need for connection burning within us.
We need in-person connection.
Even with the wonderful support of online friends and confidants, there's something to be said for personal contact: the comforting hug, sympathetic gazes, shared experiences and laughter of other women. We long for people we can call at our worst, and who will answer without judgement. The friends who will show up at our doors, food in hand, when a new baby arrives, or who are readily available on the other line when a relationship ends. The friends who we can confide in when terrible things happen, and who help give us the strength to stand up for ourselves; the women who will stand by our sides when everything else is falling down around us.
The benefits of such relationships are bountiful. Dr. Brandi B. Patton, MD is a psychiatrist employed in the public sector in a government position. She says she witnesses a vast array of mental health crises every day, and one of the primary factors for predicting successful recovery for her patients is their support network.
"For patients with recent suicidal behavior, for example, a standard part of the suicide safety plan where I work includes listing the patient's social supports—this way, the patient can reach out to this group of people in times of need, often using this step instead of needing to seek clinic or even emergency room care," said Dr. Patton. " When the group surrounding a female patient is a like-minded group of women, the support can be especially powerful."
"I have seen the common factor uniting the patient to the group of women to vary greatly—shared career, shared illness, shared hobby, shared military background to name a few," Dr. Patton added.
"One middle-age female patient in my practice had not been doing well at all for a number of years and went through an emotional crisis when her husband asked for a divorce. She had recently retired, relocated to a rural area, and was not as physically close to her adult children. Her social supports had changed. She was really faltering. Through partnering with her therapist, we were able to help her reconnect to a group of women she had known professionally. They found that they also shared a common leisure interest. They started meeting regularly to discuss their hobby and support one another. These women became the family my patient needed, and she was able to navigate her emotional crisis."
It takes courage.
So how do we reignite this idyllic sisterhood? Sometimes it takes courage; we have to step out of our comfort zones and be a little vulnerable.
In my case it began with a suggested girls' night with other moms in my daughter's class. They, in turn, pulled in like-minded friends. And with a glass of wine and lowered defenses, we began to find comfort and connection with one another. Some people filtered out, and others stepped in, until we found ourselves sitting beside the sisters we had never quite realized we needed. As we gained comfort with one another, stories began to spill out: lost children, abusive relationships, difficult marriages, starting over after a move, the end of a bad relationship. Shared stories are grieved or celebrated with a group, and this sharing with experienced and compassionate women has made things easier to bear and granted courage in difficult situations.
It wasn't immediately easy, of course. There were tested boundaries and tentative conversations. But we made time for one another, even with all the craziness in our lives, and we still do.
No, the sisterhood is not a relic of the past. If anything, the shared and public support and outcry of women across the globe, uniting in their strength, solidarity and fortitude show that, despite the isolation, despite the demands on our lives from our careers and our families, there is still a need for one another and we can only become better people by embracing that shared love.