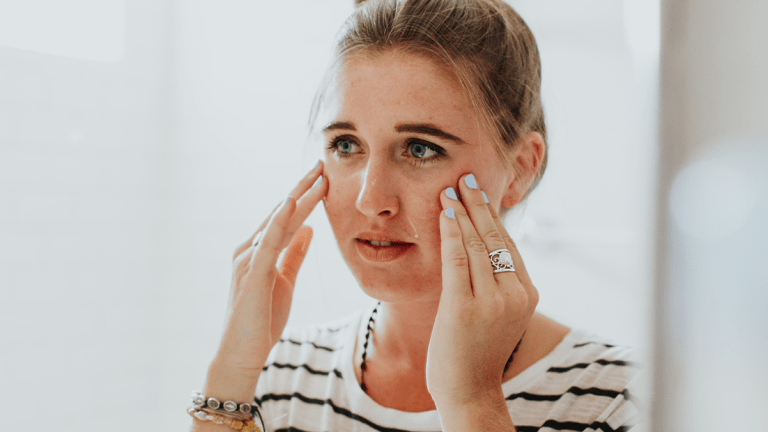 The Best Ingredients for Soothing Irritated Skin
Take that, dry winter air!
Regardless of skin type, tone, or texture, everyone's skin grows irritated or inflamed from time to time. Irritation commonly comes in the form of redness, burning, bumps or blisters, dryness, and flakiness, though it varies from person to person. There are a number of causes for this—even products made to help skin can cause issues. If your skin is red and irritated, here is what you need to know about the possible causes and solutions.
Dehydration
A typical cause of irritation is dryness. You might not be drinking enough water, or your beauty routine isn't giving your skin the moisture it needs. Try a more intense moisturizer or face oil (especially during the drier, colder months), and be sure to consume a healthy amount of water each day. Foaming cleansers and toners containing alcohol can also strip the skin, so it could be useful to switch cleansers or toners to see if it makes a difference.
Exfoliators
Another common source of irritation is the overuse of products like exfoliators and retinols. Physical exfoliants like scrubs and clay masks can be harsh and drying; chemical exfoliants, which will include AHAs (alpha hydroxy acids, eg. glycolic or lactic acids) or BHAs (beta hydroxy/salicylic acids), can cause irritation even in the most resilient of skin. Retinol, a beloved anti-aging ingredient, can have similar results to a chemical exfoliant. While all of these products are meant to slough off dead skin and create a brighter, clearer complexion, the overuse of any can potentially be dangerous for skin. If you've noticed irritation after introducing an exfoliator or retinol, try reducing the use of the product in your routine and slowly building back up to a regularity that you're comfortable with.
Consult a Dermatologist
Before seeking out yet another step for your skin care routine, it's important to analyze your existing routine and daily habits to make sure the skin aggravation isn't an easily-solved problem. Some issues can begin internally, spurning from illnesses, pregnancy, allergies or the side-effects of certain drugs. If the problem appears to be chronic inflammation, common with conditions such as eczema, it's important to speak to a dermatologist.
If these reasons don't seem to be the source of the problem, or you just want a skin-soothing solution to keep on hand should any irritation occur, then try products with any of the following ingredients.
01. Aloe Vera
Perhaps the most commonly-known ingredient for alleviating skin irritation, aloe vera—also frequently listed as aloe barbadenis—is soothing and hydrating due to its polysaccharide and sterol content and possession of antioxidants. Its benefits can be somewhat exaggerated, but it remains useful for soothing the skin. Aloe vera–based products are available nearly everywhere at various price ranges, but a quick fix is available in Tony Moly's I'm Real Moisturizing Aloe Sheet Mask.
02. Calendula
A subspecies of marigold that has stood the test of time, calendula extract works as an anti-inflammatory and antibacterial solution for dryness and acne. Researchers have found that the compounds narcissin and rutin, both present in the plant, are regenerative and help calm inflammation. It can also help calm burns as effectively as aloe vera. Calendula oils are available at numerous retailers, but Kiehl's Calendula Herbal Toner and Soothing Hydration Mask are popular options.
03. Chamomile & Blue Tansy Oil
An antioxidant-rich plant used most often in tea, chamomile serves as a skin-soothing agent when applied topically. Blue tansy, on the other hand, has gained fame in recent years for its use against bacteria and inflammation—not to mention its gorgeous, blue color. Being genetically similar, the plants offer comparable calming effects. For a quick boost, try Mario Badescu's Face Mist with Aloe, Chamomile and Lavender. An all-natural option for blue tansy can be found in Herbivore's True Blue Skin Clarifying Set, which includes their Blue Tansy Mask and Lapis Balancing Facial Oil (both of which contain the fragrant plant oil).
04. Colloidal Oats
An ingredient used exclusively in skin care for calming irritation, colloidal oats possess antioxidants called avenathramides which actively soothe the skin while certain sugars and starches help give the oats water-binding properties. Even the FDA has allowed colloidal oats to be listed as an active ingredient due to its effectiveness as a skin protectant. Brands like Aveeno offer various products with oats, like their Daily Moisturizing Lotion, but First Aid Beauty's Ultra Repair Instant Oatmeal Mask is a quick fix for irritated skin.
05. Evening Primrose Oil
This beautifully-named oil is a particular favorite amongst those suffering from inflamed or painful acne. Its richness in antioxidants make it essential for smoothing roughness and reducing fine lines, but its gamma-linolenic acids (GLAs) have been proven in numerous studies to reduce sebum production while effectively hydrating the skin, making it perfect for oily and acne-prone skin. Its astringency is also helpful in soothing irritation from acne and even eczema or pruritis. Yes To offers primrose oil in its oil form and as an easy, calming mud mask.
06. Niacinamide
Niacinamide aids in a number of skin ailments including uneven or dull skin tone, enlarged pores and fine lines. Its effectiveness against inflammation makes it useful for people with acne or rosacea, and it helps increase production of collagen and ceramides to ensure a stronger moisture barrier and firmer, more youthful skin. Try The Ordinary's Niacinamide 10% + Zinc 1% Serum for an affordable, simple addition to your routine.
07. Panthenol
A gentle ingredient good for sensitive skin, panthenol is a deeply-penetrating vitamin and humectant that attracts moisture to the skin and keeps it there. Beyond that, it becomes anti-inflammatory when used regularly so as to relieve itchiness and soothe dryness. Panthenol is available in a wide range of products, particularly moisturizers, but the Derma E Hydrating Night Cream is a great option.
08. Sea Buckthorn Oil
Rich in fatty acids and vitamins A, C and E, sea buckthorn is meant to have various skin benefits. The antioxidants and omega oils help the skin retain moisture, which will be a definite boost for those suffering from dry or scaly skin. As an added benefit, sea buckthorn oil also aids in the healing of scarring and sun damage and boost collagen production for a clearer, more youthful appearance. The brand Fresh offers a popular oil blend, the Seaberry Skin Nutrition Booster; however, regular sea buckthorn oil can be found at a myriad of retailers.