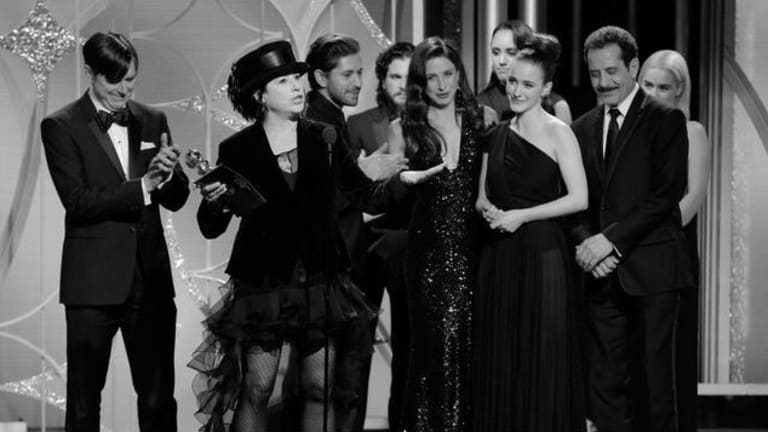 Here's What You Missed From Last Night's Outspoken Golden Globes
The biggest star wasn't a person; it was a movement
Traditionally an evening full of television and movie glamour, the 75th Annual Golden Globe Awards took a more serious tone on Sunday, shining a spotlight on women and sounding a battlecry for the #MeToo and #TimesUp movements. Awards shows are all about the red carpet—and although different, this year was no exception. Responding to the #TimesUp call-to-action, the stars were adorned in all black in a display of solidarity for Times Up's mission to create gender parity.
The evening's host, Seth Meyers, targeted comedic jabs toward those accused of sexual misconduct in the entertainment industry, but the theme of real transformation and change for women and men remained throughout the night. There were consistent reminders that the movement's positive impacts can, and will, be felt across industries. When accepting the Cecil B. DeMille Award for lifetime achievement, Oprah Winfrey said it best: "This year, [women] became the story. But it's not just a story affecting the entertainment industry, it's one that transcends any culture, or workplace."
We've compiled a few notable moments in case you weren't able to catch it live.
Nicole Kidman Dedicates Win to The 'Power of Women'
Early in the show, Nicole Kidman accepted the award for Best Actress in a Limited Series or Movie for her role as Celeste in Big Little Lies. She remarked that she felt proud to be a part of a series that was born from the creativity of strong women, remarking, "Wow. The power of women." When thanking her co-creator Reese Witherspoon, as well as the series' main cast Zoe Kravitz, Laura Dern and Shailene Woodley, she said "we pledged allegiance to each other, and this is ours to share." Closing out her acceptance speech, Kidman payed homage to her mother, an advocate for the women's movement, by dedicating the "achievement" to her. "We represent what she fought for."
'Big Little Lies' Wins Big. Again.
The HBO series continues to dominate the awards circuit this year. Following Kidman's win, Alexander Skarsgard picked up the award for Best Actor in a Television Series Drama. When accepting the award, he thanked the series' "extraordinarily talented women," specifically calling out Kidman for helping make it "the greatest experience of his career." Did we mention that he hinted that his character's fate may be more TBD than we thought?
Laura Dern built on the evening's momentum with her win for best supporting actress, calling the cast her "new family." Much like her character in the series who stands up for her daughter when she faces abuse at school, Dern deemed speaking out our culture's "new north star." Closing out the night, Witherspoon accepted the award for Best Limited Series, thanking those who are brave enough to speak up about abuse and harassment and vowed that their stories will be told.
Newcomer 'The Marvelous Mrs. Maisel' Steals The Spotlight
Taking home two awards, one for Best Comedy and one for Best TV Comedy Actress for Rachel Brosnahan's portrayal of Mrs. Maisel, a housewife who ventures into comedy leading the way for other women to follow, the Amazon original series was among the night's top TV winners. When accepting the award, Brosnahan remarked that there are "more stories of women out there and are deserving to be told."
Margaret Atwood Continues to Be Heard
Dedicating her win for Best Actress in a Drama Series for her role in The Handmaid's Tale to the author, Elisabeth Moss said this win was for "all the women who came before and after you. Who were bold enough to come forward. We are no longer the stories in the margins. We are the stories in print."
But Atwood's presence didn't stop there. The Hulu series picked up wins for Best Drama Series, with Showrunner Bruce Miller thanking "all the people in this in this room, and the country and the world who do everything they can to stop 'The Handmaid's Tale' from becoming real—keep doing that."
Lady Bird Takes Home Gold
The coming-of-age story about a high-school senior and the rocky relationship with her mother won Best Motion Picture, Musical or Comedy, with Saoirse Ronan winning for Best Actress, Musical or Comedy. Ronan even FaceTimed with her real-life mother when accepting the award, thanking all the women she loves in her own life and "actually everyone in this room." The film's director, Greta Gerwig, accepted the award for Best Picture.
Oprah Accepts Cecil B. DeMille Award With an Impassioned Speech
Adding to her impressive list of recognitions and accolades, Oprah Winfrey accepted the award for her outstanding contributions to the world of entertainment. While introducing the night's honoree, Reese Witherspoon thanked Oprah for "changing our lives" by continuing to produce films that consistently spur national conversation.
During her acceptance, Oprah said, "It is not lost on me that, at this moment, there is some little girl watching as I become the first Black woman to be given the same award," remembering her own childhood memory of watching Sidney Poitier become the first Black person to win. "It is an honor and it is a privilege to share the evening with all of them."
"I want all the girls watching to know a new day is on the horizon," she said. "And when that new day finally dawns, it will be because of a lot of magnificent women, many of whom are right here in this room tonight, and some pretty phenomenal men, fighting hard to make sure they are the leaders to take us to the time where nobody has to say 'me too' again."