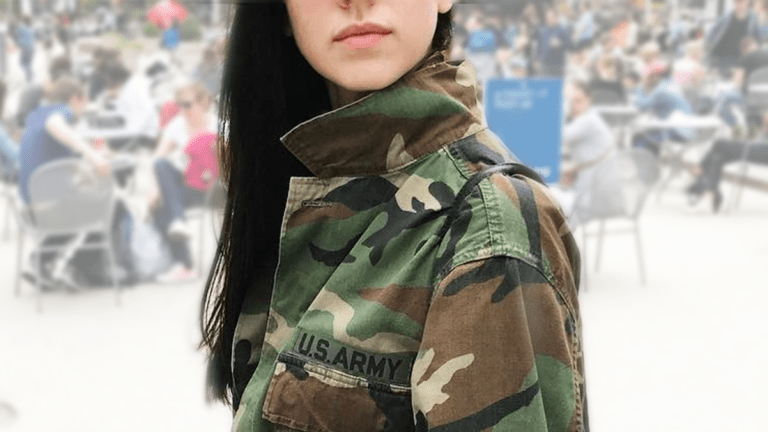 The 5 Surprising Items I Couldn't Stop Wearing All Year
Sometimes your favorite clothes are the random ones.
At the end of every year, I like to reflect on the clothing I wore the most. I believe every item in our wardrobes tells a story, making our closets a kind of timeline of our lives. Whether it's the dress you wore the first time you met your boyfriend or the blazer you wore to a job interview, they help illustrate different chapters of your life. But looking back on your year of style choices can also be revealing. Oftentimes, the items we end up loving the hardest can offer valuable insight into our personal style and make it easier to own it more intentionally.
But sometimes I'm surprised at the items that saw me through the most important and mundane days of my life. This year was certainly no exception. Below are my top five items of 2017. What were yours?
01. Secondhand Camo Jacket
It's truly bizarre how much I wore this thrifted camo jacket. I picked it up one sunny afternoon in May in the West Village and took it off only when the temperature dropped to 30 degrees in November. It was one of those rare pieces I bought on a whim and ended up wearing every day.
Thinking of giving camo a try? The green camouflage print actually did go with everything I own, even floral print and plaid, dresses and jeans. I felt like the print allowed my outfit to look a little more creative without having to commit to an extreme piece that couldn't be worn repeatedly throughout the week.
02. Converse All Stars
It's amazing how many outfits high-top sneakers go with, even a flouncy Little House on the Prairie dress! I found myself wearing these with jeans, dresses, skirts, and shorts all year long. I actually preferred wearing them with dresses and skirts because they created a more casual appeal that toned down the formality of my look. I chose the cream color because of how neutral it is, allowing me to pair it with any other hue. If you're feeling tired of your go-to shoe, the affordable Converse may be just what you need for 2018. The retro high-top silhouette is a little bolder than your average sneaker, so the basic color balances it out.
03. Madewell "Mom Jeans"
Finding the perfect vintage jeans might as well be a quest. Ordering a pair online is a total toss-up because the sizing is totally different, and many brick-and-mortar vintage shops will charge up to $500 for a pair of old Levi's. As women, we want our rears to be supported (not squashed), a comfortable high waist, non-bunchy hips, and thighs and calves that are more fitted but stretchy. Basically, we want the fit of a 2017 jean in the style of the 1990s. Finding an actual vintage jean that does this is like finding a needle in a haystack, which is why I appreciate Madewell's summer jean that accomplishes the vintage aesthetic while still being flattering. Let 2018 be the year you invest in a feel-good, goes-with-everything pair of jeans.
04. 1940s Fit-and-Flare Summer Dress
This summer, I discovered that the 1940s silhouette is my absolute fave. Cinching in at the waist and flaring into an A-line skirt, most 1940s summer frocks also have sleeves. Because I'm a pear shape, the sleeves create more volume on my torso, while the A-line skirt balances it all out. I found this gem on one of my favorite vintage shops, SwaneeGrace, and fell in love as soon as I saw it. It ended up being a dress I had to restrain myself from wearing numerous times a week. Favorite dress in my wardrobe? Definitely. An item I recommend everyone find for their wardrobe? Yes, indeed.
05. Woven Purse
When I found out that one of my favorite ethical jewelry brands, 31Bits, was coming out with a woven bag collection, I was all about it. I purchased a couple purses out of support initially, but as soon as they arrived, I didn't stop using them until the end of fall. I especially love this woven drum bag because it doesn't look like a regular purse. And strangely enough, every time I wear it, guys compliment me the most on it. Because of its neutral color, it goes with everything, and the laid-back aesthetic makes it a fun addition to any wardrobe.