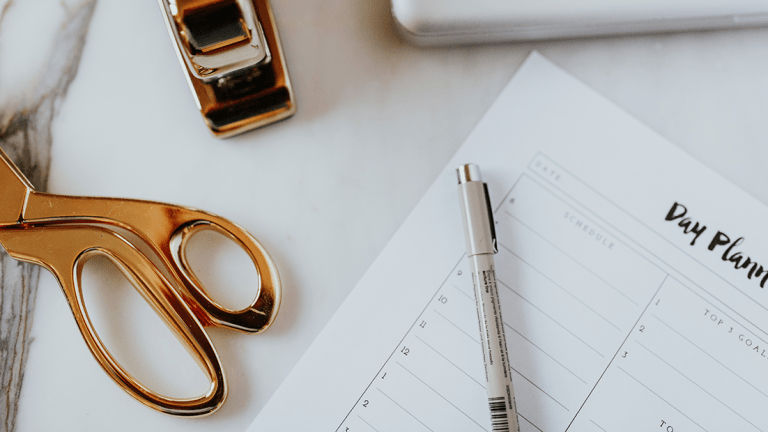 This Easy At-Home Checklist Will Jump-Start That Satisfying Done-and-Done Feeling All Year
Face unafraid the plans that you've made. Check, check, and check!
It's a new year, which means a fresh new start. Maybe you made some resolutions; maybe you didn't. Either way, January can be an annual opportunity for renewal. Make this time of year your new favorite by adding some of these easy-to-accomplish goals to your to-do list. Most can be done in twenty minutes or less, so you'll be crossing them off in no time. Don't worry about finishing them all. A sense of success is the best way to start 2018 on a healthy, happy, and productive foot.
01. Delete apps you don't use (or use too much but don't need) on your phone or tablet.
02. Purge your podcast subscriptions, and then finally subscribe to the one your friends have been telling you about.
03. Stock up on note cards and forever stamps—domestic and international, if need be.
04. Buy a menstrual cup before Aunt Flo makes her next visit (and save some major cash).
05. Set a timer for fifteen minutes, and delete blurry or duplicate photos from your phone or computer files until the alarm goes off.
06. Unsubscribe from emails you don't read anymore. Have you heard of Unroll.me? It's a full inbox's best friend.
07. Make appointments with your general practitioner, dentist, eye doctor, gynecologist, and anyone else you've been meaning to see. Check out our handy list of all the health care pros you should definitely see this year.
08. Throw out expired medication, and make a list of any essentials you want to restock.
09. Check the use-by dates on food items in your fridge, pantry, and spice rack. Toss anything that needs to go.
10. Take everything out of the refrigerator and clean all the surfaces. Even better, whip up your own natural cleaning products first—all it takes is some lemon, water, and vinegar.
11. Wipe down your baseboards and trim, especially in high-traffic areas. You'll be surprised by how gross they've gotten.
12. Gather all the documents you have for your tax return in one place. Treat yourself to a pretty folder or portfolio to hold them in.
13. Check the status of any gift cards lying around to make sure they're still valid and not losing value.
14. Wash your mattress pad, throw pillow covers, pillows, blankets, and any other bedding that hasn't seen the inside of a Whirlpool in a while. Rotate your mattress.
15. Gather ten or more items from your bookshelf and closet. Choose the best local organization to donate them.
16. Buy new hand towels or kitchen towels, and relegate the old ones to cleaning rags.
17. Clean the inside of your shower door or hang a fresh shower curtain liner.
18. Program an "In Case of Emergency" (ICE) number into your phone.
19. Try at least one new midday routine to get over the afternoon slump.
20. Get rid of the stench in the bins when you take out the garbage and recycling. All they need are a squirt of dish soap and a good water rinse in an area that can get wet. (We've done this in tiny NYC apartment showers!)
21. Refresh your lineup of lotions, creams, and cosmetics while disposing of the older (crustier) items. Did you know that toiletries all have a use-by number? The image on the packaging looks like a tiny tub with how many months it can last printed on it.
22. Make sure you have spare containers of shampoo, conditioner, and toothpaste, so you don't get caught with bad hair (or breath!).
23. Send a note to an elderly relative.
24. Hang an inspiring new print on your wall. These by Be a Heart Design Co. are the prettiest!
25. Become a Verily VIP.
26. Bring your winter coat and sweaters to the dry cleaner.
27. Reorganize the cabinet under the sink. These are some clever organization hacks to get it in tip-top shape—and you can do them in five minutes or less.
28. Clean or repair your worst pair of shoes to be worn again or donated.
29. Condition anything you have that's made of leather (shoes, handbags, gloves, chairs). These wrinkles need annual tending to.
30. Buy new underwear or socks. Toss out the ones that need tossing, whether they're ripped, holey, or outdated or they no longer fit. Don't be afraid to wear beautiful undergarments that can transform your own outlook on life.
31. Start using the Bedtime function on your phone for better sleep—and more satisfying mornings. Women need more sleep than men, and we feel more tired in the winter, so if you can't get to bed on time each night, here's how to catch up on missed sleep and how to make the most of sleeping less than six or seven hours.
Accomplishing even little things—in an otherwise dreary month that tempts you into constant hibernation—sets the stage for an amazing year ahead. Feel good about today, and you'll feel much better about tomorrow. Cheers to a newer and nicer year!