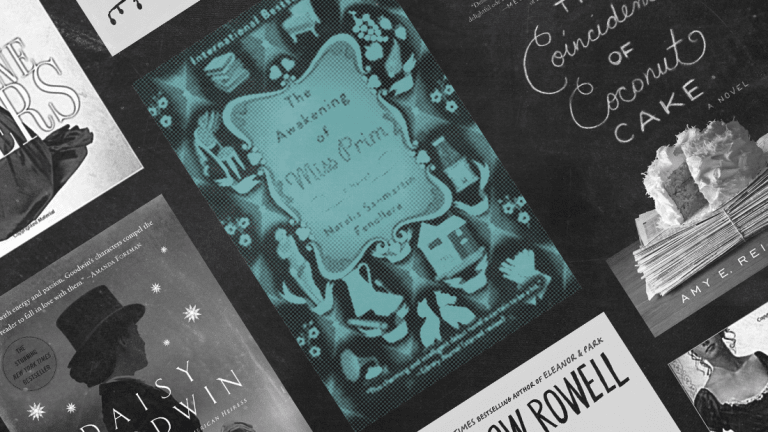 7 Romantic Books That You Won't Be Embarrassed to Admit Reading
Here's what Verily readers told us to include on our list this year.
The end of January is swiftly approaching, and if you're like a whole swath of the population, you may have promised yourself that you would commit to reading more. In fact, according to a survey conducted by Statista, reading more was the fifth most common New Year's resolution.
If that includes you—how's it going?
If you're like the rest of us, you're probably beating yourself up about the fact that your bookmark has been stuck at chapter one of War and Peace for some time now. But we'll let you on a little secret. We've discovered that by pairing those thicker #goal books with more fun reads, we started reading more in general. It's like the lighter reads propelled us to carry-on with the heavier ones. Not to mention, reading fiction—any fiction—is good for our brains.
Because we love a good love story—either in the background or foreground, we asked our readers what new "romance novels" we should add to our list. The catch? By "romance novel," we didn't want the latest paperback with Fabio on the cover nor the latest YA vampire series. We wanted a fresh love story with some substance but not a heavyweight tome. By "new" we meant something published in the twenty-first century, as we didn't want yet another recommendation to read Jane Eyre or Sense and Sensibility. (Trust us, we're already fans.)
We have not personally read all of these yet (just No. 1), but after a wealth of Verily VIP reader responses, we whittled down their recommendations to a digestible seven and sourced reviews from our favorite Goodreads users (and one from Verily editor, Maria Walley!)  
Have anything to add? Please share!
01. 'The Coincidence of the Coconut Cream Cake' 
by Amy E. Reichert
It's brilliant for what it is: an absolutely delicious read for those who are wanting a fun book as light and airy as the fluffy frosting on coconut cake, itself. (I even baked the recipe featured in the back; it's legit.) A smart, snooty male food critic meets a dynamic female chef. What could possibly go wrong? The characters are three-dimensional and have some refreshing integrity, while Reichert's well-written descriptions of Milwaukee will make you want to book a plane ticket this very moment and explore the eclectic Midwestern city (I'm serious). 

My one gripe: while the novel does steer clear from most romcom traps, I had to balk at the scene where our critic-hero is changing shirts at a ballgame and our chef-heroine checks out his alleged six-pack. I mean... seriously. He's a bookish British food critic who has shown zero interest in physical activity. Really? You're going to give him abs? –Maria Walley
View book and read more reviews here.
02. 'The Awakening of Miss Prim' 
by Natalia Sanmartin Fenollera
In many ways, this novel reads very much like one of the great Victorian novels that Miss Prim so adores. Obviously, the plot is rather similar in several respects; Miss Prim is entering the house of landed gentry in one of those awkward 'not quite family, not quite staff' roles such as librarian or governess. Like one of Gaskell's or Bronte's heroines she engages in spiky slightly confrontational conversations with her employer; conversations where the most interesting thing is how long both of them can avoid saying what they really feel or think. Ultimately it is the softening and acceptance that grows within the novel and within Miss Prim that makes this such an endearing read. Gentle, thought-provoking and really one of those books that you will think about for a long while. —Becky on Goodreads
View book and read more reviews here.
03. 'Attachments'
by Rainbow Rowell
The premise is pretty basic; Lincoln is a shy and socially awkward individual ... [who] gets an IT security job at the local paper. His job involves reading through flagged email and sending out warnings to anyone in the office who breaks company rules regarding internet use. When he starts getting flagged emails between Beth and Jennifer, he knows he should send them a warning and move on, but he can't seem to bring himself to do it...
Told from a third-person perspective with Lincoln at center stage, we only get to know Beth and Jennifer through their emails to each other. While this is often a difficult method for an author to use to truly portray a character (especially since people only project a certain amount of themselves to others, especially through emails), Rainbow Rowell managed to really make it work. I felt like I really got to know Beth and Jennifer through their emails, and for the first time in too long, I can actually understand why the male protagonist fell in love with the female...While the underlying theme is romance, the story also focuses on family, friends, and personal growth...It's probably the funniest book I've read in the last few years. —Katrina on Goodreads 
View book and read more reviews here.
04. 'The Fortune Hunter' 
by Daisy Goodwin
I thoroughly enjoyed this book; the second half was especially hard to put down. The story revolves around three main characters—the young heiress and photographer, Charlotte Baird; the horseman and officer, Bay Middleton; and Sisi, the Empress of Austria who is visiting England for the hunting season. Set in London and the country estates of the hunt, the novel traces the connections and conflicts between these three people. As Bay begins to fall in love with Charlotte, he is captivated by the Empress. The story evolves from there, with plenty of drama. 
The Fortune Hunter has glamour and intrigue to suit the most devoted fans of Downton Abbey, as well as the careful subtly and attention to manners that marked Jane Austen's writing. A very good read. —Lisa on Goodreads
View book and read more reviews here.
05. 'Redeeming Love'
by Francine Rivers
It's based on the Bible story of Hosea and Gomer, but you don't have to be up on your Bible studies to enjoy this one... The book deals with some really horrible and heartbreaking stuff (child rape, prostitution, incest...but not in real explicit terms) and just when you think you've read the worst, something else is revealed that will break your heart all over again. But please try to get through those moments, because there is a beautifully written romance, too, about unconditional love, faith, and hope. I must have cried buckets while reading the last 100 pages, but it was worth it. —Auntee on Goodreads
View book and read more reviews here.
06. 'The Time Traveler's Wife' 
by Audrey Niffenegger
The Time Traveler's Wife is a controversial novel, and when my book club discussed it, there were burning pitchforks, buckets of hot tar and glasses of Pinot Noir being splashed in faces. The room was like a parking lot after a football game between contentious rivals. It was awesome...

And I love this book. Boy howdy, do I love this book. I originally read it 11 years ago (then re-read it, and took a bunch of notes), and the characters and the plot just hopped on into the synapses of my brain, curled up there and have remained comfortably in that position, forevermore.

In my opinion, you can read this book for its surface value (as a romance or an adventure), or you can go deeper. This novel is loaded with metaphors, and you can get both Biblical here and/or follow the story with Homer's Odyssey by your side. Niffenegger's plot point of time travel is immense. It serves here as a lush metaphor for the cycle of life: the living, the dying, the what comes after. —Julie on Goodreads
View book and read more reviews here.
07. 'Esperanza's Box of Saints: A Novel' 
by María Amparo Escandón
[A widow named] Esperanza sets off with her box of saints to look for ... her daughter [believed dead]. Soledad, her friend since childhood and godmother to [her daughter], does not share this same religious fervor and fears that Esperanza is in extreme grief and denial. As the reader, I make no judgments.

This story of Esperanza's quest to find her daughter is truly fun. It takes her from her native town in Vera Cruz to Tijuana, then to the Mexican side of LA and finally back home again. The humor of her innocence, the language of her thoughts and the colorfulness of her prayers are truly enjoyable. I loved every word of Esperanza's dialog with her priest and the priest's dialog with God, her encounters with men at the brothels and her prayers to the saints. This book is a perfect example of the magical realism that sets the Latin American books apart from the rest of the world. —Judi on Goodreads