Catch up on all the news you might have missed with our handy summary of the week's top stories.
We're pleased to bring you "While You Were Out"—the Verily editors' quick takes on the happenings of this week.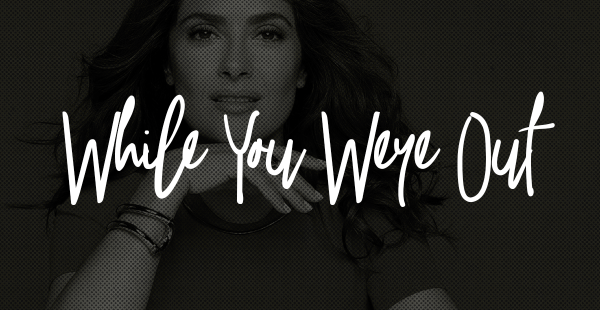 The Word of the Year is "Feminism"
It's here! Merriam-Webster officially announced that the word of the year in 2017 is "Feminism." According to the BBC, "Merriam-Webster said interest in the term was driven by women's marches, new TV shows and films on women's issues and the string of news stories on sexual assault and harassment claims." The current dictionary definition for feminism reads, "the theory of the political, economic, and social equality of the sexes" and "organized activity on behalf of women's rights and interests." This year, 70 percent more people searched the word than in 2016. Other most-searched words this year included "empathy," "syzygy" and "hurricane." –Victoria Rabuse
Reese and Nicole's 'Big Little Lies' Confirmed for Season 2
The hit HBO show is coming back and is ready to take viewers on a new journey with Celeste, Madeline, Renata, and Jane. Big Little Lies, the drama based on the bestselling Liane Moriarty novel, wrapped up season one exactly where the book left off and won eight Emmy awards. The show stars Reese Witherspoon, Nicole Kidman, Shailene Woodley, and Laura Dern. Season one focused on narratives of domestic abuse, sexual violence, and infidelity and more; season two will supposedly be based on another short story written by Moriarty.
At the close of season one Julia Hawthorne shared with Verily, "…as a woman who had been caught in an abuse cycle, I found Kidman's portrayal to be a wonderfully bright light on an abuse narrative that is often not discussed." In a statement last week, Nicole Kidman said, "What a journey this has been. I'm so grateful to have this opportunity to keep exploring these female characters and make this series with my friends." –VR
Attempted Suicide Bomber Leaves NYC On Edge
On Monday morning just after 7 a.m. a defective suicide bombing took place in the subway passageway near the Port Authority Bus Terminal at 42nd St. in Manhattan. The incident, which left no casualties, was deemed an act of terror—the second such event in New York City in less than two months. The man behind Monday's attack, Akayed Ullah, is a resident of Brooklyn who was radicalized by the Islamic State via the Internet. He now faces at least five federal and state charges. Despite the bomb malfunctioning and causing minimal destruction, the event was rattling to New York residents still uneasy since October's bike path massacre. Hundreds of thousands of people travel through the very area Ullah chose each morning. To be reminded that it takes just one person to devastate the masses was a tough pill to swallow on a Monday morning. –Megan Madden
Research Shows Women in Medicine Face Bias and Depression Risk
According to a new study, women in the medical field experience more pronounced symptoms of depression the longer they work. According to the New York Times, a major reason is, "work-family conflict, which accounted for more than a third of the disparity. Despite large increases in the number of women in medicine, female physicians continue to shoulder the bulk of household and child care duties." The study also found that female doctors are often overlooked in examination rooms, with patients assuming they're the nurses or pharmacists, deferring to males in the room for the advice they need. Other intrinsic biases also exist in the medical world, even though women have been practicing medicine for decades—often, women aren't introduced as "Dr." and make up only 1/6 of medical school deans and department chairs. As women continue to seek equality in the workforce, it's clear it's not just women in Silicon Valley who struggle. –VR
Salma Hayek: He's 'My Monster Too'
This week yet another wave of men were brought to task for sexual misconduct as yet another wave of brave women found their voice. For the New York Times, actress Salma Hayek wrote a powerful exposé of her own history with Harvey Weinstein. Her humility shown through. "I didn't consider my voice important, nor did I think it would make a difference," she admits. "In reality, I was trying to save myself the challenge of explaining several things to my loved ones…". Hayek joined the league of women who have decided to risk their own privacy and reputations in order to stop the proliferation of sexism and assault at the hands of powerful men (or anyone, for that matter). Hayek shares a chilling list of the many advances from Weinstein she says she had to repeatedly say "no" to. She also wrote: "The range of his persuasion tactics went from sweet-talking me to that one time when, in an attack of fury, he said the terrifying words, 'I will kill you, don't think I can't.'"
Weinstein was not the only man revealed for his abhorrent behavior this week, though. The food industry took a major blow as celebrity chefs Mario Batali and Ken Friedman were ousted from their respective culinary businesses. Batali, who has now left his restaurant group as well as had his products pulled from major retailers such as Target and was fired by his daytime talk show The Chew, was accused by multiple women of harassment and groping. Meanwhile Friedman, co-owner and chef at New York's famed celebrity-backed gastropub The Spotted Pig was also accused of numerous lewd acts by a slew of former employees. The New York Times reported that 10 women said Friedman, "had subjected them to unwanted sexual advances: groping them in public, demanding sex or making text requests for nude pictures or group sex," among other things. When it comes to revelations of hair-raising sexual perversion, it appears the end is nowhere in sight. –MM