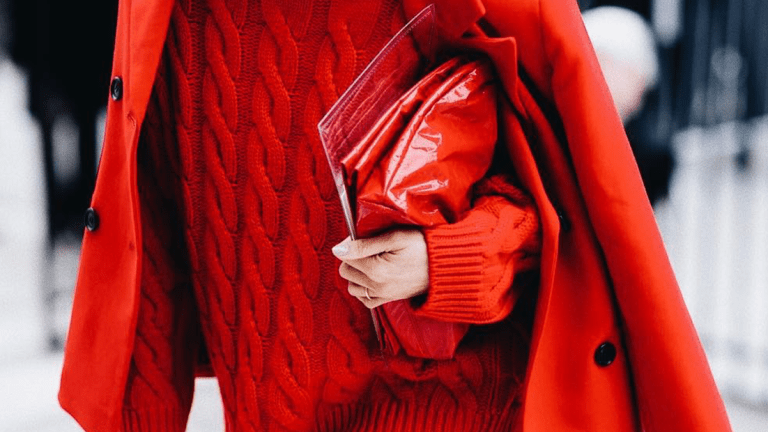 7 Simple Tricks for Not Looking Frumpy This Winter
We've all been there.
Every fall the layers come out to play. Thick cozy sweaters atop striped button-downs; scarves draped over turtlenecks. But let's be honest: By now the excitement of wearing  5+ different layers has passed. When every trip outside makes you feel like a giant marshmallow, it's no surprise that winter can be uninspiring to personal style. Lest you succumb to the temps and embrace a warm-but-maybe-a-little-frumpy vibe, consider these options for staying stylish this winter.
01. Belt It
Feeling like a misshapen blob of fabric is the No. 1 symptom of winter frumpiness. The quickest way to creating some shape to your outfit is to simply belt it. Even if you're belting over your coat, it will create a balance in your overall silhouette. Your waist will be emphasized, allowing your torso and bottom half to look more hourglass-like. Plus, adding a belt will have a more stylized appeal that communicates the effort you put into the look.
02. Get Matchy
It's easy to throw on endless grey, black, and beige layers that all match because they're neutral. To step outside of your winter outfit comfort zone, try matching a bolder color throughout your entire look. Whether it's red, navy, or green, try coordinating all of the items in your getup. They don't have to match exactly, of course, just within the same hue for an intentional monochromatic color palette. Even though they're basic items, the red pants, coat, and sweater featured above look much more fashion forward when all paired together.
03. Beret > Beanie
This is usually where utility always wins. To protect our heads, we grab whatever is warmest, like a knitted beanie. A simple way to add a flair of classic style is to simply swap your beanie for the Parisian beret. The beret shape is less sock-like and immediately creates a more purposefully styled look. 
04. Bottom Layer Turtleneck
Most of us start with our thinnest layer and work out towards the thicker ones. Instead of piling on sweaters, make your first layer the always chic turtleneck. By starting with the sleek turtleneck as your warmest base, you can then put sleeveless dresses or tanks over it without looking bulky. Plus, it will look very Audrey inspired!
05. Add Faux Fur
If you're feeling lost in a sea of chunky knits, throw in a new texture for some variation! A bit of faux fur will make any boring outfit immediately look more regal, even if you're wearing an oversized knitted sweater, a peacoat, and jeans. It's a last minute outfit addition that can elevate your look in seconds!
6. Creative Layering Combinations
Now, this step requires the most outfit planning. If you're really bored of your bland winter outfits, try getting more innovative with the way you put together your outfit. Instead of keeping your longer dress layers completely separate from your pants, try mixing them together. We know, sounds crazy, but look how expertly Blair paired her dresses with her pants above! If the dress and pants combo is too much, begin by wearing an oversized calf-length cardigan with your jeans and belting the cardigan at the waist for the dress effect.
7. Add Luxurious Texture
Similar to the faux fur tip, adding a fancy texture is a sure way to avoid a frumpy ensemble. By throwing in a velvet blazer, skirt, coat, or blouse, you break up any boringness by incorporating a fabric that's always eye-catching.